It's time again for the Peanut Butter Bash! This was a hard one! Our ingredients were Peanut Butter and…. Carrots! I know, right?!? Curious what I made? Chocolate Carrot Cake with a Peanut Butter Glaze!
I know you're thinking that sounds totally weird, but this is a great way to hide veggies and get them into your kids. And the best part? They have no idea! If you're a reader here, then you probably know that I'm all about shortcuts when it comes to cooking, so for this cake, I used a basic chocolate cake mix and then doctored it up a bit.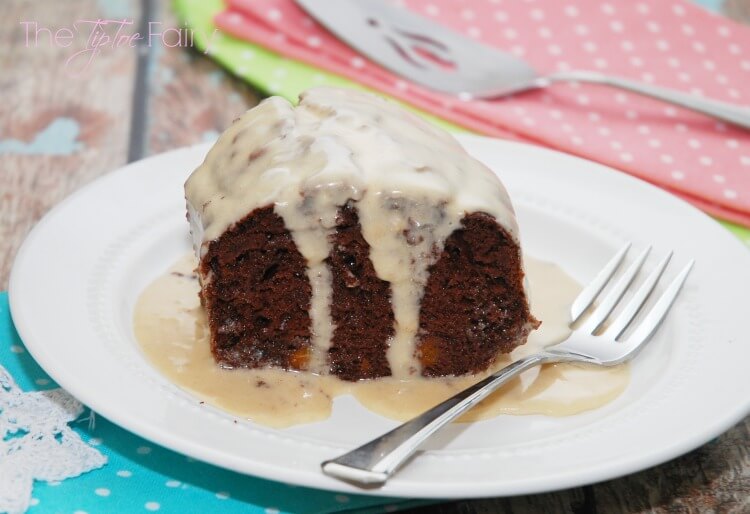 Usually when you think of carrot cake, you think of shredded carrots and raisins and maybe some pineapple. Instead, I used steamed carrots that I mashed with a potato masher. This way it's more like when you add pumpkin to a recipe. I can be very sensitive to texture in foods, so I thought mashed carrots would be perfect. With this cake, there's no texture issue at all, and even if you can see a little bit of carrot, you will never taste it!
One thing you do have to do to this cake is add some additional liquid. When I originally came up with this idea, I was thinking in terms of this cake being similar to chocolate zucchini cake or bread, but zucchini has a TON of water in it, and carrots do not. So, to compensate for that liquid, I added half a cup of plain Greek yogurt.
It's just like eating a regular ol' chocolate cake topped with peanut butter! I'm happy to say my little experiment came out delicious. My husband says this cake the moistest, most delicious chocolate cake he has ever eaten, and the kids agree!
Print
Chocolate Carrot Cake with Peanut Butter Glaze
---
Chocolate Carrot Cake
1

box of chocolate cake mix

1 cup

carrots, steamed and smashed

3

eggs

1/2 cup

plain Greek yogurt

1 1/4 cups

water

1/3 cup

butter, softened
Peanut Butter Glaze
1 3/4 cups

powdered sugar

1/4 cup

milk

1/4 cup

creamy peanut butter

1/2 teaspoon

vanilla
---
Chocolate Carrot Cake
Preheat oven to 350 degrees.
Thoroughly grease a bundt cake pan.
Combine all the ingredients and beat on medium with an electric mixer for about 2 minutes, or until smooth.
Pour into bundt cake pan and bake or about 45 minutes or until toothpick comes out clean from cake.
Allow the cake to cool completely before pouring the glaze over it.
Peanut Butter Glaze
Combine all ingredients into an electric mixer with a whip attachment.
Beat on medium for about a minute or two and make sure to scrap down the bowl to completely incorporate all the peanut butter and powdered sugar.
Then, beat on high for 3-5 minutes until the glaze lightens in color a little and is glossy.
When checking the glaze, a spoon should drizzle a ribbon that stays for a small moment.
When glaze is ready, pour it over the entire cake.
Serve immediately.
Recipe Card powered by

If you're a blogger and would like to join the Peanut Butter Bash. You can do so HERE. If you're looking for some great Peanut Butter recipes, join our Facebook group HERE.
Here are the other peanut butter and carrot creations!
Peanut Butter Carrot Cake Whoopie Pies from Miranda of Cookie Dough and Oven Mitt
Carrot Cake Peanut Butter 5 Minute Oatmeal from Emma of Bake Then Eat
Chocolate Carrot Cake with Peanut Butter Glaze from Stephanie of The TipToe Fairy
Looking for even more Peanut Butter recipes? Check out these:
Peanut Butter Toffee Ritz Cracker Crack
Healthy Peanut Butter Milkshake
And even more Peanut Butter recipes HERE!