This is a sponsored post for Dark Rising by Monica McGurk. All opinions are my own.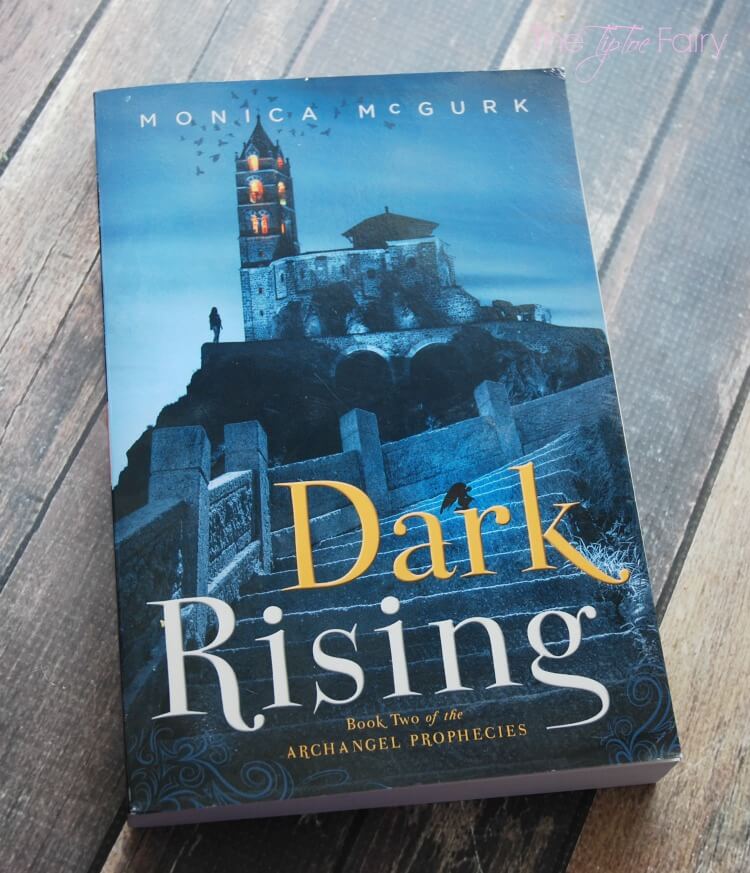 Two of my favorite kinds of books are historical fiction and supernatural, and Monica McGurk's latest novel, Dark Rising, has both! This is the second book in the trilogy the Archangel Prophecies. Last year I reviewed the first book, Dark Hope.
To give you a little background, Hope Carmichael has a strange mark on her body she got when she was abducted as a young child. In the first book she meets Michael, who is really the Archangel Michael and learns she is something special to the Angels. She is the Bearer of the Key, which means something pretty important. I don't want to give too much away if you haven't read the first one.
In the second book, Hope, Michael, and another angel, Enoch, go on a whirlwind adventure to find the "key." This key is very important to bring about a prophecy involving the Fallen Angels. She and Michael believe finding this key is important to protecting the whole world. They travel to Istanbul, Ireland, and France to beautifully described churches named for Michael all in hopes of finding the key.
When she finds it, the world is turned upside down with a showdown between Michael and the Fallen Angels!
This is a fast paced thriller that I couldn't put down. I was on the hunt right along with them to find the key. My favorite place was when they were in Istanbul. Hope ends up in places like a little antiquities shop that I couldn't wait to get lost in. The description of the hammam, a Turkish bath, Hope went to sounded so luxurious. Her attendant told the story of the sultan who built the hammam for his concubine, Roxelana, who became his wife. It was a fascinating tale about how love can make you do horrible things, which I thought was a good bit of foreshadowing of what was to come for Hope.
The descriptions of different places like Skellig Michael in Ireland and Le Puy-en-Velay in France make you feel like you're right there. I thought this time around the characters were more fleshed out. You get to learn back stories about things you wondered in the first book. I felt like many of the questions I had in the first book were answered in this one. Even her parents are deeper characters with history. I was glad we finally got to know what happened to Hope when she was a little girl. And, there's quite the surprise at the very end for Hope and her mother!
In the last novel, I wrote in my review, I was hoping for a bit more romance. Monica McGurk sent me two copies of the book and a hand written note that she hoped I wouldn't be disappointed in the romance. Ha! Michael and Hope definitely get closer. There's one sweet scene in a lighthouse on Skellig Michael that's very romantic, and Hope leaves her mark on Michael.
For a YA novel, this one has a lot of serious adult things that happen, and I definitely feel like the author left her fan fiction from Twilight behind her with this part of the story. I just couldn't read fast enough! Hope grows up a lot and is no longer a clueless Bella-type heroine. She definitely starts out with a lot of distrust for the angels with her in the beginning of this book. As the story unfolds, she becomes more assertive and trusts her instincts as she knows she is part of this important prophecy as the Bearer of the Key.
Just when you think it's the lowest of the low for Hope and all is lost, the ending adds a little twist and leaves you hanging for what's going to happen with Hope and Michael. I can't wait for book 3 to come out this summer! I am dying to know what's going to happen with them.
Now you can win your own copy of Dark Rising by Monica McGurk. Enter below. Good luck!
Be sure to check out Monica McGurk's website and read all about the Archangel Prophecies trilogy. Visit her on Facebook, Twitter, Pinterest, and Instagram, as well!