When your husband begs for a certain recipe all the time, you know you've got a hit. These Banana Cheesecake Cupcakes are hugely popular with my husband and his team at work. This is usually his #1 request for potluck lunches at work.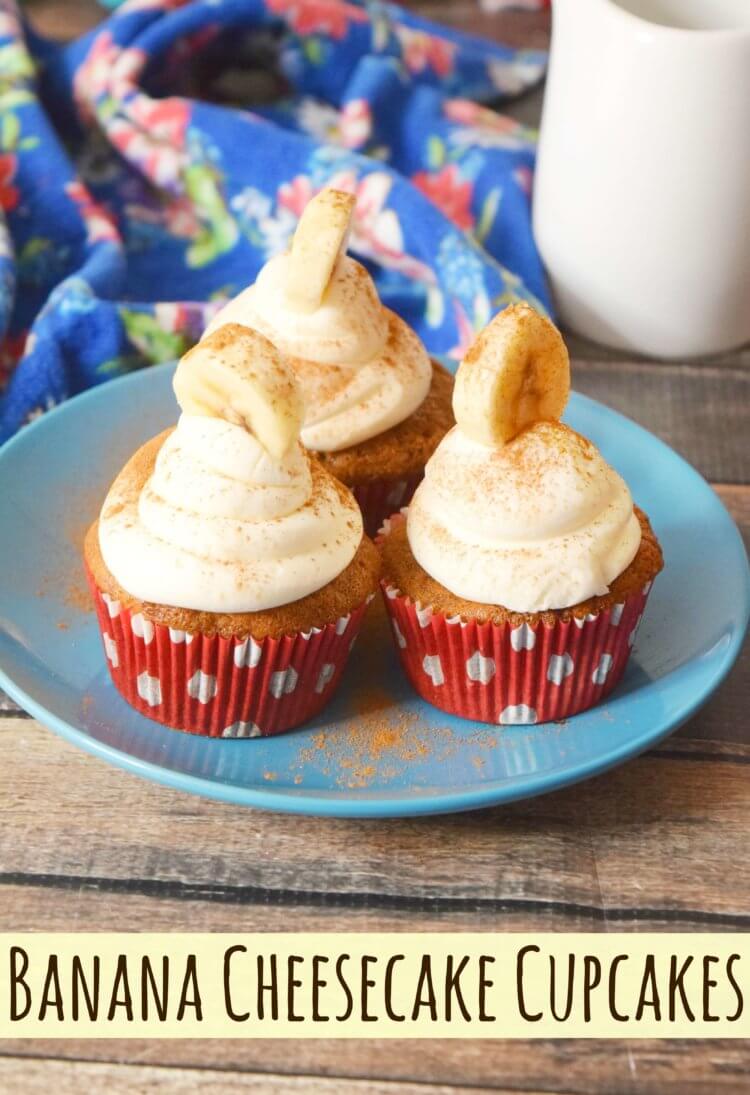 This recipe started as this cheesecake banana bread, and I decided to turn it into a banana swirl cake and now this is is a new variation as cheesecake stuffed banana cupcakes.
I think my favorite way to make it is still banana bread, but these cupcakes are a very close second. I love the individual cupcakes stuffed with cheesecake.
When you're ready to layer the cupcake batter with the cheesecake batter, fill the cupcake batter just 1/3 of the cupcake liner. Then, add a tablespoon of the cheesecake batter right in the center of the cupcake batter. Then, add enough cupcake batter over that to go up to about 2/3rds full of the cupcake liner.
Since there is cheesecake in the middle of the cupcakes, it's hard to insert a knife or toothpick and determine if the batter is done. I've found it's completely done by about 18 minutes. If you do want to insert a toothpick, be careful not to push it all the way to the cheesecake batter because it will appear to look not done.
Make sure you wait until the cupcakes are completely cooled before added frosting. Then, add a slice of banana and a little shake of cinnamon to each cupcake.
More Banana Recipes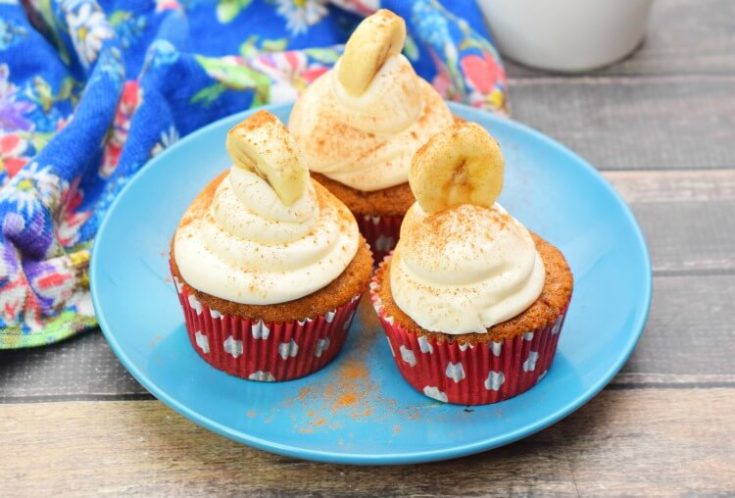 Yield:

24 cupcakes
Banana Cheesecake Cupcakes
These banana cupcakes are stuffed with cheesecake and topped with cream cheese buttercream for one irresistible dessert.
Ingredients
Banana Cake Batter
2 eggs + 1 egg yolk (leftover yolk from cheesecake batter)
1/2 cup oil
1 cup white sugar
1 cup brown sugar
1 tsp vanilla
4 large ripened bananas
2 cups flour
1 1/2 tsp baking soda
1/4 cup sour cream
1/2 tsp salt
1 tsp cinnamon
Cheesecake Batter
8 oz cream cheese
1/3 cup sugar
1 Egg white
1 tbs flour
Cream Cheese Buttercream Frosting
1 stick of butter, softened,
8 oz cream cheese, softened
16 oz powdered sugar
3-4 tablespoons heavy cream
1 teaspoon vanilla
Instructions
Banana Cake Batter
Preheat oven to 350 F degrees.
Combine sour cream and baking soda and mix gently. Set aside.
Peel the bananas and smash them together. Set aside.
Combine eggs, oil, and sugar and mix on medium with an electric mixer.
Add the bananas and vanilla and continue mixing.
Add the sour cream mixture, salt, and cinnamon and continue mixing.
Add the flour 1 cup at a time and continue mixing until combined.
Cheesecake Batter
Combine softened cream cheese, egg white, sugar, vanilla, and flour.
Mix until well combined.
Banana Swirl Cake Batter
Fill 2 muffin tins with cupcake liners.
Fill each cupcake liner 1/3 way with banana batter.
Add a tablespoon of the cheesecake batter.
Then top with banana batter to fill each cupcake liner about 2/3rds full.
Bake for 18-20 minutes or until the tops are golden brown.
Cool completely before frosting.
Cream Cheese Buttercream Frosting
Cream the butter and cream cheese together with an electric mixer until smooth.
Add the vanilla and a cup of powdered sugar at a time and beat on high.
Add the whipping cream as needed to the frosting.
Beat for an additional 2 minutes on high to whip the frosting and make it very fluffy.
Transfer to a pastry bag and swirl onto the top of each cupcake when they have completely cooled.
Notes
Make sure you combine the sour cream and baking soda just before you start putting the ingredients together in the banana cake. This activates it and makes it work beautifully.
Come Join Us!
Liked this article and want more? Follow along on Instagram, Facebook, Twitter, Pinterest, TikTok, and YouTube!
Come over and join us on Facebook in the group Recipes, Crafts, and more with TipToe Fairy or Sewing and Crafting with The TipToe Fairy!
Visit Our Other Blogs!