Do you just love it when everyone comes running over at the potluck to get your recipe? That's what happens every time I bring this Banana Swirl Cake to a potluck dinner.
I actually combined my Cheesecake Banana Bread and my Pumpkin Cheesecake Cupcake recipes into one amazing Banana Swirl Cake recipe. I came up with this one because of my husband. He is such a huge banana fan when it comes to dessert, and I don't always remember that when I make treats for him.
This is a great cake recipe to make when you don't have much time. Even though it's made from scratch, it goes together fast, and it really doesn't take much time to swirl the cheesecake batter into the banana cake batter.
I recently sent it to my husband's work for a potluck lunch because I didn't have time on a school night to do all the cheesecake stuffing and frosting swirls required for individual cupcakes.
How do you make Banana Swirl Cake?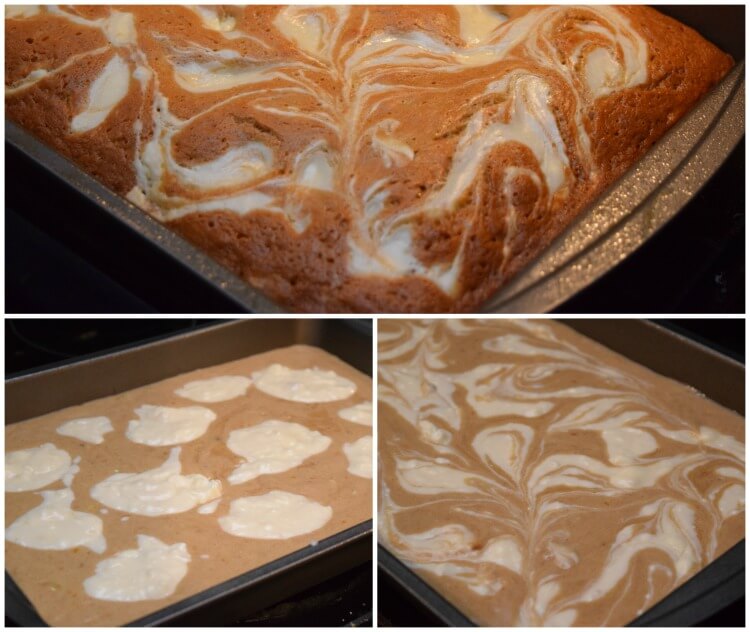 The cheesecake swirls came out so beautifully in this Banana Swirl Cake. You really don't need to frost it if you don't want to. I did frost it and used my go-to cream cheese buttercream frosting.
My husband absolutely loves this cake. He likes that you could see the cheesecake swirls down in the cake as you sliced through it. And, I'm happy to say this cake was a huge hit at his lunch potluck.
I wasn't quite sure what people would think when they saw "banana cake" because who thinks about eating banana cake? My husband said word quickly spread that it was a "must eat" at the potluck. One of the directors even came over to tell him how good it was, which is a big deal!
What's the Secret to my Banana Swirl Cake?
I'm going to give you the secret to making this cake so amazing. The secret is activating the baking soda in the sour cream. It's a method I've started using in the last year, and it works wonders.
Baking soda needs an acid like lemon juice, buttermilk, or sour cream to start making bubbles and rising — so getting it started in the sour cream really helps this cake be light and fluffy and divine!
Tip — If you ever taste a metallic flavor in your baked goods, it means you've used too much baking soda.
More Banana Recipes
This Banana Swirl Cake will have everyone begging for the recipe. It has cheesecake batter swirled into the top of the banana cake batter for a beautiful effect that doesn't even need frosting.
Ingredients
Banana Cake Batter
2 eggs + 1 egg yolk (leftover yolk from cheesecake batter)
1/2 cup oil
1 cup white sugar
1 cup brown sugar
1 tsp vanilla
4 large ripened bananas
2 cups flour
1 1/2 tsp baking soda
1/4 cup sour cream
1/2 tsp salt
1 tsp cinnamon
Cheesecake Batter
cream cheese
1/3 cup sugar
Egg white
1 tbs flour
Cream Cheese Buttercream Frosting
1 stick of butter, softened,
8 oz cream cheese, softened
16 oz powdered sugar
3-4 tablespoons heavy cream
Instructions
Banana Cake Batter
Preheat oven to 350 F degrees.
Combine sour cream and baking soda and mix gently. Set aside.
Peel the bananas and smash them together. Set aside.
Combine eggs, oil, and sugar and mix on medium with an electric mixer.
Add the bananas and vanilla and continue mixing.
Add the sour cream mixture, salt, and cinnamon and continue mixing.
Add the flour 1 cup at a time and continue mixing until combined.
Cheesecake Batter
Combine softened cream cheese, egg white, sugar, vanilla, and flour and mix until well combined.
Banana Swirl Cake Batter
Grease and flour a 9 x 13 pan.
Pour in the entire banana cake batter.
Drop spoonfuls of the cheesecake batter all over the banana cake batter.
Take a knife and gently swirl the banana cake batter and cheesecake batter.
Bake for 30 minutes or until the banana cake is golden brown and the cheesecake is not jiggly.
Cool completely before frosting. (Or skip the frosting)
Cream Cheese Buttercream Frosting
Cream the butter and cream cheese together with an electric mixer until smooth.
Add the vanilla and a cup of powdered sugar at a time and beat on high.
Add the whipping cream as needed to the frosting.
Beat for an additional 2 minutes on high to whip the frosting and make it very fluffy.
Frost the banana cake when it is cool.
Notes
Make sure you combine the sour cream and baking soda just before you start putting the ingredients together in the banana cake. This activates it and makes it work beautifully.
The swirled pattern on this cake comes out so lovely that you can easily skip the frosting.
Often I share quick and easy recipes that incorporate box mixes to make things a little easier. This looks like it has a lot of ingredients, but it really takes no time at all to put together.