[disclaim]I participated in an Influencer Activation on behalf of Influence Central for Rubbermaid. I received product samples to facilitate my review as well as a promotional item to thank me for my participation.[/disclaim]
I am always sending my husband to work with treats and eats, especially during the holiday season. I love to bake and cook, but there's only so much a family can ea. I love to have guinea pigs to try my new recipes. I've found a wonderful group of people just for that — my husband's coworkers! But, finding containers that are dependable and will hold it all can be tough.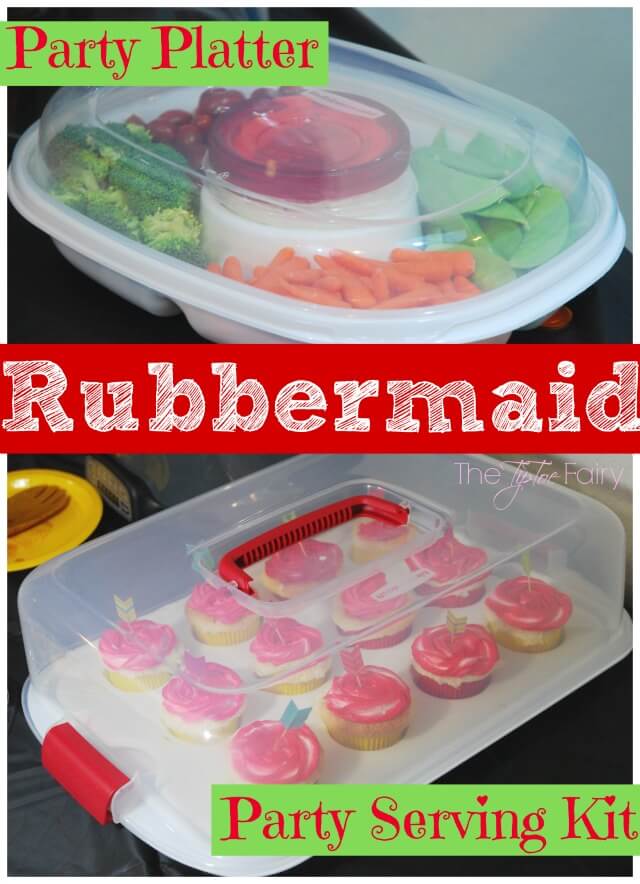 I think I've found the solution with Rubbermaid for your Holiday Parties! I got a Rubbermaid Party Platter and Party Serving Kit to try out, and I just love them. I swear Rubbermaid has thought of everything with these two food storage containers!
We recently had a fun Hunger Games party for Mockingjay Part 2, and I got to use both! They worked out perfectly!
With the party platter, I just added veggies into each section. My favorite part is the container with the screw top lid. It's so easy to transport! You don't have to worry about spilling a thing.
For our veggies, I whipped up some homemade ranch from a seasoning packet with buttermilk. Then, I crumpled and sprinkled some real bacon bits on top. Everyone LOVED the bacon. I had to keep adding more!
A few hours before the party, I put this veggie tray together quickly and made the ranch dressing. Then, I popped the lids back on, put it in the fridge until just before the party. It makes it so easy to work ahead. I'll be doing the same thing this week for Thanksgiving, too!
The Party Serving Kit is probably my absolute favorite because it's so versatile. You can transport just about anything with it because of the removable trays. It has one for mini muffins/cupcakes and deviled eggs. It has one for big cupcakes. It even has a flat tray for just about anything else like cookies, pies, cakes, and more.
I love that I can flip the lid over and put the tray on top, so that it's easy to reach and above the table.
For our party, I used it for President Snow's cupcakes. These are angel food cupcakes. I used white and red/pink icing to create roses using a 2D frosting tip. I used this tutorial to learn how. Then I finished them off with little arrows in them I found at the craft store.
My dear sweet husband has to work on Friday, so I'll be filling these two food containers with yummy things for his office to enjoy. I'm thinking a fruit tray with a fruit dip. And, I'm definitely surprising him with his favorite cupcakes in the world – Pumpkin Cheesecake.
Whether you have a potluck holiday party at the office or a cookie exchange with friend or you just need to put up Thanksgiving leftovers, these food storage containers are such great yet simple solutions to make life less complicated. Rubbermaid food storage containers are designed to keep food fresh longer and to be easy to use. Both are 100% BPA free, dishwasher and freezer safe, and the Party Platter is even microwavable!
What are you baking up for the holidays that would fit into these great food containers?