My kids love Minecraft, and they love Minecraft themed stuff like snacks and crafts. One of their favorite snacks is muddy buddies, so I decided to whip up a little themed Minecraft Muddy Buddies. It's perfect for after school snack time while they're playing video games to relax and wind down before we start homework.
This post has been written in partnership with Gameband. All opinions are 100% my own.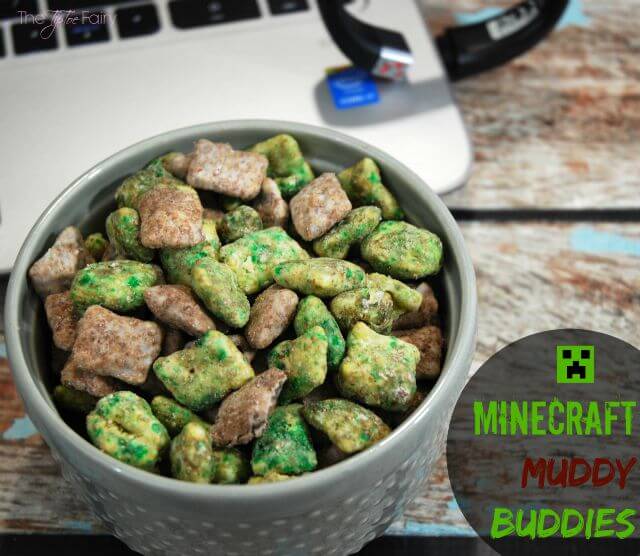 Did you know games like Minecraft actually help kids learn problem solving skills? Studies have shown that it does, so I think it's a great way to relax after a long day at school before it's time for extracurricular activities and homework. (Source)
Do yours kid take over your computer after school? All three of mine do.
This muddy buddies mix has two flavors – Cake Batter and Chocolate Peanut Butter. The green is Cake Batter, and the brown is Chocolate Peanut Butter (my fave!). When I make muddy buddies, I like to make it in zipper storage bags. It's easier to cover the cereal with the melted candy melts or chocolate and doesn't make a huge mess. Plus, it's an easy way for the kids to make it themselves with a little supervision.
One thing I did learn was to not heat the candy melts in the storage bags. I learned that lesson the hard way. The bags will melt together into one big mess.
Minecraft themed Muddy Buddies
Ingredients
6 cups of Rice or Corn square cereal
1/2 cup dark chocolate candy melts (or chocolate chips)
1/2 cup peanut butter
1/2 cup green candy melts
1/4 cup white box cake mix
1 1/2 cups powdered sugar
1/2 cup butter
2 teaspoons cocoa powder
10 drops of green food coloring (optional)
Instructions
Brown Muddy Buddies
Measure out 3 cups of cereal into one gallon size storage bag and then measure out another 3 cups into another gallon size storage bag.
In one bowl, combine 1/4 cup butter, chocolate candy melts, and peanut butter.
Then, microwave for 30 seconds at a time until completely melted. Stir to combine before pouring into 1 storage bag of cereal.
Once poured in, seal the bag and shake to cover the cereal.
Next, add 3/4 cup of powdered sugar, reseal the bag, and shake again to cover.
Then, add 2 teaspoons of cocoa powder, seal the bag, and shake again.
Once you feel the cereal is totally covered, pour it onto wax paper to dry.
Green Muddy Buddies
Next combine the other 1/4 cup of butter and green candy melts in a second bowl and heat for 30 seconds at a time until melted.
Stir until smooth, then pour into the second bag of cereal.
Seal the bag and shake to cover the cereal.
Next, add 3/4 cup of powdered sugar and 1/4 cup of white cake mix.
Seal the bag and shake until well covered.
If it's not green enough for you, add a few drops of food coloring and shake again.
Add 2 teaspoons of cocoa powder and shake one last time.
Next, pour the cereal out onto wax paper and allow it to dry.
Once both cereals are dry (after about 10-15 minutes), combine and serve.
One idea my tween had was to make his own grass block with his snack. We didn't have any clear cube-shaped glasses, so he just made it in a regular juice glass and then used a spoon as a shovel.