This is a sponsored post on behalf of Barilla and Galbani. All opinions are my own.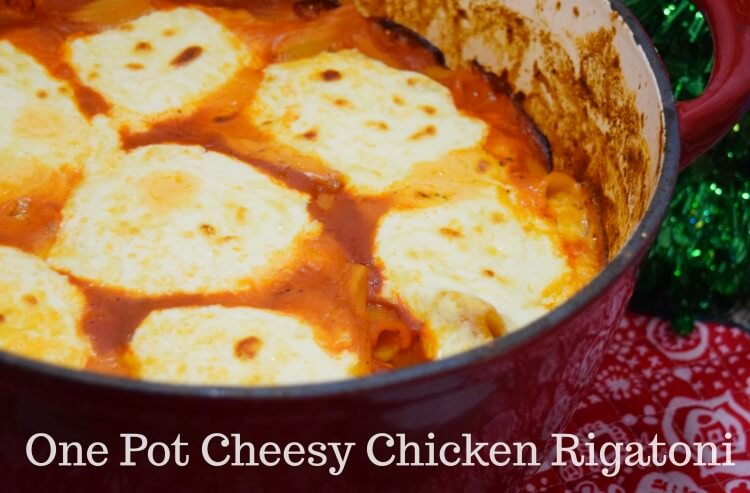 During the holiday months, we are always so busy. There are events to attend and school concerts to get to, along with the other typical lessons and extracurricular activities, and often dinner is the last thing I think about during this time.
Dinner time is important in our home whether it's a holiday or not. We always eat together as a family. During these busy holiday months, I love recipes I can just throw together all in one pot, especially cheesy Italian dishes that are warm and hearty when it's cold.
Two of my favorite brands for making amazing Italian dishes are Barilla and Galbani. You can easily find them at Walmart. They make the perfect pairing for the holidays.
This One Pot Cheesy Chicken Rigatoni is one of my favorite meals for these kinds of busy nights. It features Barilla Rigatoni pasta and Barilla Marinara sauce as well as Galbani mozzarella and ricotta cheeses. It's warm and inviting and just a perfect combination that I can put it together and pop in the oven. Then, while it's baking, I can take a short break. Here's how I like to make it:
First, I like to use precooked frozen diced chicken. I drizzle some olive oil in the pot and add the chicken. Once it's defrosted a bit, I go ahead and pour in the sauce and water.
I wait until it's bubbling before I add the rigatoni. Then, I let it cook down until the sauce thickens up and the pasta is al dente.
While that's happening, I shred the Galbani mozzarella and mix it with the Galbani ricotta cheese. Galbani is always my first choice for mozzarella and ricotta cheeses. Did you know it's the #1 brand in Italy? Their mozzarella is a bit firmer, so it's wonderful for shredding and melts perfectly into the dish, and the ricotta has this smooth creamy texture that I just love.
When the pasta is ready, I add about 7-8 ice cream scoops of the cheese mixture right on top and put it in the oven uncovered.
When the timer goes off, I turn the oven up to broil and let the cheese brown just a little for 3-4 minutes. Make sure to watch closely because it can burn in a heartbeat if you leave it too long.
More Italian Recipes
More One Pot Recipes
One Pot Cheesy Chicken Rigatoni
Ingredients
1 box Barilla Rigatoni
15 oz Galbani Ricotta
1 cup Galbani Mozzarella, shredded
2 24 oz jars of Barilla Marinara sauce
3 cups water
12 oz frozen precooked diced frozen chicken
1 tablespoon olive oil
Instructions
Preheat oven to 350 F degrees.
In a dutch oven, drizzle a tablespoon of olive oil over medium high heat.
Add the precooked chicken and saute until it's no longer frozen.
Raise the fire to high heat and add the jars of sauce and the water.
Wait until it comes to a boil and add the rigatoni.
Stir occasionally.
In a medium bowl, grate about 1 cup of mozzarella cheese.
Add the 15 oz ricotta cheese to the mozzarella and stir until well mixed. Set aside.
When the sauce has cooked down so it's no longer soupy and the pasta is al dente, turn off the heat.
Add ice cream scoops of the ricotta/mozzarella mixture to the top of the pasta.
Pop it in the oven for 35 minutes.
When the timer is up, turn the broiler on for just 3-4 minutes, watching carefully, to add a little brown to the cheese.
Remove from the oven and let it sit for about 10-15 minutes before serving.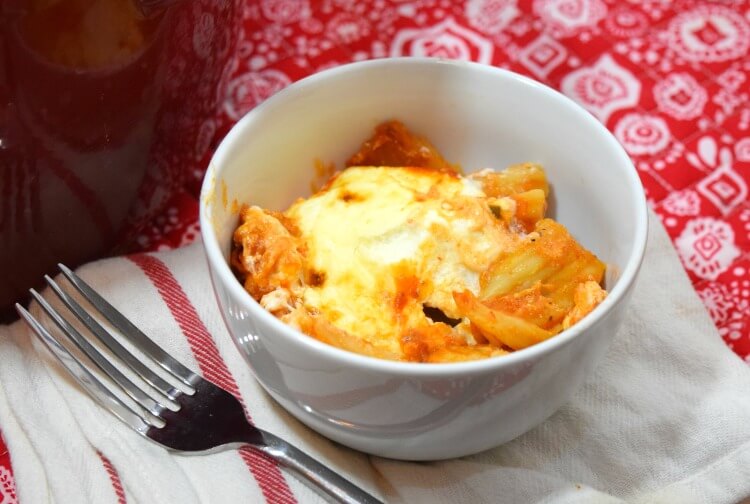 Not only is this is an easy recipe, it's plenty if you have unexpected guests or if you're needing to feed your big family.
Want some more ideas with Barilla and Galbani? Check out these recipes ideas!