I am all about sheet pan meals. If I can make it all in one pan, I'm a happy camper. It saves me dirty dishes and time. As a busy mom, I'm betting you're going to love this Sheet Pan Caprese Chicken Thighs for the same reasons. Plus, it tastes as amazing as it looks! This post contains affiliate links
Seriously, if you want to make something super easy that also makes your guests take pictures for Instagram, this is the meal.
I am not a big fan of raw tomatoes, but I love roasted tomatoes. Roasting little cherry or grape tomatoes and then letting them explode in my mouth is one of my favorite things to eat in a salad. They are so easy to make in the oven, and those little roasted tomatoes are absolutely perfect in with chicken or steak in a salad.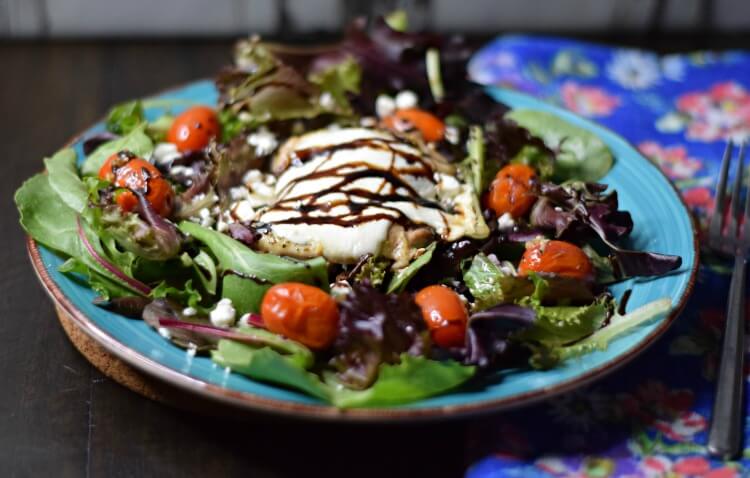 Caprese
Caprese salad is another one of my favorite things. I eat it so many ways — stuffed in mushrooms, stuffed in a grilled cheese sandwich, by itself. I absolutely love those flavors mingling together. Fresh mozzarella mixed with a balsamic reduction glaze is so delicious. I am always trying to find new ways to make something "caprese." In fact, this was such a hit, I'm working up a recipe for a steak version right now. I just love steak salads, and a caprese version is like all my favorite foods combined.
For this particular meal, I wanted to do as little work as possible, so I thought sheet pan would be perfect to roast tomatoes along with the chicken, and the flavors would mingle together. Plus, warm roasted tomatoes just add a wonderful dimension to a freshly made salad. I learned that from Modern Market. Have you ever been there? It's a chain restaurant with amazing good for you food, and they make an amazing flat-iron steak salad with roasted tomatoes (and they make wonderful breakfast and wonderful pizza, too).
Chicken Thighs or Breasts?
I prefer dark meat, so when I make chicken meals I mostly use boneless chicken thighs. Chicken breasts are not my favorite anything. I tend to avoid them at all costs. But, if you are a fan of chicken breasts, this will work just as well with those.
Sheet Pan Caprese Chicken Thighs
It might look like a long list of ingredients, but the bulk of it is just stuff for seasoning the chicken. You will be amazed at how quick this goes together. It takes longer for the oven to heat up.
I would say this is somewhat kid friendly. My 9 year old has sensory issues and a big one is taste, so she wouldn't even try it. But, my 2 year old LOVED it. I actually made her and her sister some garlic butter spaghetti to go along with their chicken breasts because I didn't think they'd eat it as a salad. Ivy, the 2 year old, saw my plate of salad, and though she ate all her spaghetti, she also ate a fair portion of my salad, too.
For teens and adults, this was a hit. My husband was so impressed he had to photograph it. It does plate up so beautifully. My teenagers each had seconds. It's definitely going into our regular meal planning.
How to make Sheet Pan Caprese Chicken Thighs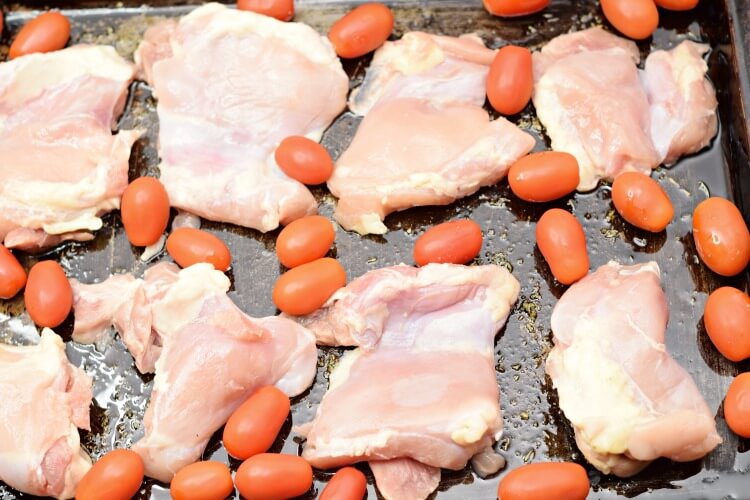 First, you will rub olive oil all over the cookie sheet and shake Italian seasoning all over the pan. Then, lay out the chicken thighs and grape or cherry tomatoes.
Rub olive oil over the tops of each piece of chicken. Sprinkle salt and pepper over the whole pan. Then, shake Italian seasoning over each chicken thigh.
Pop them in the oven and bake for 20 minutes. The tomatoes should be just ready to pop at this point.
Take the pan out of the oven and sprinkle minced garlic over each chicken thigh and over the pan.
Lay a slice of fresh mozzarella cheese over each chicken thigh. Then, bake for 8 more minutes, until the cheese is melted over each piece of chicken.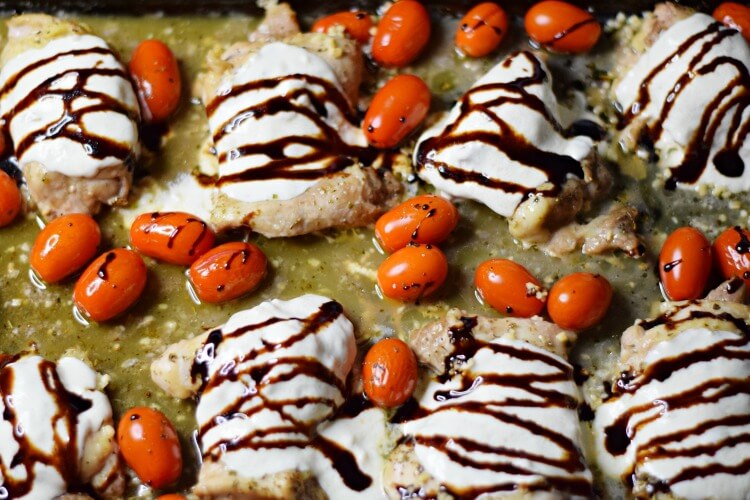 Check the internal temperature of the chicken. It should be at least 145 F degrees internally. Then take the pan out of the oven and drizzle balsamic glaze over each piece of chicken.
Serve your caprese chicken over a bed of baby spring mix. I add a spoonful of the juices from the pan drizzled over the salad as well as some balsamic glaze. Then, top it off with vinegar and oil salad dressing and if you love cheese add some crumbled feta for one super delicious salad.
More Chicken Recipes
Low Carb Sheet Pan Caprese Chicken Thighs
Make dinner all together and layer these Caprese Chicken Thighs over a bed of baby spring mix for a delicious salad. This recipe is so easy, and it's done in 30 minutes or less.
Ingredients
8 chicken thighs
1 teaspoon Italian seasoning
1 pint cherry or grape tomatoes
olive oil
salt
pepper
1-2 tablespoon minced garlic
sliced fresh mozzarella
baby spring mix salad
olive oil/red wine vinegar salad dressing
optional: crumbled feta
Instructions
Preheat oven to 350 F degrees.
Spray cookie sheet with lip liberally with oil spray.
Lay out chicken thighs flat.
Wash and spread cherry or grape tomatoes around the chicken.
Rub each chicken thigh with a little olive oil.
Sprinkle each chicken thigh with Italian seasoning, salt and pepper.
Bake for 20 minutes, until tomatoes start to pop.
Remove from the oven and liberally sprinkle each chicken thigh with minced garlic. Sprinkle the garlic around the pan as well.
Lay a slice of fresh mozzarella over each chicken thigh.
Bake for 7-8 more minutes, until cheese is melted.
Check internal chicken temperature with meat thermometer, which needs to be at least 165 F degrees.
When chicken is ready, remove from oven and drizzle balsamic glaze over each chicken breast.
Layer baby spring mix salad over a plate, top with roasted tomatoes and a chicken thigh.
Drizzle juices from the pan and additional balsamic glaze as desired.
Add dressing and feta cheese as desired.
Serve immediately.
Notes
You can make your own balsamic glaze. There are tons of recipes out there, but I tend to just keep a bottle on hand. It lasts forever, and really saves time.