This post may contain affiliate links in which I make a small commission if you make a purchase through those links.
I'm a big believer in breastfeeding, so for the first year, my babies nurse and just try out foods. We take moving to solids slowly during that first year. We skip the cereal and wait until about 6 months old before we start trying various foods.
I don't know about you, but most jarred baby food just grosses me out. I just don't like it and most of the time neither do my babies. I do start with the jarred single fruits and veggies. After a couple months, we move to more complex flavors and I make my own baby food with what the meals I cook for my family. Have you ever made your own baby food?
I puree together most meals that I make and make enough to fill 2-3 baby food containers to store in the freezer or fridge. Here's what I do:
I like to use a my Magic Bullet mini, but you can use Magic Bullet blender or any blender or even a mini food processor works well. They even have a Magic Baby Bullet specifically for baby food.
If we're eating green beans or carrots or broccoli, etc, I will puree them in the mini bullet. I do this with other fruit and veggies, too. In the past, I've used this ice cube tray, freeze it, and put them in freezer bags with labels.

But, OXO now has these cute little baby food containers that are just perfect. So, they are what I use now. They are stackable and come in a little tray to hold them all together. And, when you take the lid off, the container fits perfectly into the top of it for feeding.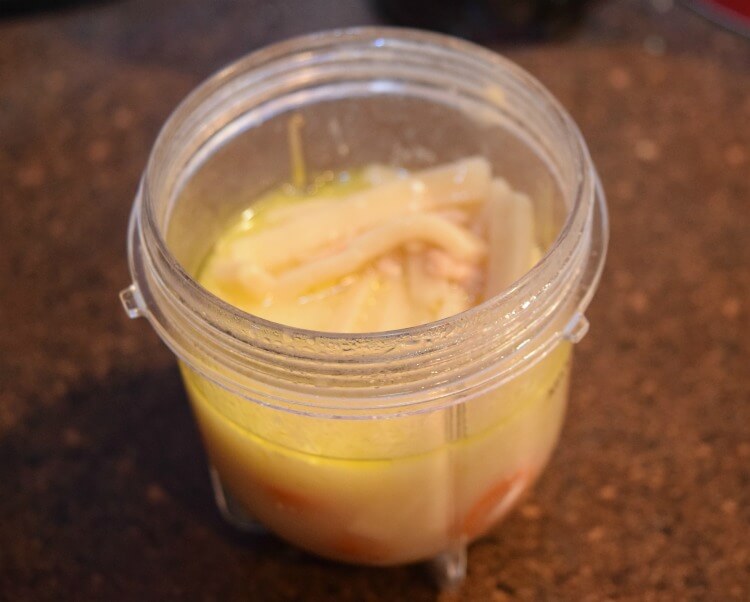 As my baby gets used to eating food, then I puree whole meals that I make, like spaghetti with meat sauce or chicken noodle soup. Pureed spaghetti or lasagna are always a favorite with my babies. With a soup or stew, you don't need to add extra water, but with spaghetti, I like to add a couple tablespoons of extra water to the Magic Bullet before I puree to make it a little runny because the pasta ends up soaking up a lot of the liquid.
I usually puree enough for one serving at dinner and two additional servings later. It probably ends up being about 1 cup in amount and that fits into about three of these baby food containers,
If we're headed right out the door to dinner, I will just heat up some of my fresh or frozen baby food right before we leave and bring it with us. But, when we're out and about for a long time, I like to take one of these baby food mills in the diaper bag and make fresh food when we eat out and when we're traveling.
Making your own baby food is simple to do, and we think it tastes better, too! I love knowing exactly what's going into my baby's food.
Grab a copy of FREE 5 Baby Friendly Recipes for the Whole Family!