Do you ever just get a craving for something? I had a huge craving for brownies the other day. I hadn't had one in forever, and I wanted toffee in them. So I made a batch and made them extra chocolaty and topped with yummy toffee bits.
My son is still raving about them a week later. These are ridiculously simple, but so good. I actually did not make these from scratch, but instead I doctored up a couple packages of brownie mix.
I had a couple of packages of the smaller brownie mixes for an 8 x 8 size pan. I combined the two of them and doubled the typical ingredients, and then I added extra water to make them more "cake like." I quadrupled the water in the recipe. For one mix it called for 2 tablespoons, so 2 mixes would have been 1/4 cup, but I added 1/2 cup of water.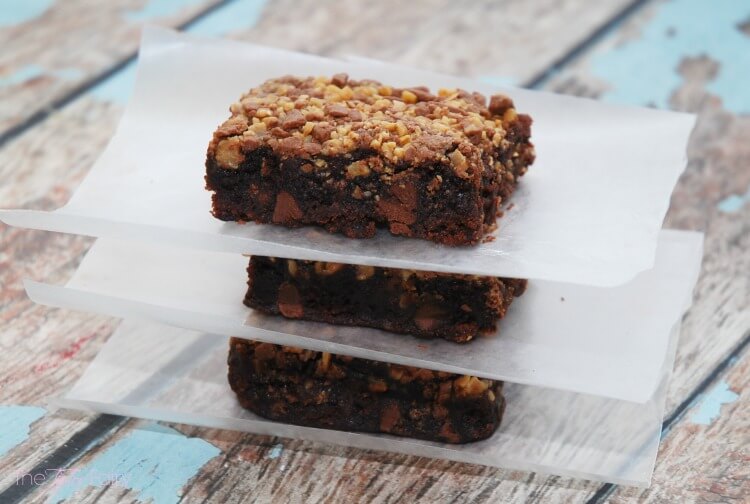 Then, I added a cup of semi sweet chocolate chips to the batter. I think dark chocolate chips would have been a good addition as well, and I had planned on using them instead. But, I was out of dark, so semi sweet it was. After I spread the brownie batter out in the pan, then I just poured and entire bag of chocolate toffee bits all over the brownies and set them to bake.
At 25 minutes, they were still a little jiggly in the middle, so I put them in for 5 more minutes. At 30 minutes, they were no longer jiggly. We let them cool for about an hour before I cut into them, and they were just perfect. They stayed moist and delicious for days.
What's your favorite thing to add to brownies?
More Brownie Recipes
\Need a few more brownie ideas? Check these out:
Double Chocolate Toffee Brownies
Ingredients
2 packages brownie mix (8 x 8 size)
2 eggs
1/4 cup water
2/3 cup oil
1 cup semi sweet chocolate chips
8 oz bag of chocolate toffee bits
Instructions
Preheat oven to 350 degrees.
Grease 9 x 13 inch pan.
Combine two packages of the smaller brownie mixes (the 8 x 8 pan size)
Add 2 eggs, 2/3 cup of oil, and 1/4 cup water.
Mix by hand until moistened. It's okay if there's lumps.
Add 1 cup of chocolate chips and mix until they are combined through the batter.
Pour brownie batter into the pan and spread it out with spatula.
Pour the bag of chocolate toffee bits all over the top of the brownie batter.
Bake for 25-30 minutes, until done and the middle is no longer jiggly.