Who doesn't love cookies and brownies and peanut butter cups? Have you ever thought it would be great if we combined all of them together into one awesome delicious treat? Me too! So, I bring you a super easy way to make Peanut Butter Cookie Brownie Cups.
This is such an easy recipe. If you never bake anything more than refrigerated cookie dough, then you can make this! You might could even find refrigerated brownie batter (do they make that?) and not have to mix up anything. Just squish it all together in the muffin tins, bake, and you're done! Just make sure to serve them with a big glass of milk.
You know what else these would be good for? A bake sale! Then those people who can't decide if they want a cookie or a brownie can have both in one treat! I'm so making these for our upcoming Halloween festivals for my kids' schools! So much easier than icing cupcakes!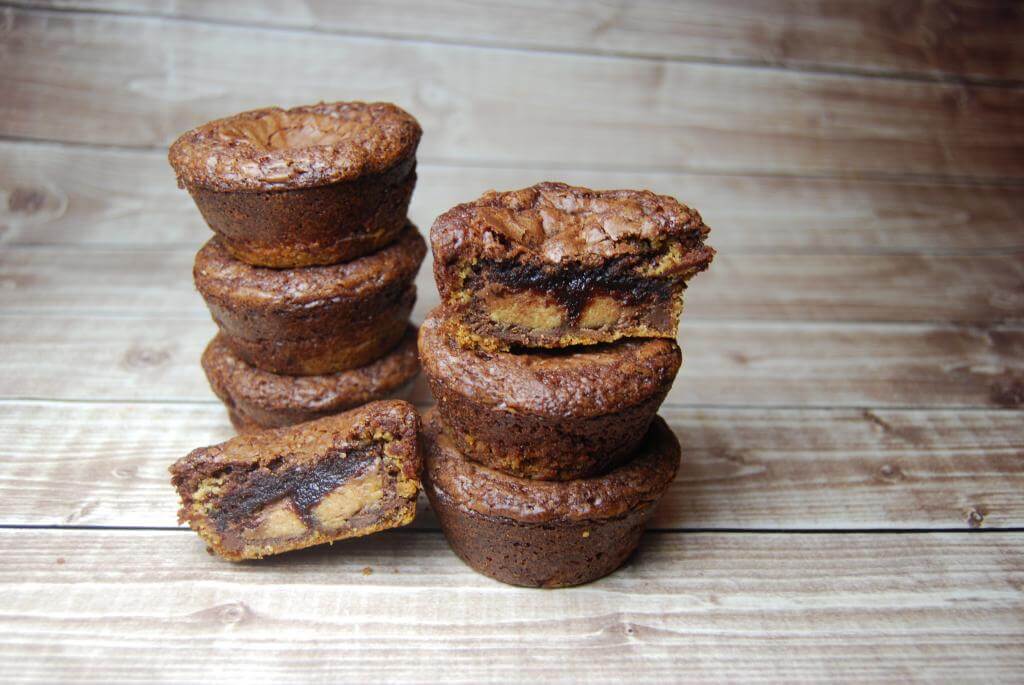 Your kids will love making these, too. Molly, my preschool extraordinaire and who is already on her way to being a future foodie blogger, loves to cook with me and take pictures as we cook. My phone is so full of her adorable foodie pictures. I just can't delete any of them.
This was so easy that she made up the brownie batter and then helped me put everything together in the muffin tins. Her favorite part is cracking the eggs for the brownie batter.
I just ate one these for breakfast, and I got to thinking. If I had to choose between Butterfinger or peanut butter cups, I always pick the Butterfinger. So now I'm wondering how awesome would this be be if you used those new Butterfinger cups instead of regular peanut butter cups? Oh my! I think I'm going to try that next!
More Delicious Dessert Recipes
Peanut Butter Cookie Brownie Cups
Ingredients
1 pkg of brownie mix
water & eggs for brownie mix
1 pkg of refrigerated cookie dough
12-count peanut butter cups
Instructions
Preheat oven to 350.
Grease a 12-count muffin tin
Place one square of cookie dough into each muffin tin and smush each one to cover the bottom of the tin.
Place 1 peanut butter cup in on top of each cookie dough.
Mix up the brownie mix and add a couple of spoonfuls over the peanut butter cups.
Bake for 15-17 minutes. When the tops look done, remove from oven.
Allow to cool for 10-15 minutes before removing from the tins carefully.
Come Join Us!
Liked this article and want more? Follow along on Instagram, Facebook, Twitter, Pinterest, TikTok, and YouTube!
Come over and join us on Facebook in the group Recipes, Crafts, and more with TipToe Fairy or Sewing and Crafting with The TipToe Fairy!
Visit Our Other Blogs!