You will love eating a slice of this Peanut Butter Cookie Brownie Pizza. It's literally one of our favorite desserts. It's a giant version of these Peanut Butter Cup Cookie Brownie Cups. It's got chocolate chip cookies, peanut butter cups, and brownies all in one amazing dessert! This post contains affiliate links.
updated 8/25/2022
Even if you aren't a baker, you can totally make this delicious cookie pizza with refrigerated cookie dough, brownie mix, and peanut butter cups and everyone will love you!
What ingredients do you need to make this Peanut Butter Brookie Pizza?
I make this one with shortcuts, so I use just 4 ingredients:
brownie mix
refrigerated chocolate chip cookie dough
a bag of Reese's Peanut Butter Cups – snack size
If you are making this in a 12-inch size pizza pan, you just need 1 box of brownie mix. If you are doing it in a 16-inch pizza pan, you'll need 2 boxes of brownie mix.
If you want to make this totally from scratch, then use your favorite chocolate chip cookie dough recipe and your favorite brownie recipe and just get a bag of peanut butter cups.
This Wilton deep dish pizza pan is a spring form pan makes cookie pizzas so easy to make because of the removable base. It's 12 inches in diameter. I wish I could find a 16-inch size because I have an old one from the 1970s my mom gave me that I seriously need to replace.
How do you make a Peanut Butter Cup Cookie Brownie Pizza?
Well it might have a long name, but it's seriously easy.
First, spray the pizza pan with non-stick oil spray. This makes removing the pizza so easy.
Then, press the cookie dough into the pan.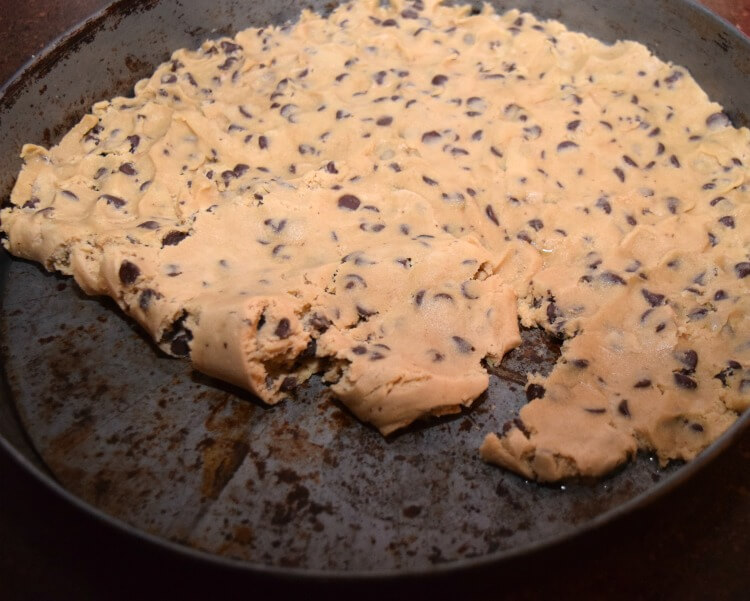 Next, I covered the cookie dough with peanut butter cups. I spaced them in concentric circles about 1-inch apart. It takes usually about 25 to 30 of them.
Lastly, Cover all that with brownie batter made according to the directions on the box.
If you have a 12-inch pan, use 1 box of brownie mix and a 16-inch pan, use 2 boxes of brownie mix.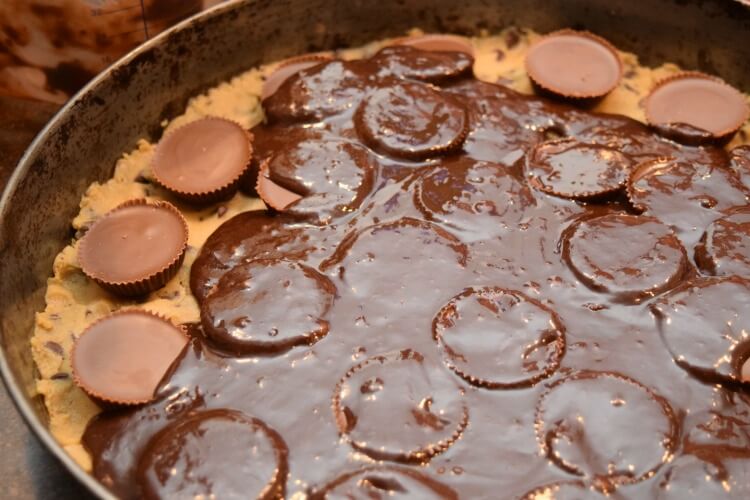 Then, it needs to bake for 30-40 minutes. I started checking at 25 minutes and every 5 minutes after with a knife coming out clean from the brownie batter.
With it being so big and thick, ours took closer to the 40 minute mark.
Let it cool completely before serving.
I love this dessert pizza. It's gooey and delicious and full of my favorite things – chocolate chip cookies, brownies, and peanut butter cups.
More Desserts You'll Love
Yield:

10
Peanut Butter Cup Cookie Brownie Pizza
Ingredients
30 oz package of refrigerated cookie dough
brownie mix (follow directions with oil, water, and eggs)
24-30 peanut butter cups
Instructions
Preheat oven to 350 degrees.
Spray a deep dish pizza pan with nonstick spray.
Spread the cookie dough all along the bottom of the pan.
Unwrap the peanut butter cups and place them in rows of circles all around the cookie dough with about 1-inch of space around each one.
Make the brownie batter according to the package.
Spread the brownie batter all over the peanut butter cups and cookie dough until it's totally covered.
Bake for 30-40 minutes until a knife comes out clean from the brownie batter.
Allow to cool completely before cutting into slices.
Nutrition Information:
Yield:

12
Serving Size:

1
Amount Per Serving:
Calories:

548
Total Fat:

28g
Saturated Fat:

11g
Trans Fat:

2g
Unsaturated Fat:

17g
Cholesterol:

8mg
Sodium:

386mg
Carbohydrates:

68g
Fiber:

3g
Sugar:

47g
Protein:

7g
Any nutritional information on thetiptoefairy.com should only be used as a general guideline. This information is provided as a courtesy and there is no guarantee that the information will be completely accurate.
Come Join Us!
Liked this article and want more? Follow along on Instagram, Facebook, Twitter, Pinterest, TikTok, and YouTube!
Come over and join us on Facebook in the group Recipes, Crafts, and more with TipToe Fairy or Sewing and Crafting with The TipToe Fairy!
Visit Our Other Blogs!