This shop has been compensated by Collective Bias, Inc. and its advertiser. All opinions are mine alone. #DelightfulMoments #CollectiveBias
It finally feels like Fall. The morning air is getting crisp, the pumpkins are starting to appear, and the leaves are changing. I can finally enjoy a hot cup of coffee without it feeling like a sauna.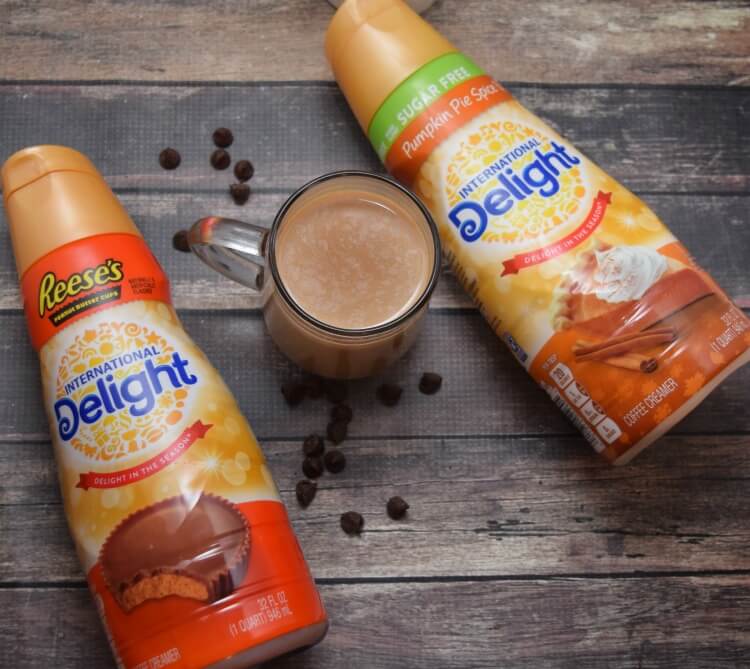 Do you flavor your coffee? I love when International Delight® has new creamer flavors! Remember last year when I made Sugar Cookie Crepes from the International Delight® Frosted Sugar Cookie flavor? Well this year, it's all about chocolate and peanut butter with International Delight® REESE'S Peanut Butter Cup creamer!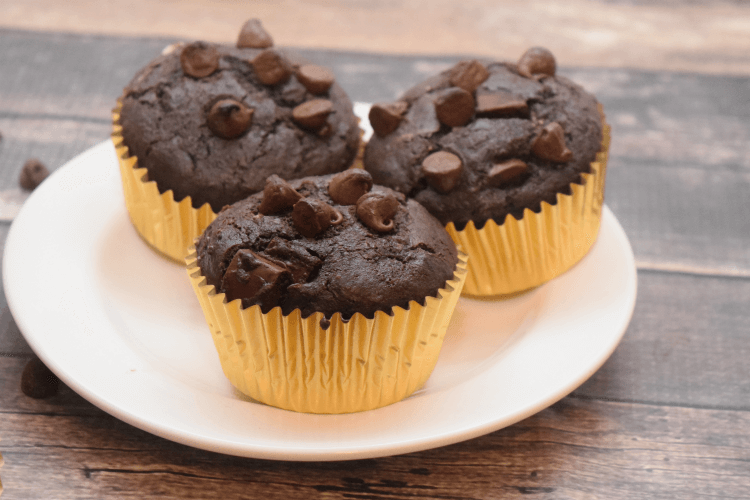 You know what else feels like Fall? Baking!
As the weather cools down, I always get back to baking. When I saw the new International Delight® REESE'S Peanut Butter Cup, I could not wait to bake a batch of Peanut Butter Stuffed Chocolate Muffins.
How do you make Peanut Butter Stuffed Chocolate Muffins?
These muffins pair just perfectly with a cup of coffee, especially a peanut butter cup flavored cup of coffee. Here's how I like to make them:
Combine the dry ingredients.
Then, add the wet ingredients.
I switch it up and substitute some International Delight® REESE'S Peanut Butter Cup in place of milk in my chocolate muffin recipe to add a little kick of that chocolate and peanut butter flavor. Oh so good!
Instead of using an electric mixer, stir the batter by hand because you just want to mix until everything is moistened.
Next, combine all the ingredients for the peanut butter cheesecake and mix until smooth.
Now, let's layer! I have three different size scoops I use for baking. I used a medium scoop to layer the chocolate muffin batter, then the small scoop to layer in the peanut butter cheesecake mixture, and then one more scoop of the chocolate muffin batter. As you layer, don't fill the cupcake liners more than two thirds full.
For some extra chocolaty-ness add a few chocolate chips on top of each muffin. You can never have too much chocolate in chocolate muffins.
Bake for 20 minutes. Then, allow them to completely cool before serving.
More Chocolate Recipes
More Peanut Butter Recipes
Yield:

18 muffins
Peanut Butter Stuffed Chocolate Muffins
Ingredients
Chocolate Muffins
2 cups flour
1 cup white sugar
1/2 cup cocoa
1 teaspoon baking soda
1/2 cup vegetable oil
1 egg
3/4 cup chocolate chunks
1 cup sour cream (or plain Greek yogurt)
1/2 cup International Delight® REESE'S Peanut Butter Cup
1 teaspoon vanilla
1/4 cup chocolate chips
Peanut Butter Cheesecake Stuffing
8 oz cream cheese, softened
1/2 cup peanut butter
1/2 cup powdered sugar
1 teaspoon vanilla
1 egg
Instructions
Preheat oven to 400 F degrees.
Fill muffin tins with 18 cupcake liners.
Combine flour, sugar, cocoa, and baking soda and mix.
Add egg, chocolate chunks, sour cream, International Delight® REESE'S Peanut Butter Cup, and vanilla.
Mix ingredients until everything is just moistened.
Combine cream cheese, peanut butter, powdered sugar, egg, and vanilla and mix until completely combined.
In each cupcake liner, layer a small scoop of chocolate muffin mix, peanut butter cheesecake mix, and then lastly another chocolate muffin mix.
Sprinkle each top with 5-6 chocolate chips.
Bake for 18-20 minutes.
Allow to cool before serving.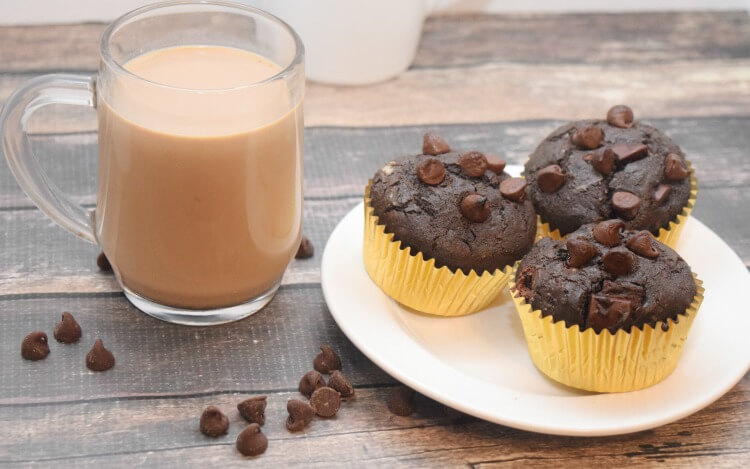 These Peanut Butter Stuffed Muffins are just delicious and perfect for breakfast, a much-needed coffee break, or any time.