Did you know you could make your own butter? I just recently learned how to do this with my new Hamilton Beach Stack and Snap™ 12 Cup Food Processor. It's so easy to do, and the taste is amazing. In the last month, I started making my own regular butter, and then I branched out into compound butters, which are just amazing! This is a sponsored post.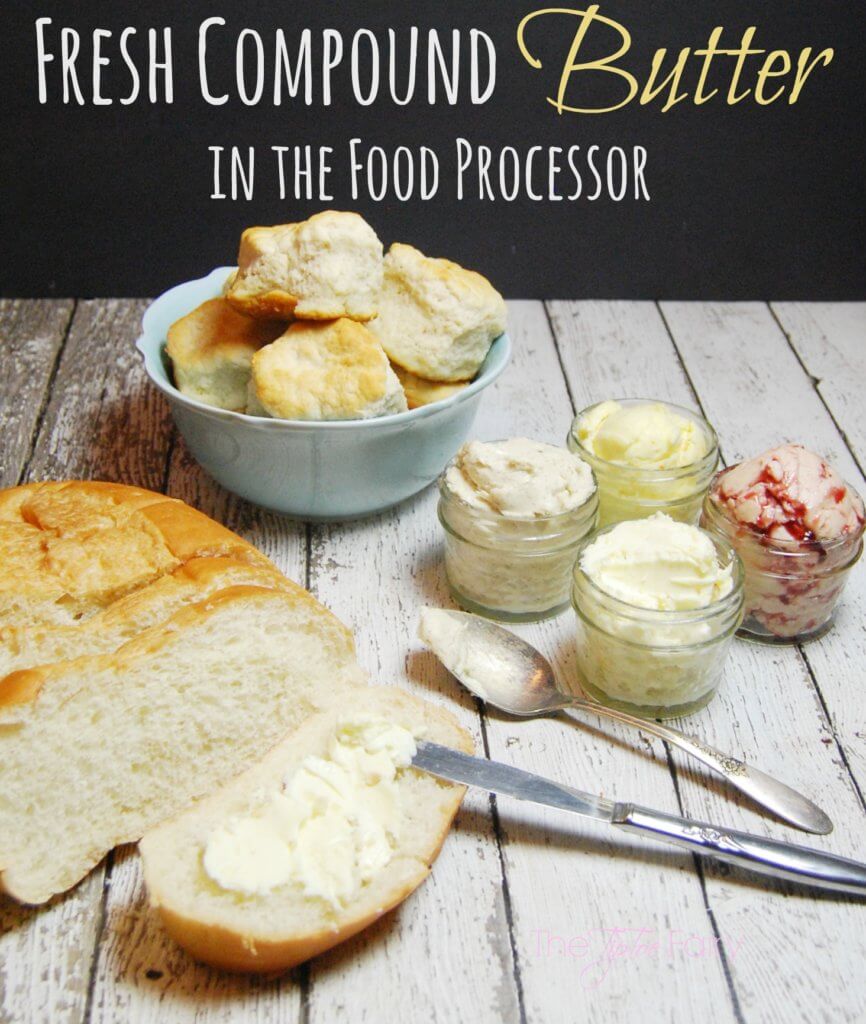 In the past, I've bought roasted garlic butter and orange honey butter at the fancy organic grocery store, but with my food processor, I was able to make my own this holiday season. I can't believe how easy it is!
I think these would go so nice with a little New Year's Eve get together – champagne, sliced baguette, cheeses, olives, some fruit, and homemade compound butters. And make some homemade biscuits! If you have never made 7UP biscuits, go do it right now. They come out just amazing as the fluffiest and most delicious biscuits I've ever had.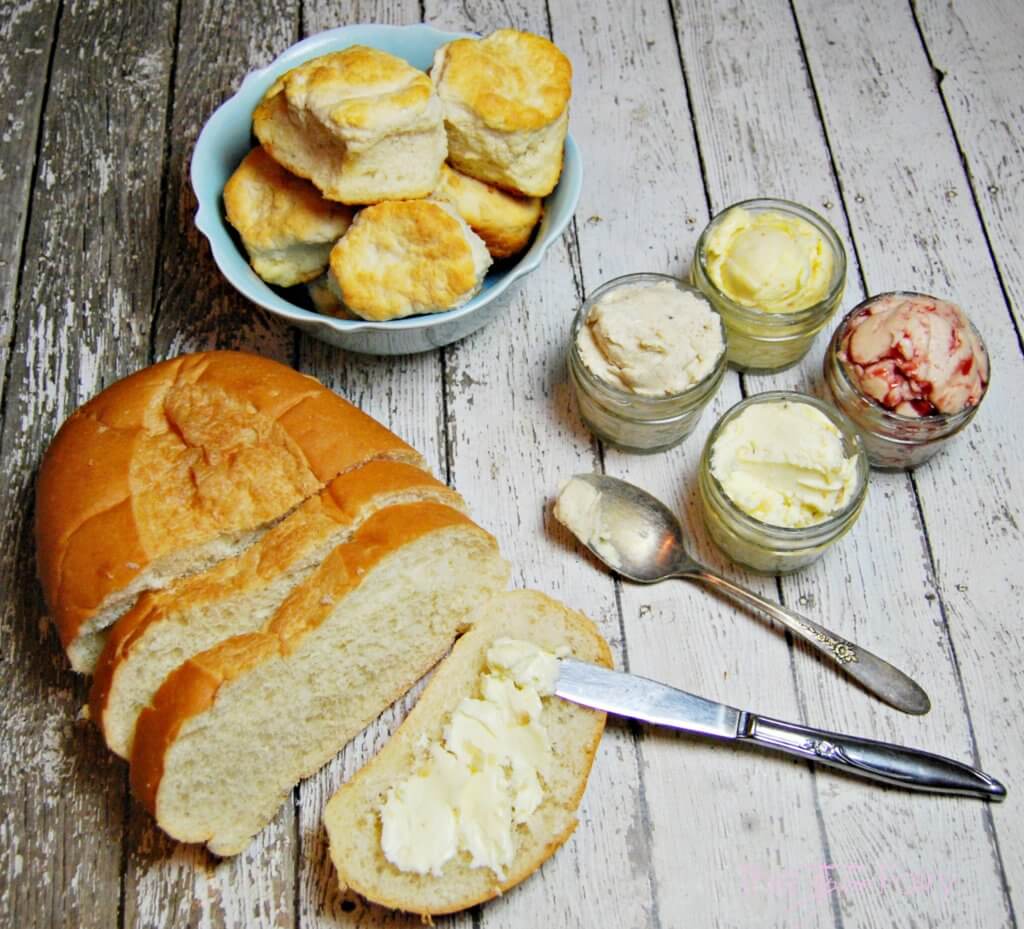 Here is a picture tutorial for the butter making process as you follow the recipe. The first few times I made it, I felt like it was never going to reach the "butter" stage, but just keep processing and watching it turn to a crumbly look, and you know you're there.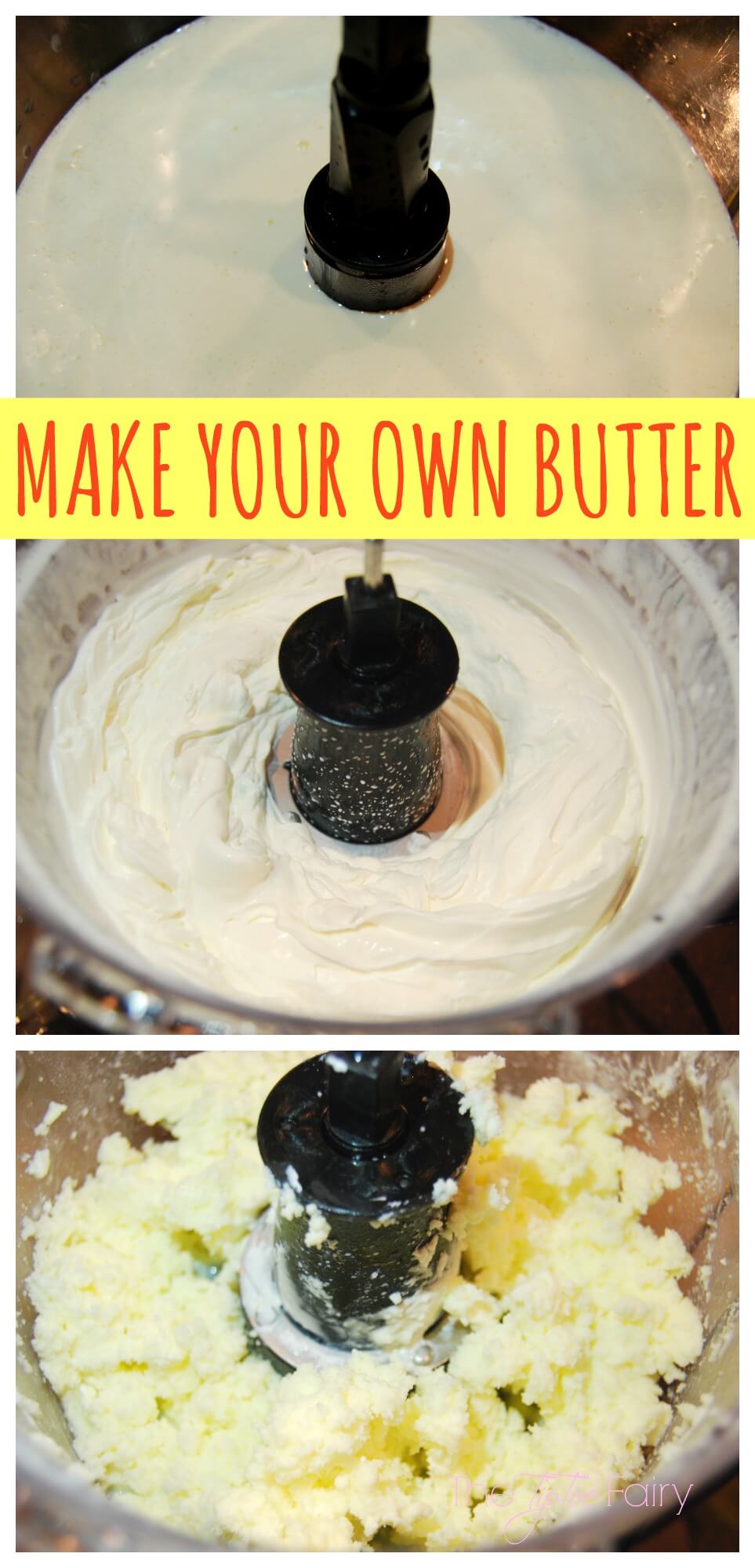 This is the basic butter recipe you'll need before making compound butter.
Make your own butter and then add something delicious to it.
Ingredients
2 cups of whipping cream (or heavy cream)
1/8 cup ice water + 3 ice cubes
pinch of salt
Instructions
Pour whipping cream into the food processor and puree for 2-3 minutes.
Watch for the cream to form hard peaks and start to fold on itself.
When that stage is reach, drop 1/8 cup of ice cold water and 1 crushed ice cube through the hole and puree for another minute.
At this point, it should start to harden even more. Open the lid and see if you can pour off any liquid - that's the buttermilk (you can save it).
Then, add 2 crushed ice cubes and continue processing again for another minute or so until it looks almost crumbly.
At this point, you can pour off most of the buttermilk.
Put the butter into a strainer and gently push on it to squeeze out the excess buttermilk.
Now, wrap it in wax paper and refrigerate it.
You've Got Leftover Buttermilk
After you've made the butter, you'll have about a cup of buttermilk, which you can keep and cook with later. I keep it in the fridge and make waffles or pancakes or add it to cornbread. I get such a great feeling when I can reuse something like this. The waffles I make with my homemade buttermilk are to die for!
How to make Compound Butter
Once you've made the butter, now it's time to make some compound butter. I buy 2 quarts of whipping cream and make 4 batches of butter and turn each batch into it's own compound butter. For each batch of butter, once I've squeezed out the buttermilk in the strainer, I return it back to the food processor. Then, I add the ingredients for one of these recipes below and then wrap them in wax paper and store in the fridge.
Here's what I add for each:
Orange Honey Butter
1 tsp orange zest
2 tbs orange juice
2 tbs honey
Process for 30 seconds. Remove, and roll into wax paper. Refrigerate for 2 hours or more.
Roasted Garlic Butter
12-15 roasted garlic cloves – Recipe to roast garlic HERE
1/2 tsp garlic powder
pinch of salt
Pulse 5-6 times. Remove, and roll into wax paper. Refrigerate for 2 hours or more.
Cinnamon Vanilla Bean Butter
1 vanilla bean – split and insides scraped out
1/2 tsp cinnamon
1 tsp sugar
Pulse 5-6 times. Remove, and roll into wax paper. Refrigerate for 2 hours or more.
Raspberry Preserves Butter
2 tbs + 1 tbs raspberry preserves
Add 2 tbs of raspberry preserves, and puree for 20-30 seconds. Remove and mix with 1 tbs of raspberry preserves. Roll into wax paper. Refrigerate for 2 hours or more.
Recipes to go with Butter