I love light and fluffy biscuits with melted butter and jam. For the longest time, I could never figure out the secret to getting fluffy Bisquick Biscuits. This post contains affiliate links.
Growing up in Texas, biscuits have always been a nostalgic comfort food to me. My parents would often make Bisquick biscuits on Saturday mornings. They would call them "bickies."
I like the flavor of Bisquick biscuits, so I usually make them, but I could never get mine to rise up high and be soft and fluffy. Then, I learned the secret!
What's the secret to soft and fluffy Bisquick Biscuits?
The secret I found that works every single time is using 7UP and sour cream. I have made Bisquick 7UP Biscuits so many times, and they have never failed me. They always come out beautiful and fluffy and rise up high.
How do you make Bisquick 7UP Biscuits?
This recipe always gives me about 18 biscuits, which is always too many to fit together in a 13 x 9 casserole dish. I can fit 15 in one of those, but not 18. So, I've taken to baking them in a deep baking sheet.
I preheat the baking sheet with 1/2 a stick of butter in the oven while I'm making up the biscuit dough.
Combine Bisquick, sour cream, and 7UP all together at once. I find it's best to just mix it with a fork until it forms a ball. It will be very sticky and very soft and fluffy.
You cannot make this dough with a mixer. I've tried. It comes out a mess. I thought it would help be less sticky, and I was wrong.
I keep 1/2 cup of Bisquick or 1/2 cup of flour and sprinkle half of it on the counter or a mat or even some parchment paper. Flour your hands before touching the dough because it is so stick.
I lay out the dough and sprinkle the rest of the flour or Bisquick on top. You might even need more because this dough is so sticky. I need it a few times and then when it's become less sticky, I start rolling it out.
I roll out the dough to about 1/2 inch high and then cut biscuits with a drinking glass.
This is when I pull the baking sheet back out of the oven. At this point, the butter should have completely melted.
I lay the biscuits right next to each other in lines. I read somewhere that biscuits that cook right next to each other rise up higher, so that's how I always do it.
Then, bake for about 12-15 minutes, until the tops are golden brown. I usually stick with about 14 minutes.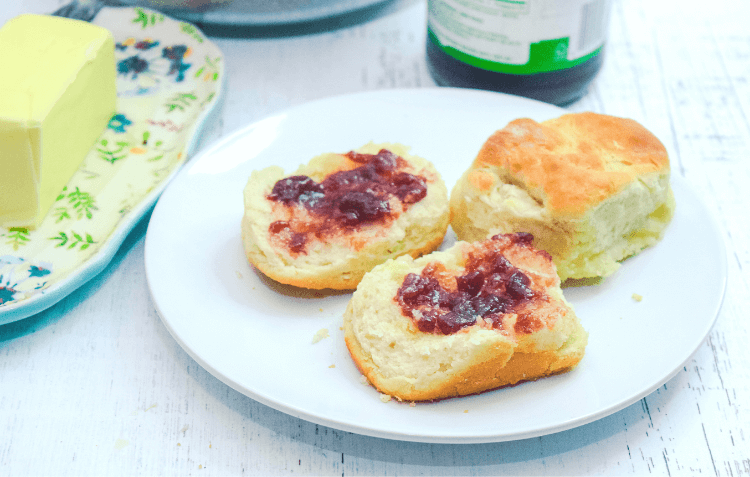 Can I make these Bisquick 7UP Biscuits in the toaster oven?
I prefer the regular oven because I think they cook better than in a toaster oven. But it can be done.
I have found if you use a toaster oven, the time might need to go longer. When I've baked these in a toaster oven, I have found that they need to cook longer. When the tops were golden brown, the bottoms were still raw dough. Now when I cook them in a toaster oven, I make sure it's completely heated up, and I let them go up to 18-20 minutes.
Can you use Sprite instead of 7UP?
Yes! I have used 7UP, Sprite, and even off brand lemon lime soda, and my biscuits have come out wonderfully every time.
Can you use diet 7UP instead of regular?
If you can find a lemon lime soda that is sweetened with sucralose (Splenda) or stevia, then yes, you can use that as a substitute.
But, I would not recommend using diet soda sweetened with aspartame (Nutrasweet or Equal). According to the FDA, aspartame is not heat stable and will separate when baking.
How do you reheat leftover Fluffy Bisquick Biscuits?
I store the leftover biscuits on the counter in a ziplock bag for up to 3-4 days. Usually, they don't last long as everyone wants to eat the leftovers the very next day.
If you want to reheat the biscuits, 30 seconds is usually just perfect to melt better.
Southern Recipes to go with your Fluffy Biscuits
More Secrets to Delicious Food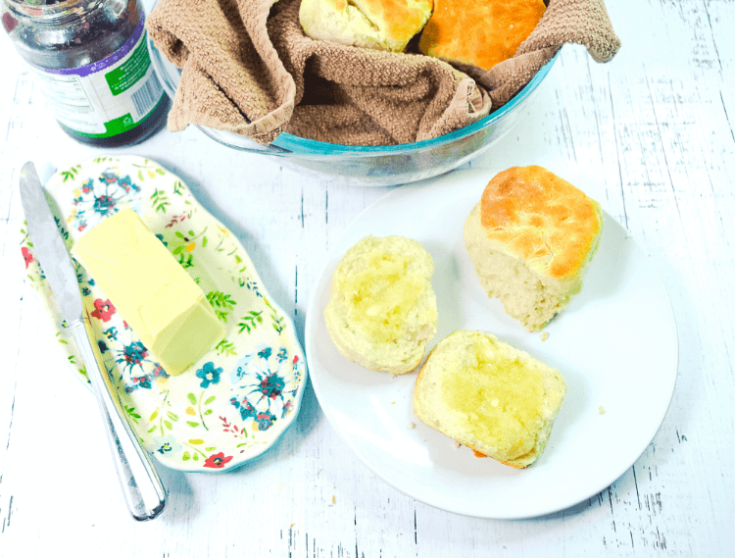 Yield:

18 biscuits
Bisquick 7UP Biscuits
Ingredients
4 1/2 cups Bisquick
1 cup sour cream
1 cup 7UP
1/4 cup butter
extra 1/2 cup of Bisquick OR all purpose flour
Instructions
Preheat oven to 450 F degrees.
Melt the butter in a deep baking sheet as the oven heats up.
In a large bowl combine Bisquick, sour cream, and 7UP and stir until completely combined and it forms a very soft and sticky dough.
On a piece of parchment paper or a silicone mat, sprinkle out 1/2 the extra Bisquick or flour.
Flour your hands.
Gently transfer the dough to the mat and sprinkle most of the rest of the flour or Bisquick on top of it.
You may need to knead the dough a few times and even add more flour or Bisquick to get it less sticky.
Roll out the dough and cut into circles. I just use a drinking glass about 3 inches in diameter.
Pull the baking sheet out of the oven and lay the biscuits side by side throughout the pan.
Bake for 12-15 minutes.
Remove from oven when the tops are golden brown.
Eat immediately.
Store leftovers in a ziplock bag for 3-4 days.
Recommended Products
As an Amazon Associate and member of other affiliate programs, I earn from qualifying purchases.
Nutrition Information:
Yield:

18
Serving Size:

1
Amount Per Serving:
Calories:

245
Total Fat:

13g
Saturated Fat:

6g
Trans Fat:

0g
Unsaturated Fat:

6g
Cholesterol:

22mg
Sodium:

474mg
Carbohydrates:

29g
Fiber:

1g
Sugar:

6g
Protein:

4g
Any nutritional information on thetiptoefairy.com should only be used as a general guideline. This information is provided as a courtesy and there is no guarantee that the information will be completely accurate.