Fried okra is one of those special treats that I usually get when we go out to eat. It's a comfort food I've loved since I childhood. I've always been a bit picky when it comes to fried okra. You can definitely tell if it's made fresh from scratch or frozen. There is nothing better than freshly made fried okra, especially if it's been dipped in buttermilk.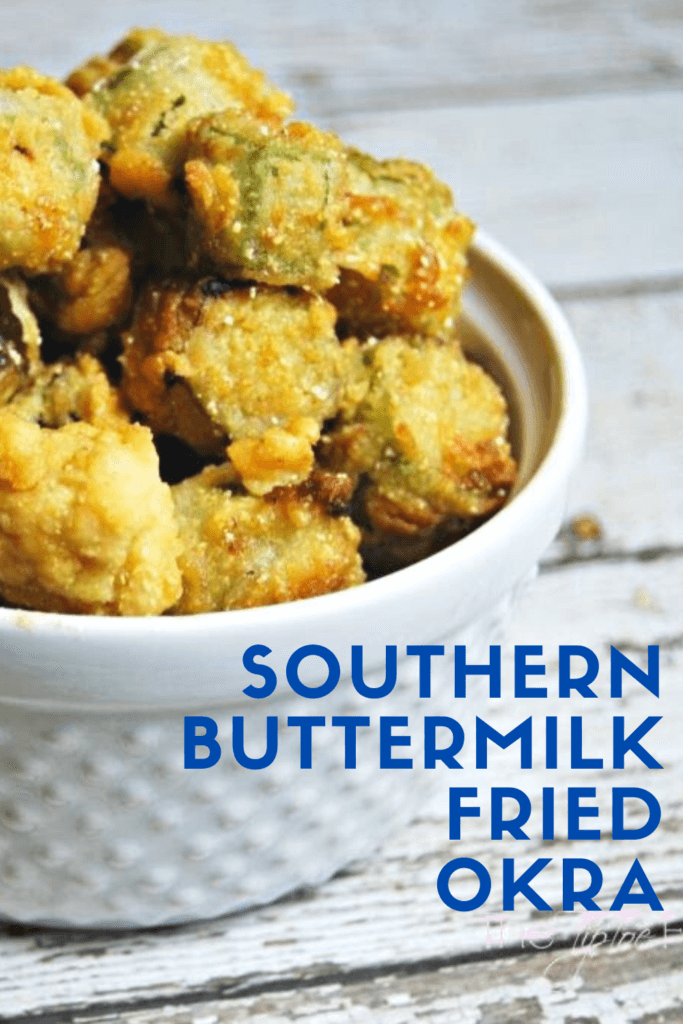 I've always been a bit scared to make it from scratch myself, but I decided it was now or never. I jumped in with both feet and even made up my own recipe, and I was so happy it came out perfect!
The outside was golden and crispy and the inside was melt in your mouth delicious. The kids and Nate were clamoring to eat it while it was still blistering hot from coming out of the oil. Crazy people!
I hadn't planned on making fried okra or pickling it (recipe coming soon!) at all this weekend. Then, on Sunday morning my mother-in-law called and said she was coming over to bring us a bunch of veggies from her garden. We always love it when she brings them.
Little did I know that she had okra coming out her ears growing in her garden. I think she brought us at least 4 or 5 lbs of it – both purple and green! Did you know okra can be purple?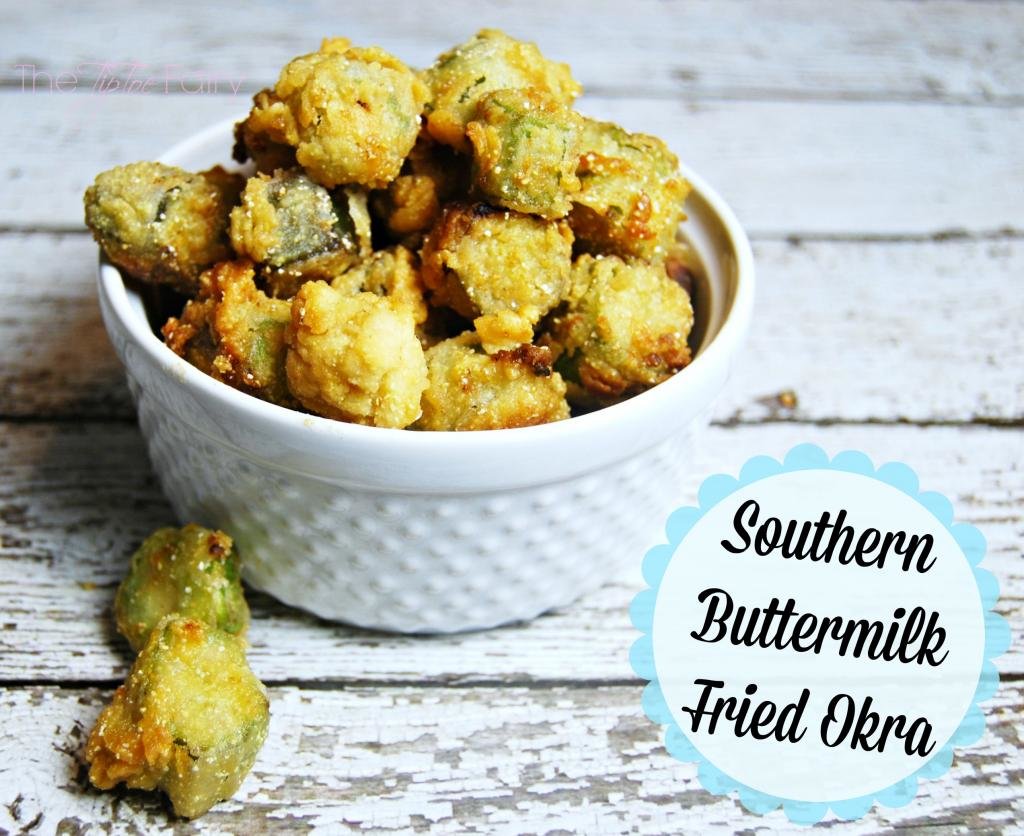 So, my husband washed it all up and said, "Let's pickle some and fry some!" He was very excited, and how could I turn that down?
What do you need to make fried okra?
My favorite fried okra is always dredged in a mixture of flour and cornmeal with buttermilk along with some salt and pepper to taste.
I was out of buttermilk for this recipe, so I made my own.
How do you make buttermilk with regular milk?
Just add a couple cups of milk in a bowl and a couple tablespoons of lemon juice (or white vinegar) and let it curdle for awhile (about 5 to 10 minutes), while you put the rest of the recipe together. Then, it's ready to use, just like store bought buttermilk.
How do you make fried okra?
I decided I would make it similar to chicken fried steak, except I'd add some cornmeal to the mix.
This is a very easy recipe. My most important piece of advice is make sure you wait until the oil is hot. If you don't, you run the risk of mushy okra.
Pour enough oil in a deep skillet so that it's about 1 inch deep. Then, preheat the oil to medium heat while you're getting the okra ready.
Wash and chop the okra into 3/4 inch – 1 inch pieces.
Then, combine the flour, cornmeal, salt, and pepper in a bowl until well mixed.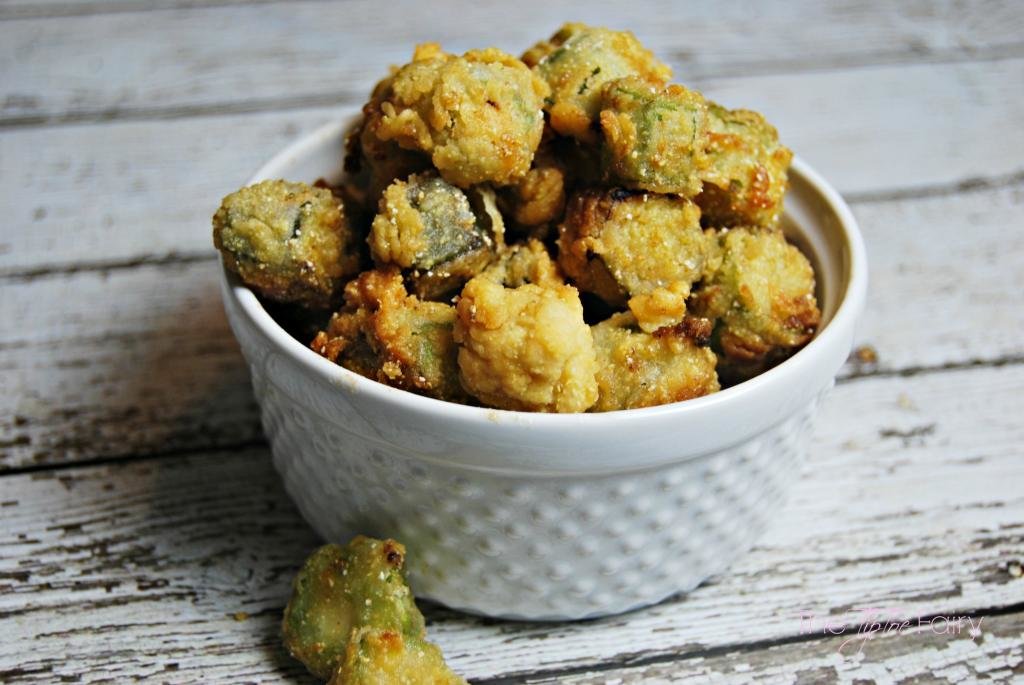 Pour the buttermilk into separate bowl Add a handful of okra into the milk until coated, then transfer to the breading and tumble around until well coated.
Check to make sure oil is hot before adding the okra. (I add a couple drops of water to make sure it's really sizzling.)
Add enough okra to form one layer.
Watch and let it fry for a few minutes until it is golden brown – about 4 to 5 minutes or so.
Remove from the oil and place on paper towels to soak up any excess oil.
Then, serve and enjoy! Be warned! You can't eat just one!
As we chopped and dredged, both Nate and I were talking about what a nasty little vegetable it is. Why do we like it so much?
For one, it's hairy! Then, when you slice it open it's slimy and full of seeds. But, throw some flour and cornmeal on it and fry it up, and it's a little piece of heaven.
Recipes to go with Fried Okra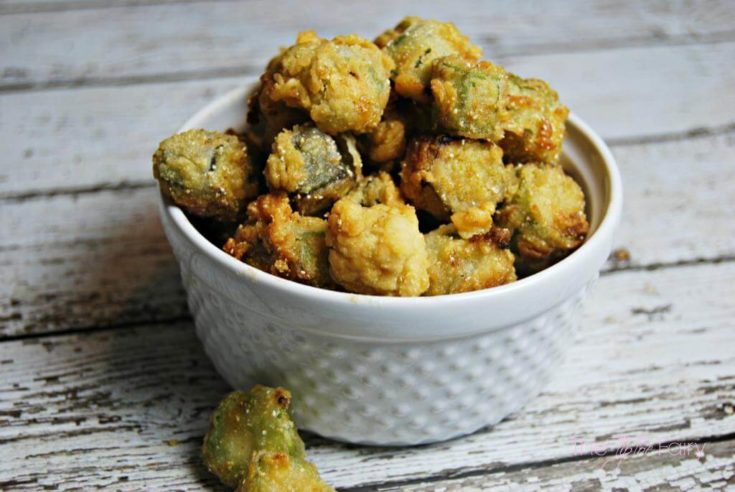 Southern Buttermilk Fried Okra
Ingredients
1-2 lbs fresh okra
2 cups of buttermilk OR 2 cups of milk + 2-3 tablespoons lemon juice
3-4 cups flour
1 1/2 cups corn meal
1 tsp salt
1/2 tsp black pepper
cooking oil
Instructions
Pour enough oil in a deep skillet so that it's about 1 inch deep.
Preheat the oil to medium heat.
Wash and chop okra into 3/4 inch - 1 inch pieces.
Combine flour, cornmeal, salt, and pepper in a bowl until well mixed.
Pour buttermilk into separate bowl (or pour milk and lemon juice and allow to sit for 5-10 minutes).
Add a handful of okra into the milk until coated, then transfer to the breading and tumble around until well coated.
Check to make sure oil is hot.
Add enough okra to form one layer. Watch and let it fry for a few minutes until it is golden brown. (Mine cooked in 4-5 minutes)
Remove from oil and place on paper towels to soak up any excess oil.
Serve immediatel