I've been making this pot roast for 20+ years now. I've made it in the slow cooker and in the oven, but today I'm showing you how to shorten that cooking time and make the Easiest Instant Pot Chuck Roast ever.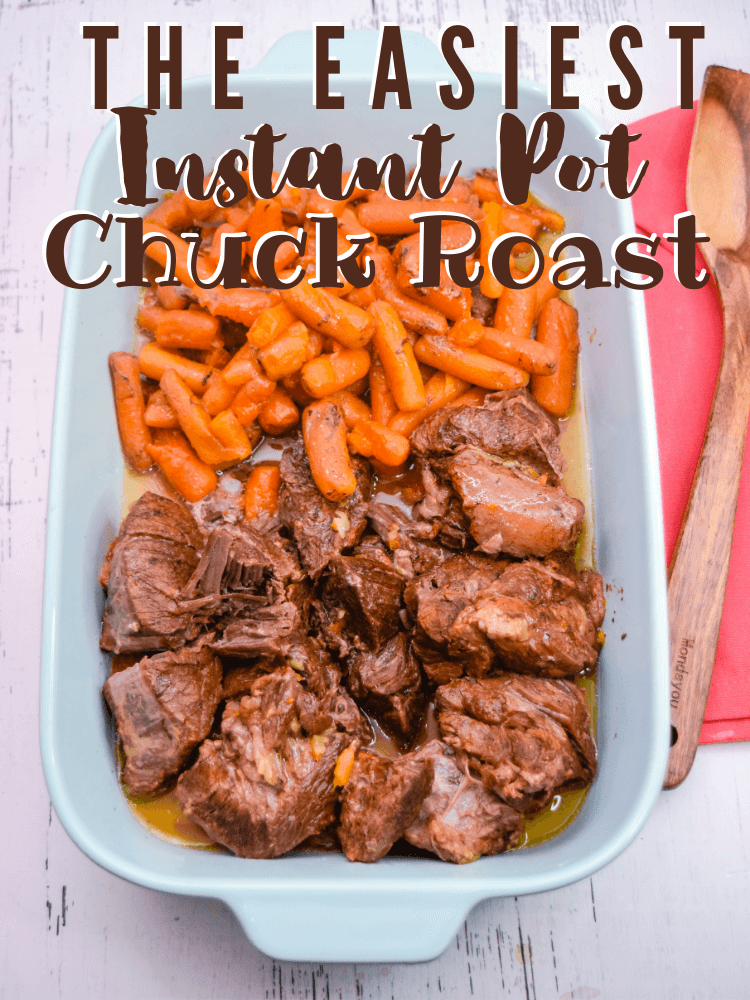 This is one of my family's favorite meals. My kids have fought over who gets seconds and thirds on the carrots.
No Sauteing, Just Throw It In
When I've looked at instant pot roast recipes, so many of them want you to spend time searing the roast and saute things. I even saw one that was 120 minutes cook time. What is the point of the Instant Pot if you're going to do all that? I like a recipe that I can just throw it all in and voila, it's done. If that's you, too, then this is the recipe you're looking for.
This recipe make a fall apart, tender and flavorful chuck roast with a 65-minute instant pot cook time. There is no searing anything. There is no sauteing the juices. You don't need beef broth. It takes just four ingredients.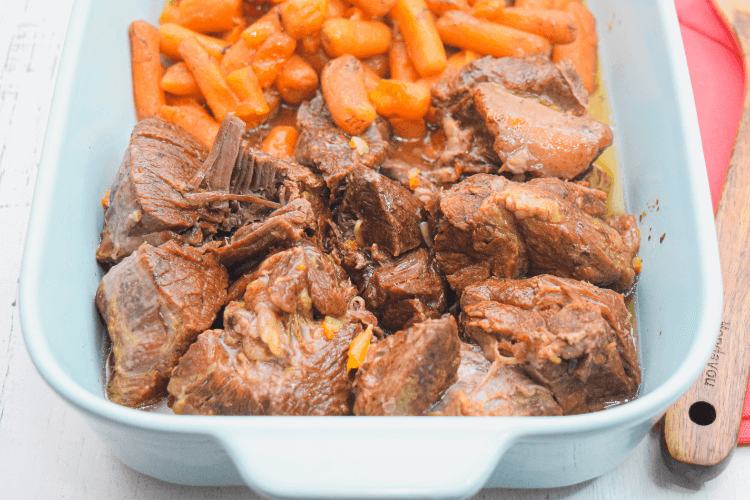 How long do you cook an Instant Pot Chuck Roast?
For a 3-lb chuck roast, this recipe takes just 65 minutes. You do have to wait for the pressure to build up, which usually takes
Can you cook a frozen roast in the Instant Pot?
I personally would not do this. My secret to cooking it just a little more than an hour is cutting it into chunks, which can be very difficult with a solidly frozen piece of meat like a roast.
How do you make a Roast in the Instant Pot?
This recipe is truly a "throw it in" recipe. My only preparation is cutting the roast into chunks and quickly mixing up the soup mix with some water.
I use a wire trivet to avoid anything sticking to the bottom. I add a 1 1/2 to 2 lb bag of baby carrots and then place the roast chunks on top of the carrots. Lastly, I pour in the soup mix all over everything.
My kids prefer mashed potatoes with their roast, so I make them separately. But you can skip those and use quartered small red potatoes or tiny potatoes with the carrots. If you do this, I recommend just adding 1 lb of baby carrots so everything will fit into the Instant Pot.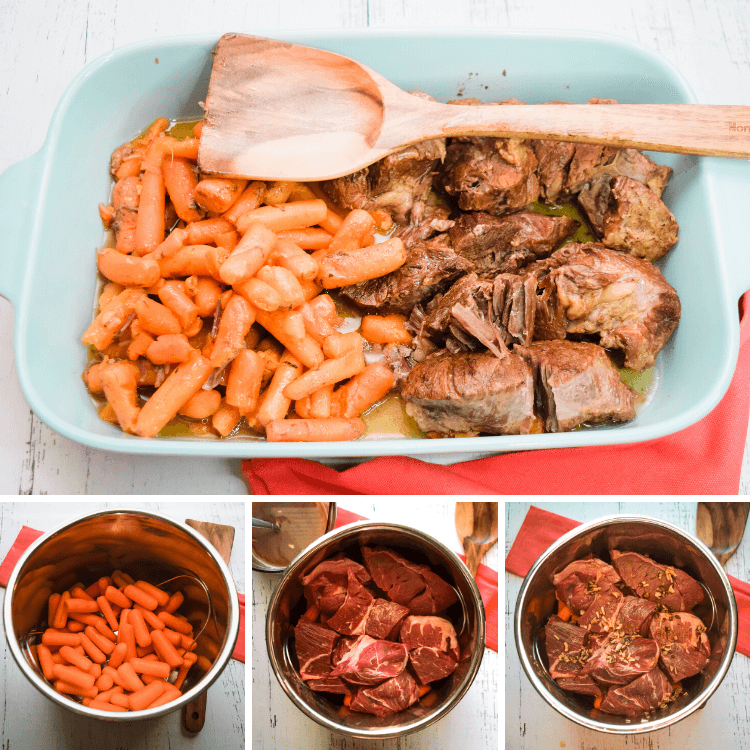 My family likes their roast with gravy. When the roast is done, I take out the carrots and roast and turn the soup into a gravy. I turn the Instant Pot to saute and let the soup mix reach a boil. Then, I mix up cold water with corn starch and add it to the soup and stir. It takes just a couple minutes to thicken into a delicious savory gravy that is perfect for the roast and mashed potatoes.
Side Dishes to go with Roast in the Instant Pot
More Instant Pot Recipes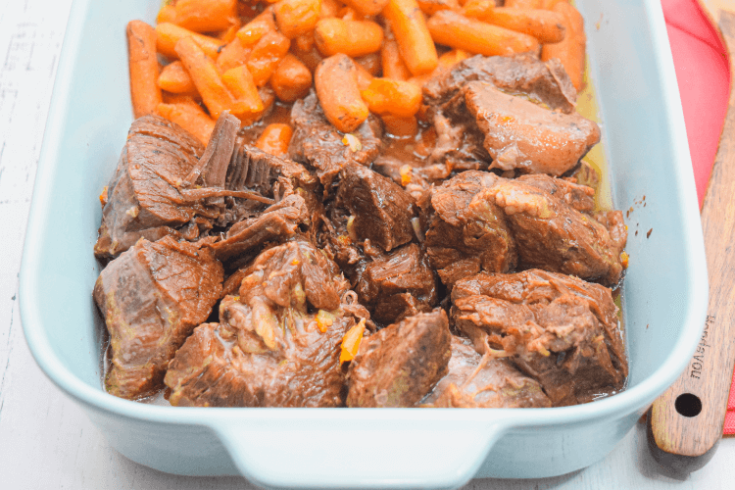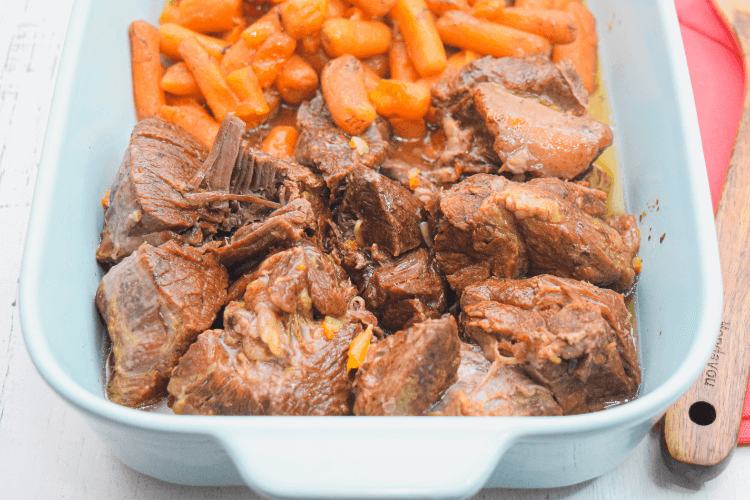 The EASIEST Instant Pot Beef Chuck Roast
Cook Time:
1 hour
5 minutes
Additional Time:
10 minutes
Total Time:
1 hour
18 minutes
Ingredients
3 lb chuck roast
1 package of Lipton's Beefy Onion Soup Mix
1 1/2 lbs baby carrots
2 cups + 1 cup water
2 heaping tablespoons cornstarch
Instructions
Place the wire trivet in the bottom of the instant pot.
Add the carrots.
Cut the chuck roast into chunks about 4-5 inches in diameter.
Arrange the chunks on top of the carrots.
Combine 2 cups of water with the beefy onion soup mix.
Pour the soup mix over the top of the roast.
Set the Instant Pot to Manual on High Pressure for 65 minutes.
Allow a natural release and let it sit for 5 minutes.
Remove the roast and carrots from the instant pot.
Set the Instant Pot to saute and allow the juices to come to a boil.
Combine 1 cup of water and the two heaping tablespoons of cornstarch.
When the juices are boiling, pour in the cornstarch water and stir constantly.
Allow it to thicken into gravy and then remove immediately from the Instant Pot.
Optional: Pour the gravy over the roast and carrots OR just keep it in a side dish to be added individually (your choice)
Nutrition Information:
Yield:

8
Serving Size:

1
Amount Per Serving:
Calories:

442
Total Fat:

26g
Saturated Fat:

11g
Trans Fat:

2g
Unsaturated Fat:

14g
Cholesterol:

141mg
Sodium:

272mg
Carbohydrates:

9g
Fiber:

3g
Sugar:

4g
Protein:

43g
Any nutritional information on thetiptoefairy.com should only be used as a general guideline. This information is provided as a courtesy and there is no guarantee that the information will be completely accurate.
Come Join Us!
Liked this article and want more? Follow along on Instagram, Facebook, Twitter, Pinterest, TikTok, and YouTube!
Come over and join us on Facebook in the group Recipes, Crafts, and more with TipToe Fairy or Sewing and Crafting with The TipToe Fairy!
Visit Our Other Blogs!