I can't wait to share this delicious Easy Garlic Bread recipe that I found from Bays English Muffins. This is a sponsored post.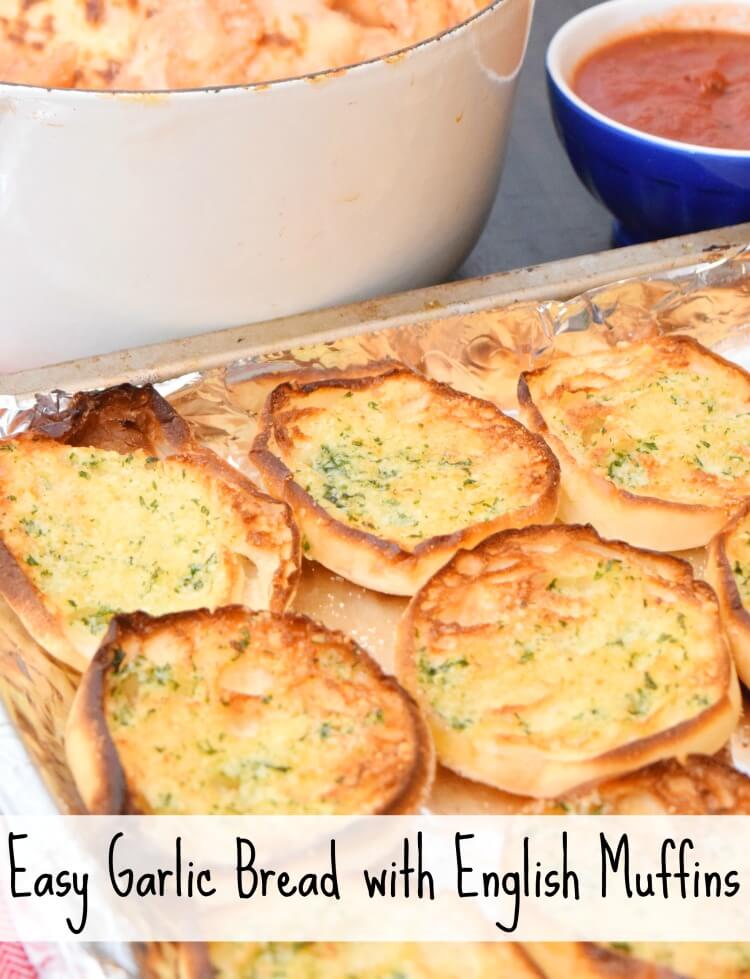 When I was growing up, my dad loved English muffins. In fact, he still loves a Bays English muffin for breakfast. I always thought of English Muffins as a breakfast food until recently, but you can have them any time of day.
English muffins definitely aren't just for breakfast anymore. I've been collecting recipes for lunch, dinner, and even dessert that all use English muffins as a main ingredient! Yesterday I picked up the ingredients for the Cobblestone Chicken Pot Pie I found on Bays.com. It would be perfect to use up the leftover turkey from Thanksgiving.
Next time you head to the store make sure to look for Bays English Muffins in the refrigerated dairy case next to the eggs and milk because you won't find them in the bread aisle!
You will not believe how easy this garlic bread recipe is. I have made it half a dozen times over the last couple months for pasta night, and my kids just rave about it. They love the crunchiness from toasting and broiling the English muffins.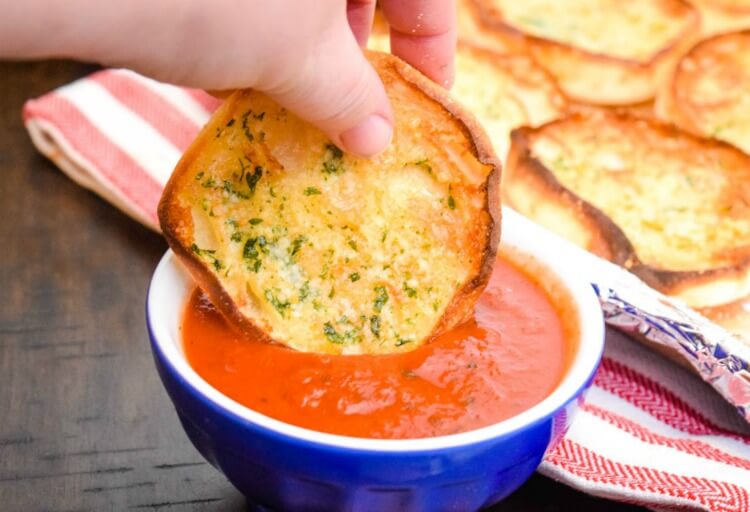 Check out the recipe below and watch this video to see how quick it is to make homemade garlic butter and turn Bays English Muffins into irresistible Garlic Bread — perfect for an appetizer with some warmed spaghetti sauce or to pair with your next pasta dish.
Recipes to pair with Garlic Bread
This easy garlic bread recipe takes just minutes to make and pairs perfectly with pasta or salad. Or, it makes a wonderful appetizer, too.
Ingredients
1/4 cup butter, softened
1/3 cup grated Parmesan cheese, divided
2 garlic cloves, minced or ¼ teaspoon garlic powder
1 teaspoon chopped fresh parsley, optional
6 BAYS English Muffins, any variety, split, toasted
Instructions
Mix butter, 1 tablespoon of the cheese, garlic, and parsley in small bowl.
Spread 1 teaspoon butter mixture over each muffin half; place on baking sheet.
Sprinkle remaining cheese evenly over muffin halves (1 teaspoon per half).
Broil 1 minute or until lightly browned. Serve immediately.
Head over to bays.com to find local stores that carry Bays English muffins and check out those amazing recipes I mentioned. Don't forget to "Like" Bays on Facebook for great recipes, cool English muffin ideas, and so much more!