I don't know if anyone has ever told you the secret ingredient to delicious Italian food, but the secret to my Amazing Garlic Butter Spaghetti is something you'd probably never guess. I'll spill the beans. It's Parmesan! Parmesan makes bland Italian food turn into amazing Italian food. I'm guessing it's the combination of salt and fat flavoring of the cheese.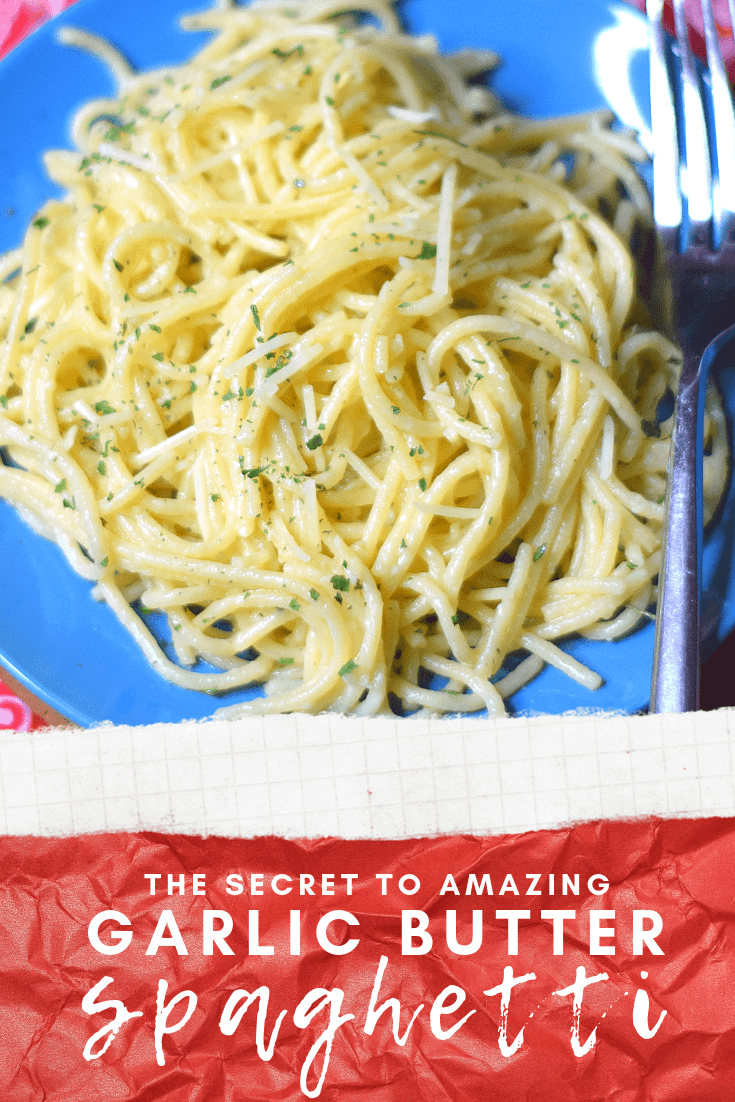 Honestly, it's also the secret to my Extra Cheesy Lasagna. I sprinkle it in the ground beef as I'm cooking it and to my world famous meatballs. It's the secret to the Italian salad I make with any of our pasta dishes. There are so many Italian dishes I make that use this secret ingredient. It just gives your food that extra "oomph" you need.
The SECRET to Amazing Garlic Butter Spaghetti and more
When people eat my Italian food, they devour it, but they can never quite tell what the secret is to making it so amazing. Sometimes I like to keep that secret to myself, as if it's a big family secret handed down for generations, and sometimes I just tell people right off the bat. You just never know. I gotta keep you on your toes.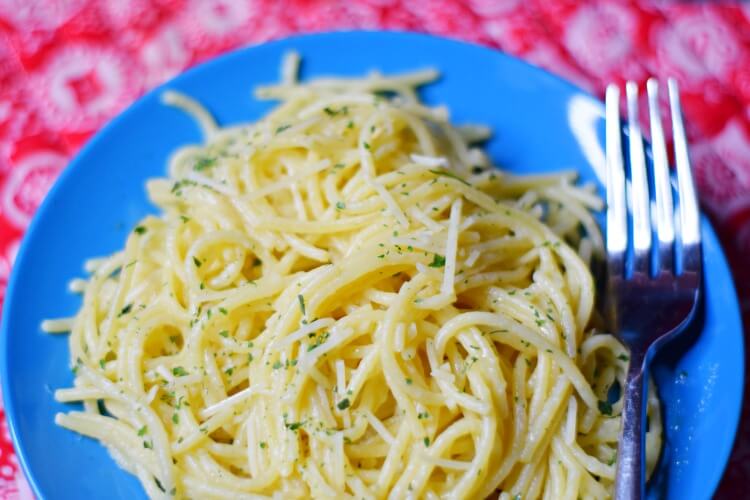 Parmesan cheese is also the secret to my world famous Garlic Butter Spaghetti. (It's also the secret to Garlic Butter anything.) When I first got married and left home, I used a lot of cookbooks and recipes in teaching myself how to cook, but I also experimented. It was in one of those experiments that I learned Parmesan was that special something that made garlic butter and so much else simply amazing.
Garlic Butter vs. Garlic Butter Sauce
Have you ever made garlic butter for bread or just to keep in the fridge? There is nothing like a warmed piece of crusty Italian bread slathered in garlic butter. My garlic butter and my garlic butter sauce are two different things. When I make garlic butter I use softened butter so even after it's mixed it's spreadable. It's perfect to keep in the fridge because spreadable garlic butter can be used for many things from slathering a hoagie roll for a toasted meatball grinder to basting shrimp going on the grill.
On the other hand, my garlic butter sauce is made with melted butter, and it's mixed with olive oil. This makes it easy to mix into pasta, and it also will go a little further using olive oil without having to use so much butter. When making the garlic butter sauce it should be made right when you're going to use it. It doesn't store well in the fridge because the melted butter solidifies and the ingredients separate after awhile.
Looking for more Italian recipes?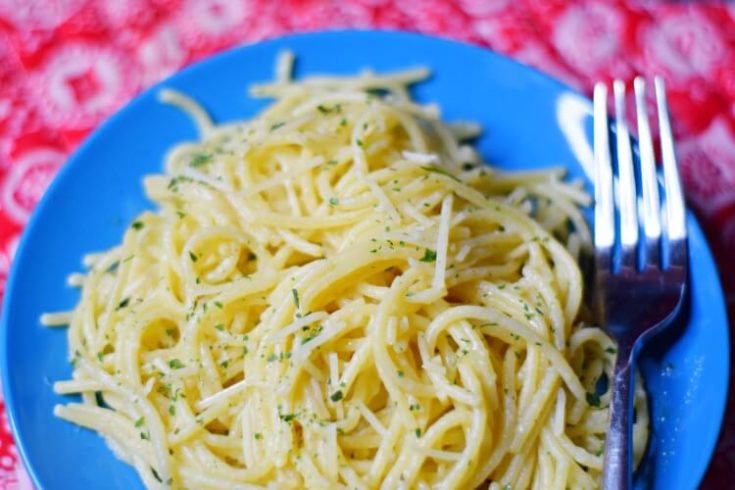 Amazing Garlic Butter Spaghetti
There is a secret ingredient to make garlic butter spaghetti amazing. Come see what it is!
Ingredients
16 oz spaghetti, al dente
1 stick of unsalted butter, melted
1 teaspoon sea salt
1-2 teaspoons finely chopped parsley (or dried)
1 tablespoon olive oil
1 heaping tablespoon minced garlic
1 tablespoon shredded Parmesan cheese
Instructions
Prepare the spaghetti according to the package.
Melt the butter in a small saucepan.
Add the garlic and salt.
Stir occasionally.
Add the olive oil and keep stirring.
Let the garlic melt into the butter for a minute or so.
Remove from fire and add Parmesan and parsley.
Pour over spaghetti.
Serve immediately.
Notes
This works well for several pastas from angel hair to linguine to penne.
Nutrition Information:
Amount Per Serving:
Calories:

0
Total Fat:

0g
Saturated Fat:

0g
Trans Fat:

0g
Unsaturated Fat:

0g
Cholesterol:

0mg
Sodium:

0mg
Carbohydrates:

0g
Fiber:

0g
Sugar:

0g
Protein:

0g
Come Join Us!
Liked this article and want more? Follow along on Instagram, Facebook, Twitter, Pinterest, TikTok, and YouTube!
Come over and join us on Facebook in the group Recipes, Crafts, and more with TipToe Fairy or Sewing and Crafting with The TipToe Fairy!
Visit Our Other Blogs!