This shop has been compensated by Collective Bias, Inc. and its advertiser. All opinions are mine alone. #ChooseMazola #CollectiveBias
Did you know September is National Cholesterol Awareness month? I get my cholesterol checked every three months. One way to help reduce cholesterol is swapping out your cooking oil for a better choice. A clinical study showed Mazola® Corn Oil reduces cholesterol 2x more than extra virgin olive oil. To learn more about this claim, see Mazola.com.
Recently, I made this swap, and one recipe I did this with is this delicious Shrimp and Zucchini Noodles in Creamy Tomato Sauce. This has always been a family favorite, but I remade it with this swap and couple others to make it better for us.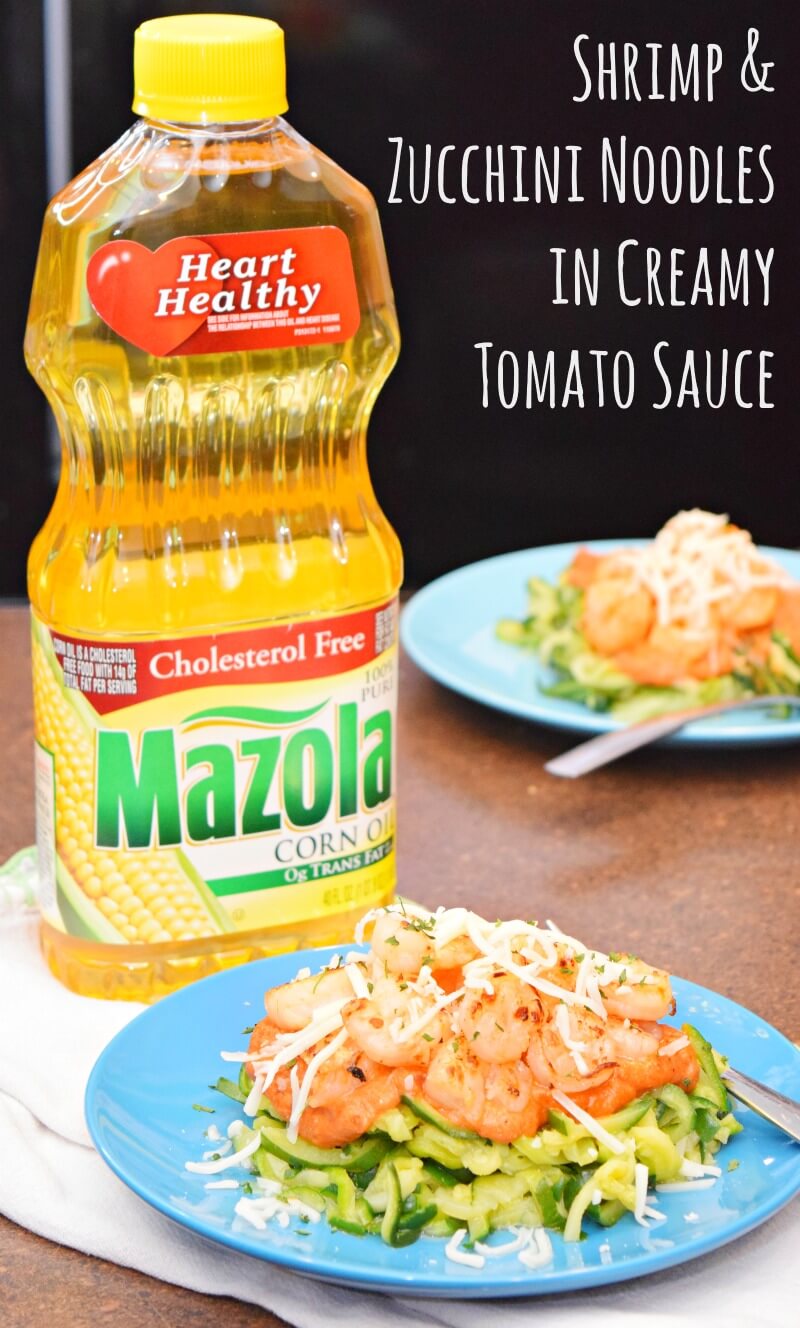 How to make it better for you?
I made three swaps in this recipe to make it a lighter meal.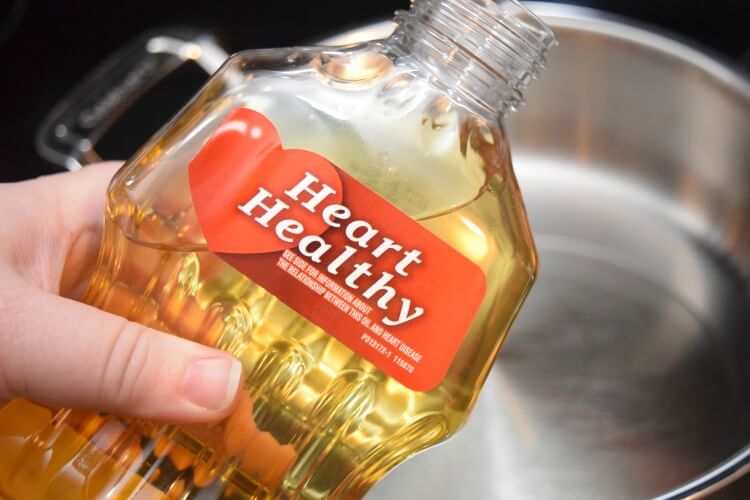 Mazola Corn Oil in place of extra virgin olive oil. Mazola Corn Oil is an all-purpose, cholesterol free cooking oil that is a smart heart-healthy* choice for your family. *See Mazola.com for more information on the relationship between corn oil and heart health.
Greek yogurt in place of sour cream. Greek yogurt is lower in calories and fat and higher in protein than regular sour cream.
Zucchini noodles in place of spaghetti noodles. Zucchini noodles have less than half as many calories and carbs than spaghetti.
The Secrets to Firm Zucchini Noodles
I'm a huge fan of zucchini noodles, especially as a better choice over pasta. But, I know a lot of people don't really like them because they can turn to mush pretty quickly. Here's a few tips to keeping them firm:
The best cooking method to keep them firm is to gently and quickly saute zucchini noodles in an oil like Mazola Corn Oil. Then, drain them on paper towels.
Whether you buy zucchini noodles or make them yourself, gently press out the excess water when you're ready to use them.
If you steam your noodles (as opposed to sauté), cook them for less time than recommended. Then, drain out the water and then gently press the noodles in paper towels.
How to make Shrimp and Zucchini Noodles in Creamy Tomato Sauce
This is a quick dinner to make for the whole family. My family loves shrimp, and they love the creaminess of adding Greek yogurt to our regular spaghetti sauce. I don't know what it is, but creamy tomato sauce just feels more hearty and filling.
I make sure to buy frozen precooked shrimp that's already deveined, and I get medium-sized shrimp and divide it up to around 10-15 shrimp per person. Then, I plan so that each adult-sized person gets about 2 cups of cooked zucchini noodles.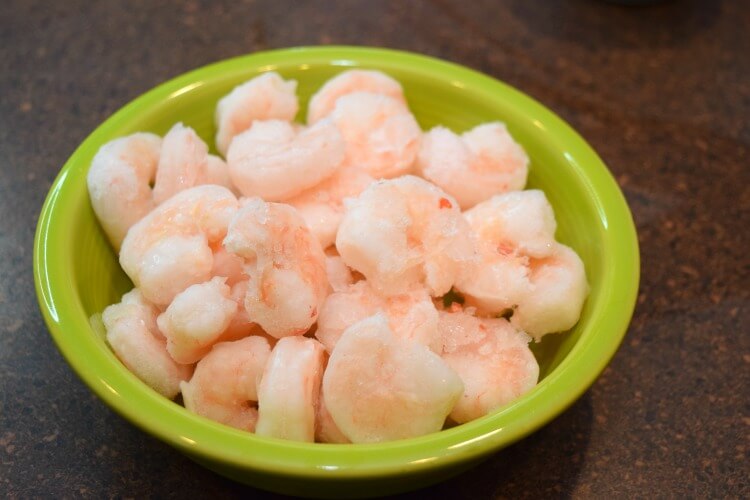 Set the shrimp out about an hour before you plan to make dinner. Then, just before you're ready to sauté the shrimp, pull the tails off.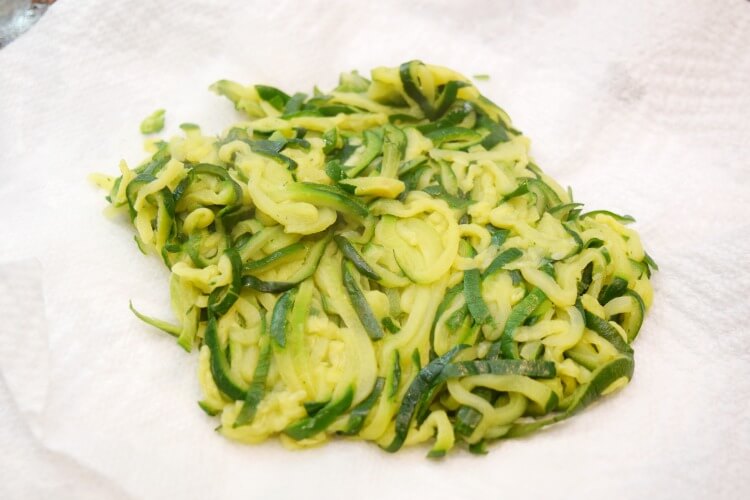 I like to buy the frozen zucchini noodles. You can steam them right in the bag. I actually steam them for half the recommended time on the package so they don't get too mushy. Then, I drain the excess water in a colander and gently press the zoodles in a paper towel. They will feel a tiny bit cold, but they won't be frozen anymore. Don't worry, they heat up from mixing them up in the pasta sauce.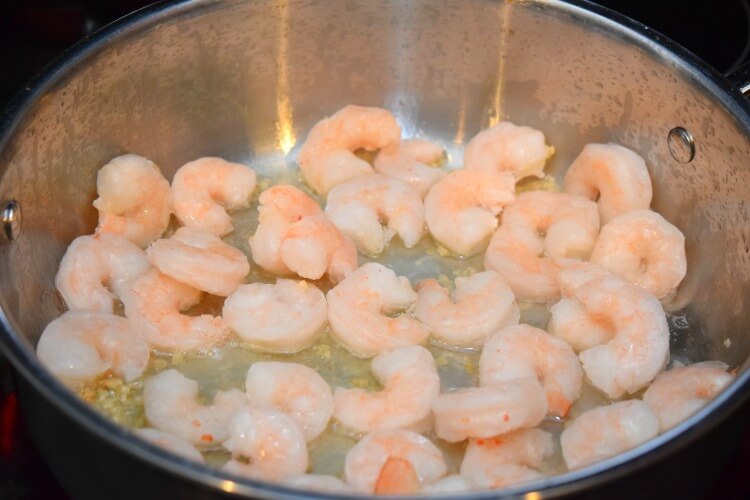 While the zucchini noodles are cooking in the microwave, saute the shrimp in Mazola Corn Oil, minced garlic, and salt. When it's done, transfer it to a bowl, so you can start the pasta sauce.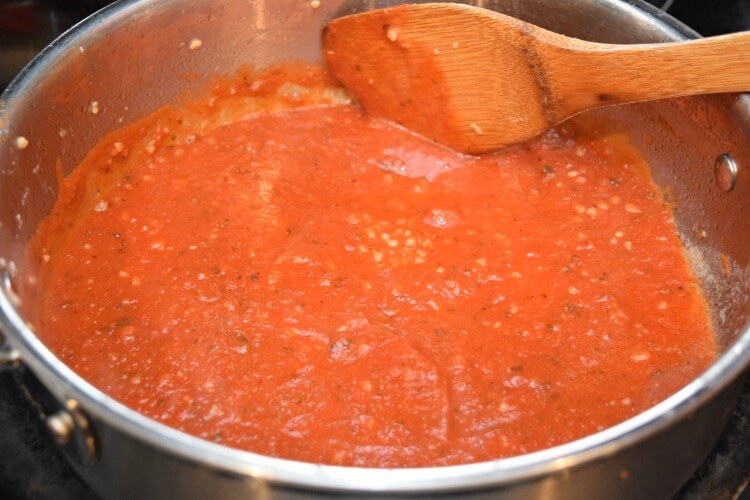 Add a tablespoon of minced garlic to the skillet. Then, add about 2 cups of pasta sauce. Mix it all up, and when it starts boiling, reduce the temperature to medium low.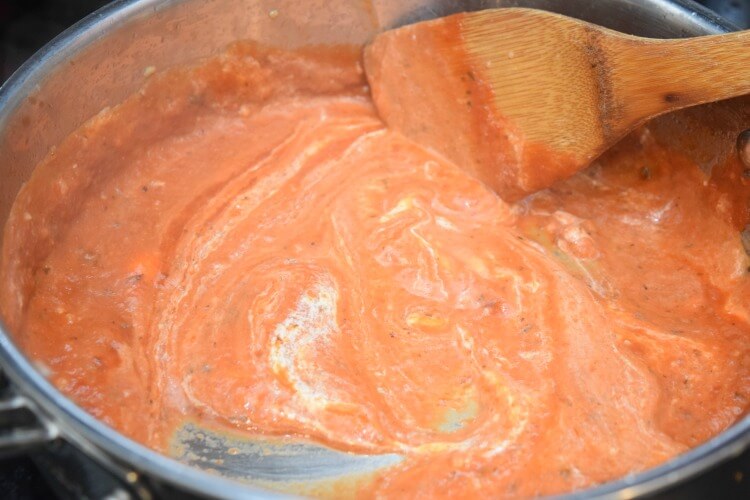 When the zucchini noodles are ready, then add the Greek yogurt to the pasta sauce and mix it up. You want to wait until the very end to add it to the sauce.
I just love to throw the pasta and shrimp right in the sauce and mix it all up and serve it that way because I like my zucchini noodles to be coated in sauce. But…a lot of people prefer everything not to be swimming in too much sauce – like the rest of my family. For them, I just put it together on their plates, and they can mix it up themselves.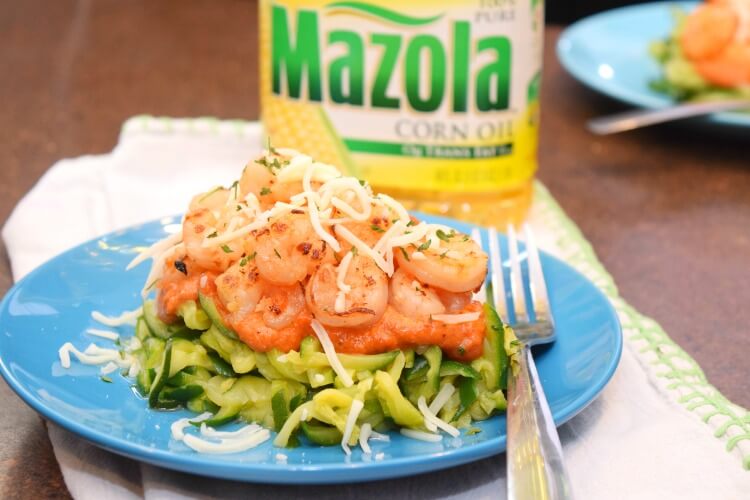 Make it Better For You
Making a dish better for you is easy to do with simple ingredient swaps. Reduce saturated fats and cholesterol in your meals easily with simple swaps like switching out butter with Mazola Corn Oil.