I am not sure if this is the original Brimstone Bread, but I found it a couple years ago and thought it looked fascinating. Homemade bread is not really my thing, but it inspired me to do something similar with brownies and cheesecake. Voila! We now have Brimstone Brownies.
They are thick, rich, and delicious with a layer of devil red cheesecake hiding between layers of fudge brownies and chocolate chips. If you are a brownie fan and would prefer to eat the whole pan by yourself, these will hit that chocolate craving just perfect. But, they're very rich and chocolaty, and you'll only want just one at a time.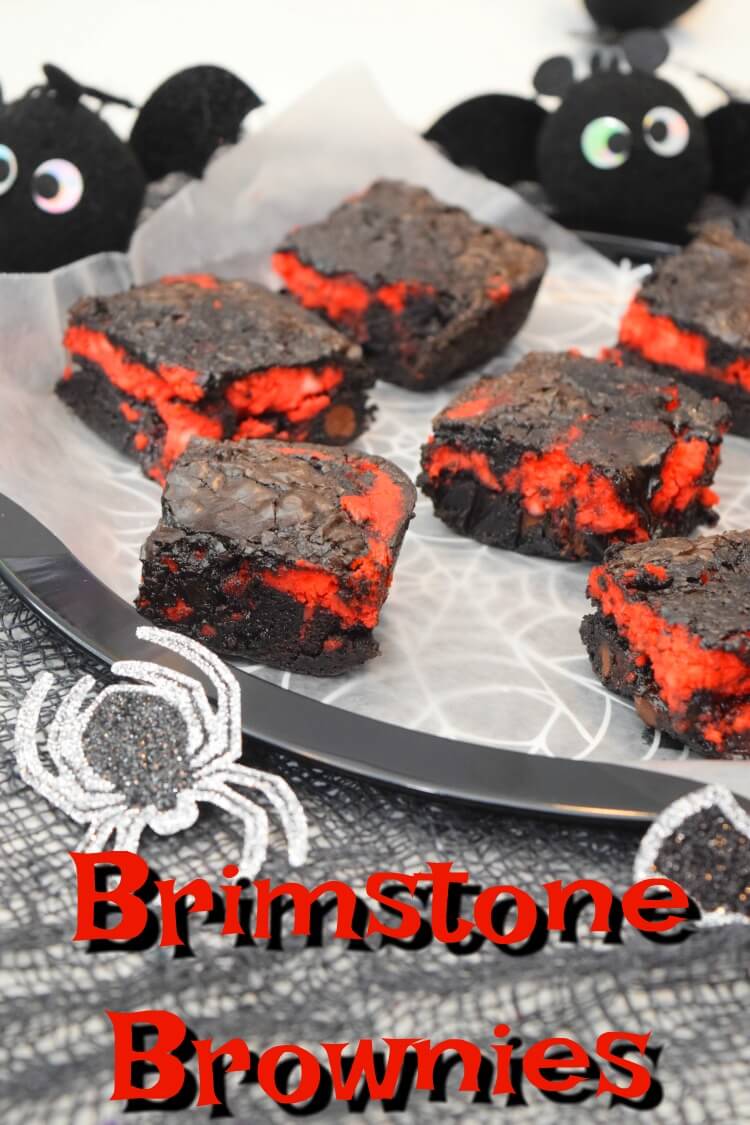 Brownies from a Mix or from Scratch?
With a 2 year old, I don't have a lot of baking time, so I just went with a boxed brownie mix instead of making them from scratch. I used an 8 x 8 pan to make these brownies, so make sure to buy a regular brownie box mix and not the "family size" box mix.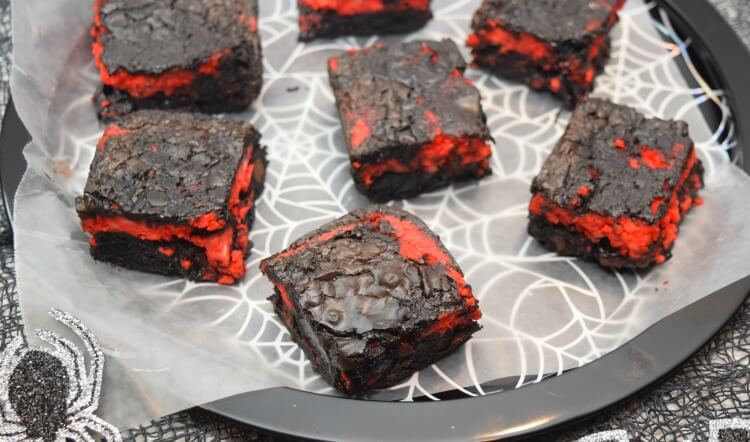 I wanted mine to look like the Brimstone Bread, so I used red food coloring gel called "super red" to turn the cheesecake batter a devilishly red color. Then, I used black food coloring to darken the brownie batter.
When it comes time to layer the brownie batter and cheesecake batters, you'll need to be delicate. Usually when I make cheesecake brownies, I just glop the cheesecake batter in and swirl. However, with Brimstone Brownies, you want that middle layer of red and a top thin layer of brownies because when the brownies crack you'll get that cool brimstone look as you see the under layer of red.
How do you make Brimstone Brownies?
I recommend layering parchment paper or foil, so you can lift the brownies out. I did not do that on my first few batches, and it made getting them out of the pan a little challenging.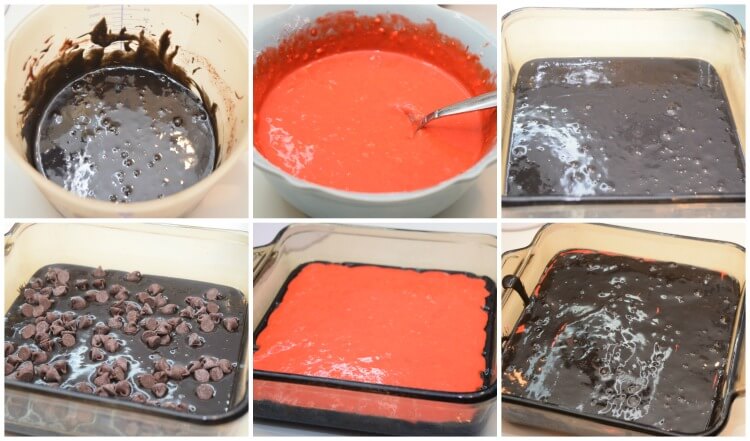 First, spray the pan liberally with cooking oil spray (or spray the parchment or foil). Then, layer two thirds of the brownie batter. I wanted really rich brownies, so I then layered 1/2 a cup of semi-sweet chocolate chips. I recommend either semi-sweet or dark chocolate to keep that really dark, almost black brownie color.
Next, delicately spoon the red cheesecake batter over the brownie batter. Then, use a spatula to gently spread it out towards the edges. I didn't quite spread all of it to the outside edges, just so I could keep most of the red layer hidden.
Then, delicately pour out the rest of the brownie batter on top of the red cheesecake layer. I did this very slowly so they would not mix.
Bake for about 33-35 minutes. Check with a toothpick, and you should see just a few crumbs come up with the toothpick. Also, when they are ready, the middle should not be jiggly.
Let them cool completely before slicing with a hot clean knife.
How do you serve Brimstone Brownies?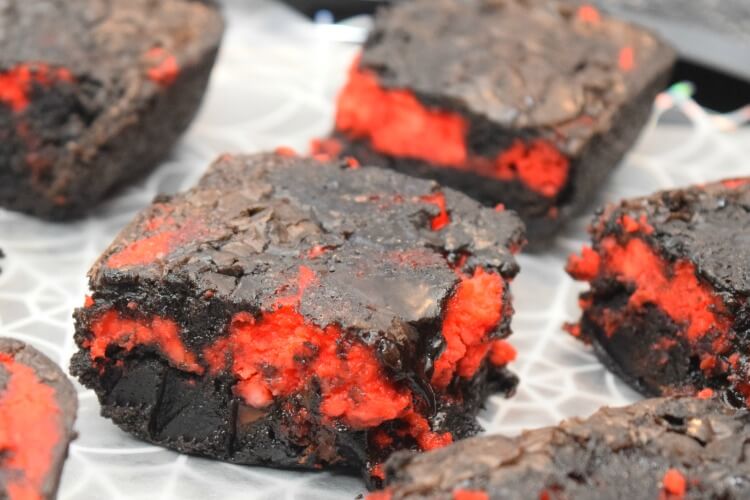 My kids loved eating them like cake with a dollop of whipped cream.
Looking for more fun Halloween treats and eats?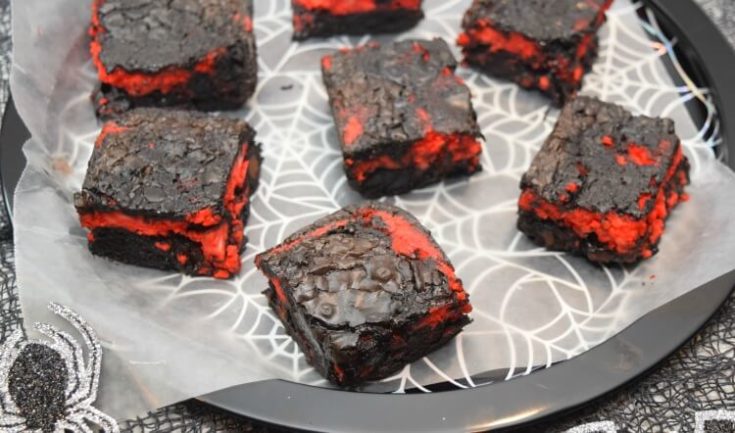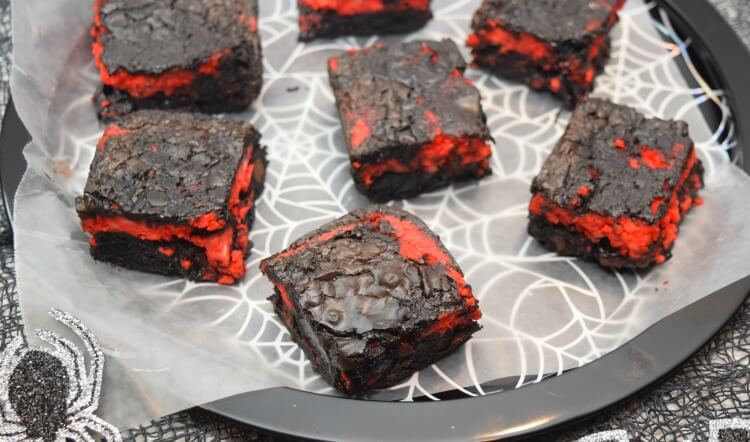 Yield:

16
Brimstone Brownies
Need a fun Halloween treat to serve? Check out these Brimstone Brownies made with a layer of red cheesecake.
Ingredients
1 box of Brownie Mix - 1 egg, water, and oil
8 oz cream cheese, softened
1 egg
1/2 cup powdered sugar
1 teaspoon vanilla
1/2 cup semi-sweet or dark chocolate chips
red food coloring
black food coloring
Instructions
Preheat oven to 350 F degrees.
Mix up the brownie batter according to instructions.
Tint the brownie batter with black food coloring.
Prepare and 8 x 8 pan with foil or parchment paper.
Spray with cooking oil spray.
Cream together cream cheese and powdered sugar with an electric mixer.
Add egg and vanilla to cream cheese mixture and beat until smooth.
Add drops of red food coloring to achieve a bright red color.
Layer two thirds of the brownie batter into the pan.
Sprinkle with 1/2 cup of chocolate chips.
Delicately spoon red cheesecake batter over the top of chocolate chips.
Use a spatula to carefully spread out cheesecake batter and avoid swirling it into brownie batter.
Take the last one third of the brownie batter and pour it over the red cheesecake batter. Cover the red layer as much as possible.
Bake for 33-35 minutes, until the middle is not jiggly and a toothpick comes out with just a few crumbs.
Allow to cool completely before cutting with a hot clean knife.
Serve as is or topped with whipped cream.
Nutrition Information:
Yield:

16
Serving Size:

1
Amount Per Serving:
Calories:

145
Total Fat:

10g
Saturated Fat:

5g
Trans Fat:

0g
Unsaturated Fat:

4g
Cholesterol:

38mg
Sodium:

62mg
Carbohydrates:

12g
Fiber:

1g
Sugar:

9g
Protein:

2g
Any nutritional information on thetiptoefairy.com should only be used as a general guideline. This information is provided as a courtesy and there is no guarantee that the information will be completely accurate.
Come Join Us!
Liked this article and want more? Follow along on Instagram, Facebook, Twitter, Pinterest, TikTok, and YouTube!
Come over and join us on Facebook in the group Recipes, Crafts, and more with TipToe Fairy or Sewing and Crafting with The TipToe Fairy!
Visit Our Other Blogs!