Thank you to Nicole from Nibbles with Nic for sending me her new cookbook! All opinions are 100% my own!
One of my fellow food bloggers has a new cookbook! It's called Cups, Sticks & Nibbles from Nicole over at Nibbles by Nic. She sent me a copy to review, and it has some great recipes.
The photos will make you want to try everything! There's a few I can't wait to make like the Broccoli and Cheese Frittata Wedges, and I have watermelon in the kitchen just waiting for the Pure Watermelon Margaritas. Yum!
Since it's practically the 4th of July and cherries were on sale, I decided I had to make the Pretty White Chocolate Covered Cherries from the book. I'm calling them Cherry Bombs for short.
They're quick and easy to make, and I think they'll definitely make a great dessert or even a take home gift for any party. In the book, Nicole used silver glittery sprinkles. I decided for 4th of July, it would like totally cute to do blue sprinkles, for a festive red, white, and blue treat!
I started with cherries that I washed and then dried on paper towels. Next, I put some parchment paper on a cookie sheet and froze the cherries for just a bit.
These are dipped in melted white chocolate chips. Then, I quickly dipped them one of two ways. I could not find the glittery stars in Nicole's books, but i found blue sugar cyrstals and I found these glittery flakes for decorating cakes. I switched off dipping in one or the other.
Next, I put them back in the freezer to harden the chocolate.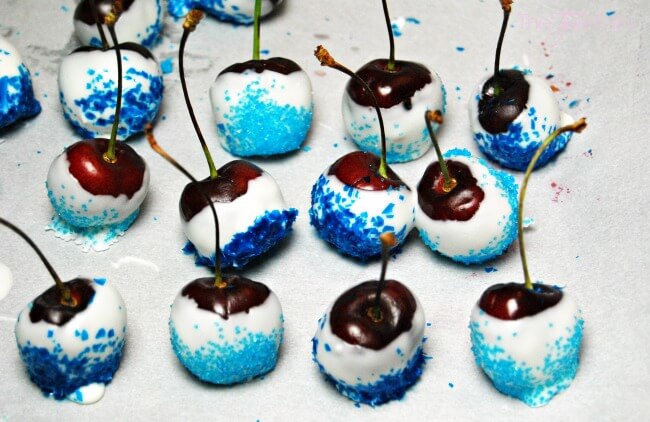 And that's all there is to it!
This cookbook delivers fun modern recipes along with the most important step — "How To Get There!" It's the perfect tool to map out "hosting directions" so you can stop the party planning stress! With these recipes, your guests will be amazed!
Grab a copy of Nicole's book, Cups Sticks & Nibbles so you can make easy and delicious party treats like these!