One of my favorite Halloween themes is the Mad Scientist! Today, I've got a yummy Halloween Drink from a Mad Scientist! It's Toxic Tonic, and I've got two versions for you. One is with wine, and the other is safe for kids with grape juice! This post contains affiliate links.
What kind of flasks for Mad Scientist drinks?
Nothing completes this drink more than serving it in some Erlenmeyer flasks or "mad scientist" flasks, if you will. My personal favorite is the typical flasks you find in a chemistry lab. But, I also found a set of 8 adorable flasks complete with screw top lids and swirly straws perfect for kids.
How do you make Toxic Tonic drink?
You can make two versions of this — one for adults and one for kids. The one for adults uses Pino Grigio white wine, and the one for kids uses white grape juice.
I like putting the drinks together in one pitcher and then pouring it into the flasks via a funnel. You could also make each drink individually — I'll post the individual recipe below the printable one.
One thing I recommend is getting a fairly wide funnel. I found a spice jar style funnel seems like the best choice to work. You want to make sure it fits into the Erlenmeyer flasks and also will let the drink flow freely because it will be kind of a slushy-style drink due to the sherbet.
When you're ready to put the drinks together, pop the flasks in the freezer. This will help keep the drinks cold after you've prepared them.
Looking for more Halloween Drink recipes?
If this drink sounds fun, here's a few more Halloween drinks you'll enjoy!
Having a Mad Scientist Party?
Check out these totally fun ideas!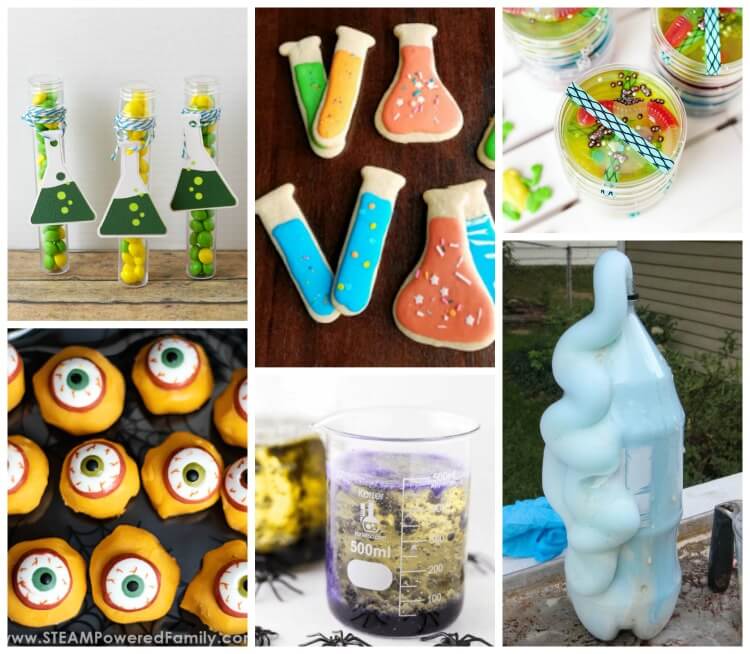 How do you make Individual Toxic Tonic Halloween Drinks?
If you want to make individual Toxic Tonic drinks, here's how to do it.
Ingredients
1 tablespoon key lime juice
1 tablespoon sweetened condensed milk
4 tablespoons of lime sherbet, softened
ADULT VERSION: about 5 oz of Pinot Grigio
KID VERSION: about 5 oz White Grape Juice
Directions
Spoon the key lime juice and sweetened condensed milk into the flask.
Add the lime sherbet and swirl the flask to combine.
Fill to the neck with either Pinot Grigio for the adults or White Grape Juice for the kids.
Gently swirl again.
Serve immediately!
Yield:

8 servings
Halloween Drinks: Toxic Tonic
Have an explosive good time with these deliciously evil Mad Scientist Drinks. There's a recipe of Toxic Tonic for both kids and adults.
Ingredients
1 pint lime sherbet, slightly melted
1/2 cup key lime juice
1/2 cup sweetened condensed milk
ADULT VERSION: 2 bottles of Pinot Grigio
ADULT VERSION:
KID VERSION: 48 oz white grape juice
KID VERSION:
Instructions
When you're ready to put the drink together, chill the flasks for about 10-15 minutes.
Pull the sherbet out of the freezer to melt a little.
In a 1 gallon pitcher combine the key lime juice and sweetened condensed milk.
Add the sherbet in scoops to help break it up and mix with the milk mixture.
If making the ADULT VERSION - add 2 bottles of Pinot Grigio to the pitcher and gently mix.
If making the KID VERSION - add 48 oz of White Grape Juice to the pitcher and gently mix.
Use the funnel to fill each flask just to the start of the neck.
Serve immediately and enjoy!