This is a sponsored post.
Halloween is just a few days away. Isn't that so exciting! I've whipped up two versions of Dragon's Blood Punch just in time for the Halloween party. One for the big ghouls and one for the little ghosts. To make it even more fun, I've added dry ice to get that scary potion look.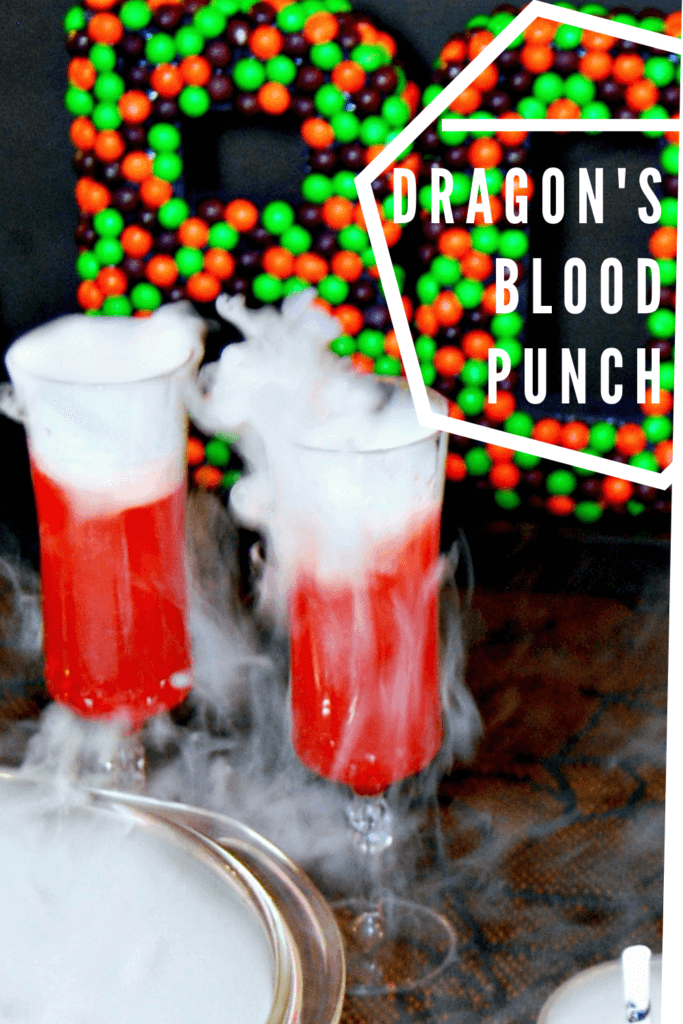 Do you have your costume ready? Your kids costumes ready? I admit, I am not completely ready yet. It will all be done by Thursday night.
What do you need to make Dragon's Blood Punch for Halloween?
I experimented with a few drinks to get this red color that I think goes perfectly with "Dragon's Blood." Here's what I use:
Ginger Ale
Orange Soda
Fruit Punch
Apple Juice
Cranberry Juice
How do you make Dragon's Blood Punch?
In a punch bowl, I use equal parts of each drink. I usually go with 2 cups per drink. Then, when I refill the bowl, I usually add a cup of each as I go to keep the same blood red color.
Can you make an alcoholic version of Dragon's Blood Punch?
Yes you can! When I've made this as an adult version, I use just 1 cup of Limeade Vodka after adding all the other drinks together.
Tips for using Dry Ice
Purchase squares of dry ice at the grocery store. Usually you can find it at the very front of the store in an cooler.
Make sure you have a cooler to bring it home and keep it stored. Dry ice evaporates very quickly if not stored in a cooler.
Don't touch dry ice with your skin ever! Use thick gloves and a clean hammer to break it into small chunks.
How do you add dry ice to Halloween drinks?
I love the spooky effect that dry ice adds to Halloween drinks. Be very careful because dry ice can burn you.
After breaking it into small chunks with a hammer, add it to the punch bowl and glasses using thick gloves or a utensil so you don't touch it with your bare skin.
If you add dry ice to your glass, wait to drink it until the dry ice is completely evaporated.
It won't take long as the dry ice will bubble away in a matter of minutes.
More Halloween Drink Ideas
Dragon's Blood Punch for Halloween
Ingredients
2 cups Ginger Ale
2 cups Fruit Punch
2 cups Apple Juice
2 cups Cranberry Juice
OPTIONAL: 1 cup Limeade Vodka for ADULT VERSION
Instructions
Combine each ingredient together in a punch bowl and mix.
Use gloves to add pieces of dry ice to give it the dry ice effect.
DO NOT INGEST DRY ICE!