You don't have to go to Starbucks. Learn how to make a Zombie Frappuccino at home with this simple recipe! This post contains affiliate links.
This drink is on the secret menu at Starbucks, but you can make it yourself to celebrate Halloween. It's perfect to drink while you're handing out candy to trick-or-treaters.
What is a frappuccino?
You might wonder what the heck is a frappuccino if you aren't big on going to Starbucks. I am terribly intimidated by ordering at Starbucks. I make my husband or my college kid do it for me.
Originally, a frappe was a name from New England for milkshakes.
Most people think it's a coffee drink, but it's quite the blurry line from frappuccino to milkshake. In fact, most frappes don't have any coffee, though sometimes they do have coffee powder or a coffee base like espresso.
Most of the time it's a recipe full of milk, sugar, flavored syrups, and whipped cream. You can also add ice to make it more slushie like. So….basically we're talking slushie milkshake.
What do you need to make a Zombie Frappuccino this Halloween?
You'll need a few ingredients.
matcha green tea powder
ice
milk
white sugar
pink sugar
whipped cream topping
How do you make a Zombie Frappuccino?
In a blender, add ice, matcha tea powder, one tablespoon sugar, and milk. Blend well.
If it is too thick to blend add a little more milk.
Once it's completely blended, pour it into the cup.
Top with whipped topping and and pink sugar.
Now you have a Zombie Frappuccino.
How do you make the whipped topping?
You can do it the easy way with a bottle of Reddi-wip. Or, I much prefer to make fresh whipped cream, which takes just a minute. Here's how to do it:
Whip heavy cream and a dash of sugar using a handheld milk frother until it doubles in volume and peaks form. We love our milk frother. I got it for my daughter who loves coffee drinks. We love it because it's rechargeable and cordless.
When you're ready to add the whipped topping to the drink, gently spoon it on top.
More topping ideas for your Zombie Frappuccino Drink
If you want to be a little adventurous and skip the pink sugar topping, you can add freeze dried raspberries over the top of the whipped cream! I love freeze dried raspberries.
They're sweet and tart and totally look like freeze dried brains have been sprinkled over the top of your Zombie Frappuccino.
You could also use a freeze dried raspberry powder or strawberry powder. I love the sweet tart flavor they both add to a drink.
Can you make a Zombie Frappuccino without a blender?
Unfortunately, no. You won't get that smooth milkshake like texture. If you just mix matcha and milk, it will be green milk and not so creamy and smooth like a milkshake.
Tips for using Matcha Green Tea Powder
My college kid fell in love with matcha tea powder a couple years ago, so we buy it regularly. Here's a few things we have learned:
If you want that bright green color for your Zombie Frappuccino make sure you use good quality matcha powder. That usually means it will be more expensive, like over $20 for a package over on Amazon. The duller green color the tea, the more bitter it will taste.
If you can, it's best to sift the matcha into the blender to prevent it from clumping in the drink.
Don't want to make Zombie Frappuccino at home?
There's a couple ways you can get one at Starbucks.
Starbucks has their own version of a Zombie Frappuccino that usually is only available during the week of Halloween. It's caramel apple flavor and made of:
Green Caramel Apple Powder
Pink powder
Pink "brains" whipped cream
Pink dark mocha drizzle
Now if you want a Zombie Frappuccino any time at Starbucks, you can order one off the secret menu. TotallytheBomb.com has another delicious version you can order at Starbucks complete with the how-to for ordering it!
More Spooky Halloween Drinks
Halloween Trick or Treats & Eats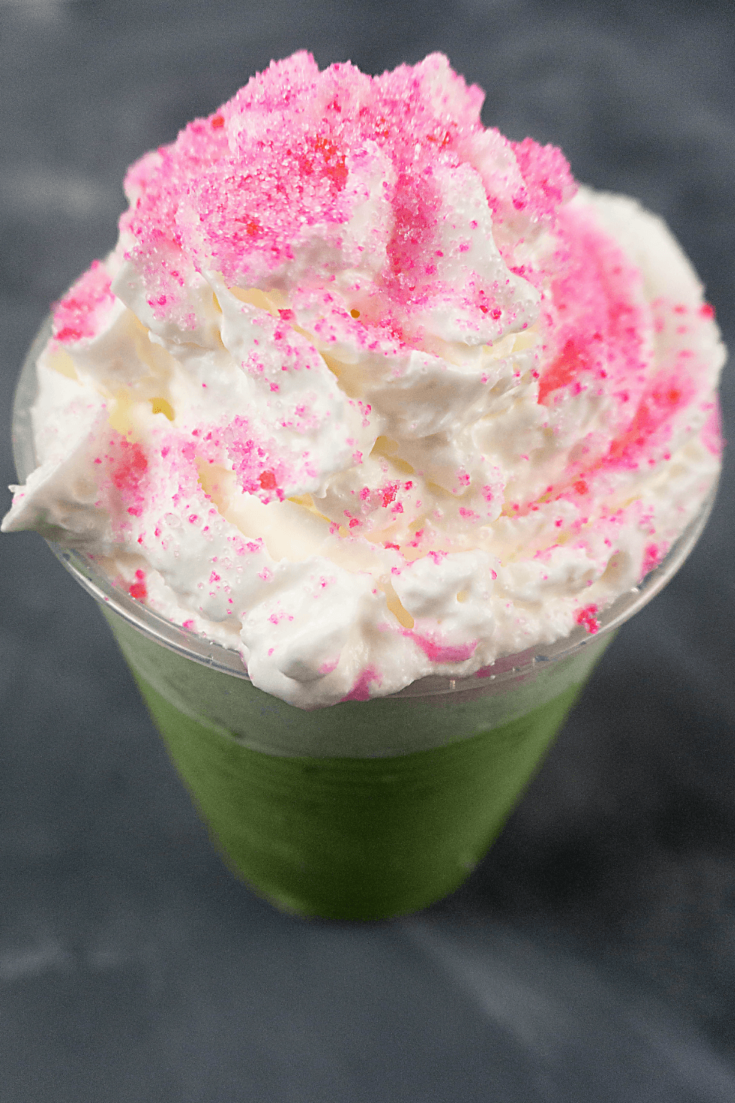 Yield:

1 frappuccino
Halloween Zombie Frappuccino
Ingredients
1 1/ 2 cups ice
1 cup milk; may need more
whipped topping
Instructions
In a blender, add ice, matcha tea powder, one tablespoon sugar, and milk. Blend well.
If it is too thick to blend add a little more milk. Once blended pour into the cup.
Top with whipped topping and and pink sugar.
Recommended Products
As an Amazon Associate and member of other affiliate programs, I earn from qualifying purchases.
Nutrition Information:
Yield:

1
Serving Size:

1
Amount Per Serving:
Calories:

245
Total Fat:

7g
Saturated Fat:

5g
Trans Fat:

0g
Unsaturated Fat:

2g
Cholesterol:

20mg
Sodium:

135mg
Carbohydrates:

39g
Fiber:

0g
Sugar:

39g
Protein:

8g
Any nutritional information on thetiptoefairy.com should only be used as a general guideline. This information is provided as a courtesy and there is no guarantee that the information will be completely accurate.