Years ago I shared how to make my famous meatballs in the microwave, but I've never shared how I make the BEST Oven Baked Beef Meatballs. These are big mama meatballs that will bake in about 30 minutes, and they are oh so worth it!
When I tell my kids dinner will be spaghetti, they always ask if we're having meatballs. They love them. These are a similar flavor to meatloaf and are a huge family favorite.
What ingredients do you need to make these easy oven baked beef meatballs?
I make this recipe very similar to how I make meatloaf. It's basically mini balls of meatloaf. My family loves it and frequently begs for spaghetti and meatballs.
You'll need a few things, but you probably have them on hand:
ground beef
Ritz crackers
milk
Parmesan cheese
Worcestershire sauce
minced garlic
seasoning salt
How do you make oven baked meatballs?
I've been making these meatballs for years and years, and I've found Ritz crackers with their buttery flavor make the best meatballs over breadcrumbs.
First, you'll crush the crackers. I usually crush them still in the sleeve.
Then pour out the crackers into a large bowl and add the milk. Give it a good stir and let it turn to mush.
Now add the garlic, seasoning salt, Worcestershire sauce, and Parmesan cheese. Stir it all up and add the hamburger meat.
Next it's time to mix it all up. I find using my hands does a much better job, but if you can't stand to touch raw meat, use a large wooden spoon.
I like to roll my meatballs into 2-inch size in diameter. These are pretty big, so you can make them smaller. When I make the 2-inch size meatballs, I get about 25 meatballs.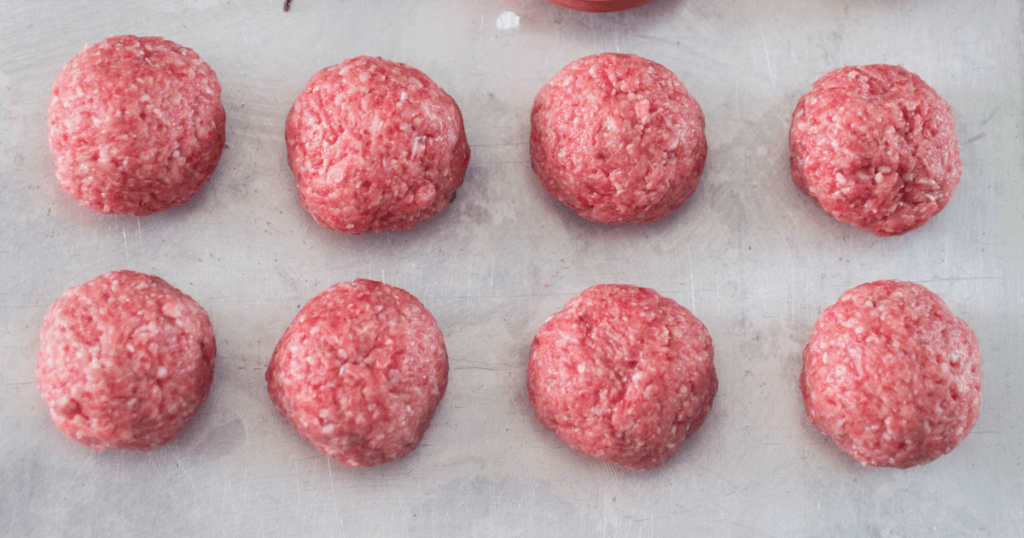 I use a 9 x 13 inch casserole dish sprayed with olive oil.
Bake the meatballs for about 15 minutes. Then, I use a spoon to flip them all over and bake for another 15 minutes.
Then, I add a jar of spaghetti sauce over the top. If I only have a 24-oz jar of sauce, I will fill the sauce about 1/2 way with water and pour over the top again so that I can cover all the meatballs.
Now I don't fill the pan with sauce. Usually the pan is about half filled, and then I spoon the sauce over the tops of each meatball, so they stay soft and won't get hard.
If I have a 48-oz jar of sauce, that's usually enough to cover them without adding water.
Then, I pop the baking dish back in the oven for an additional 5 minutes.
When that's done, it's ready to serve over your favorite pasta or make a batch of meatball sandwiches.
What else can you use besides ground beef to make oven baked meatballs?
You can switch out the ground beef for any other ground beef – ground turkey, pork, chicken, etc. I've made this many times with ground turkey.
Can you make these oven baked meatballs ahead of time?
Yes you can, but freeze them before adding the sauce to the dish and baking the third time. I put them in a gallon size freezer bag and defrost them in the microwave.
You can put them in a baking dish, add the sauce, and heat up in the microwave much faster than doing it in the oven after they've defrosted. They will still taste great!
Save Time! Make Meatballs in the Microwave!
Sometimes you don't have 30-40 minutes to make homemade meatballs. But, we've got you covered! You can make these same meatballs in the microwave! Get the easy Microwave Meatball recipe right here!
More Italian Recipes
More Side Dish Recipes
Yield:

25 meatballs
Homemade Oven Baked Beef Meatballs
Ingredients
2 lbs ground beef
1 sleeve Ritz Crackers
1/2 cup milk
1 heaping tablespoon minced garlic
1/4 cup Parmesan cheese
1 teaspoon Worcestershire sauce
1/2 teaspoon seasoning salt
Instructions
Preheat oven to 375 F degrees.
Crush the Ritz crackers.
In a large bowl combine crushed cracker and milk. Allow to sit for a minute to soften.
Add the garlic, seasoning salt, Worcestershire sauce, and Parmesan cheese.
Stir it all up and add the hamburger meat.
Mix with hands or a large wooden spoon until it's well combined.
Spray a 9 x 13 pan with olive oil spray.
Roll into 2-inch sized balls.
Bake for 15 minutes.
Remove from oven and gently flip over each meatball with a spoon.
Return to the oven and bake for 15 more minutes.
Pour a 24-36 oz jar of spaghetti sauce over the top and bake for an additional 5 minutes.
Remove from oven and serve over your favorite pasta.
Nutrition Information:
Yield:

8
Serving Size:

2
Amount Per Serving:
Calories:

334
Total Fat:

21g
Saturated Fat:

8g
Trans Fat:

1g
Unsaturated Fat:

10g
Cholesterol:

105mg
Sodium:

339mg
Carbohydrates:

2g
Fiber:

0g
Sugar:

1g
Protein:

32g
Any nutritional information on thetiptoefairy.com should only be used as a general guideline. This information is provided as a courtesy and there is no guarantee that the information will be completely accurate.