This year we decided to start our garden again. It had been a few years since we had one, and I wanted to have access to my own fruits and veggies. My husband planted a lot of tomatoes, even though out of 6 of us, only 2 really like fresh tomatoes. Even though I don't like fresh tomatoes, I was hoping for a bumper crop to make Fresh Pasta Sauce you can freeze. This post contains affiliate links.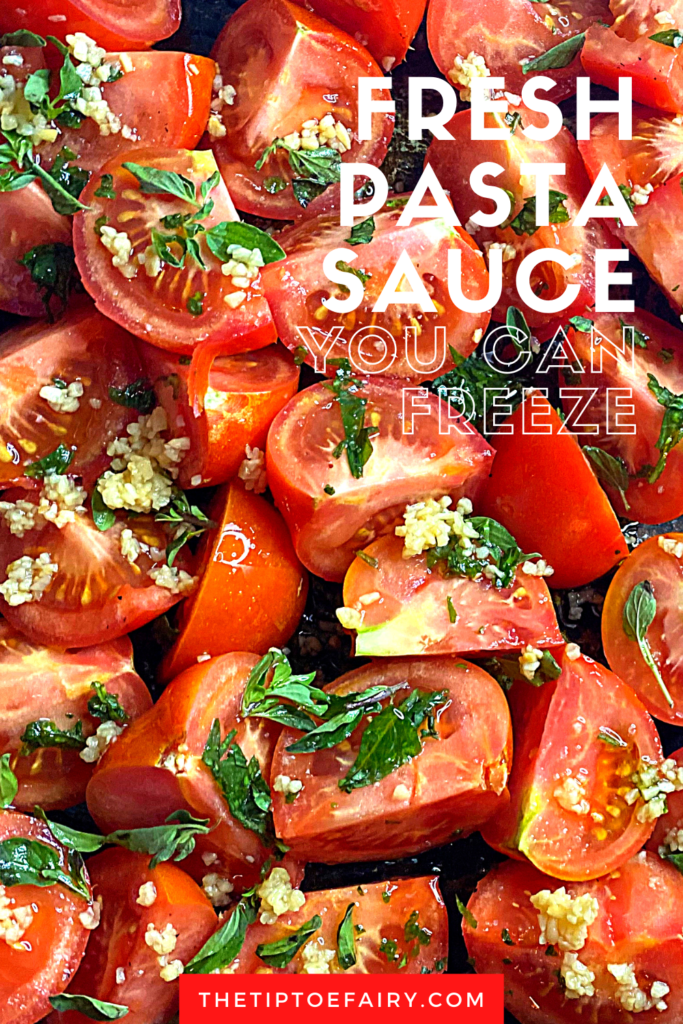 The main reason I started our garden was I thought it might be a great way to let the kids get their hands dirty and take time to learn something they weren't ever going to learn in school. Our 3 year old loves to go check what's growing with her daddy.
She has been dying to pick tomatoes since they started growing. Now the tomatoes are almost all done, and she loves bringing in the ripe ones. She washes them herself in her little bucket.
This recipe took me three batches to perfect. It has a mild sweetness with a little bite, and it tastes amazing, especially with homemade meatballs.
While you're roasting the tomatoes, your house will smell AMAZING! It will make everyone hungry, and they will be all be begging to eat.
What do you need to make fresh pasta sauce?
You can make plain tomato sauce just by roasting fresh tomatoes drizzled in olive oil. I like to season mine up a bit with basil, oregano, garlic, and salt.
When it's time to puree the tomatoes, I add additional ingredients like balsamic vinegar, garlic and onion powder, and Worcestershire sauce.
You do not need to be an expert chef to make homemade fresh pasta sauce. It's very easy, and it's very forgiving. The first time I made it, I just threw ingredients together until I liked the taste.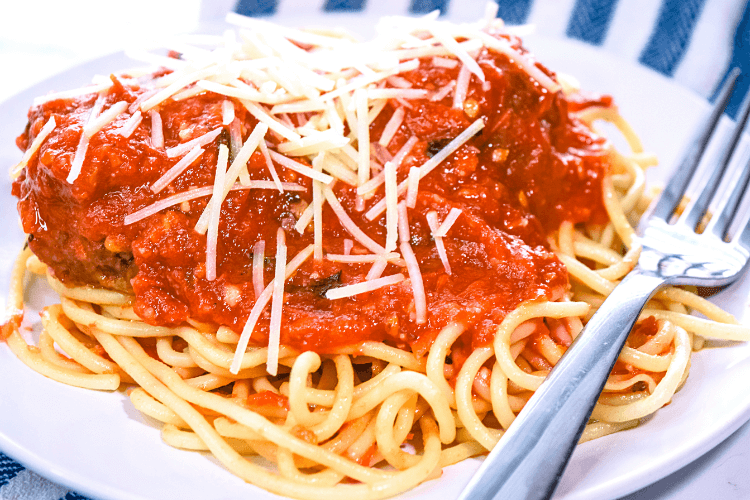 What kind of tomatoes do you need for fresh pasta sauce?
Any kind of tomatoes. Some people swear by roma tomatoes for fresh pasta sauce, but it doesn't matter. I have a child who is allergic to roma tomatoes, so we never use them, and our sauce is delicious. I can't even remember what kinds of tomatoes we planted. I know we had a couple of varieties, and they were very red and all kinds of sizes.
How do you prepare the tomatoes to make fresh pasta sauce?
I wash the tomatoes and remove the stems. Then, I slice them up into quarters. If it's a really big tomato, I slice it up into six pieces. I cut up about 20-25 tomatoes so that it covers my entire cookie sheet.
Next, I drizzle a few tablespoons of extra virgin olive oil over them.
This spring we also created an herb garden hiding in our flower bed in the front of the house. So, I was able to grow both oregano and basil to use in my sauce. I get about 4 sprigs of oregano and about 15-20 basil leaves.
I strip the leaves on the oregano and toss them all over the tomatoes. Then, I use this herb mincer on the pile of basil leaves before tossing them all over the tomatoes.
I add about 3 tablespoons of minced garlic sprinkled all over the tomatoes. I love garlic, and my whole family loves garlic — so this is a lot of garlic. If you don't like garlic, you can leave this out or reduce the amount.
Lastly, I sprinkle about a teaspoon of salt all over the tomatoes.
Then, it's time to roast. I roast the tomatoes for about 35-45 minutes in the oven. When they come out, the herbs and tomatoes are just a tiny bit charred.
How do you make fresh pasta sauce?
Use a blender or a food processor. I use a food processor since my blender died.
When the tomatoes come out of the oven, I let them sit for about 5-10 minutes before transferring to the food processor.
If you're following this recipe, you'll have between 6-8 cups of roasted tomatoes on that pan. You may need to puree in two batches. I have a fairly large food processor, so I make this sauce all in one batch. If you need to divide it, just divide the seasonings in half and add half to each batch.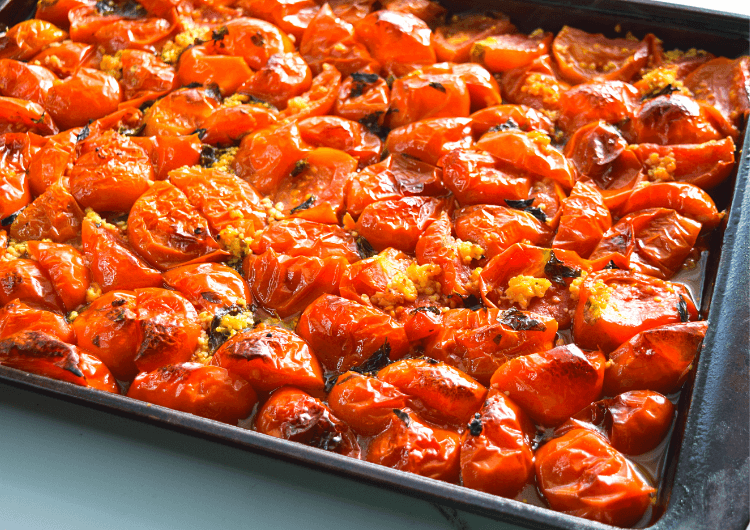 Once the tomatoes are added, then I add in all the seasonings and puree on pulse. I let it run for about 4-5 seconds each time, until it's been about a minute. Then, it's time to taste it!
If you feel like your sauce is missing something, add it slowly. I added way too much sugar one time. Luckily, some additional vinegar and salt helped combat the problem, but it made me very cautious about adding things. Now I add things just 1/2 to 1 teaspoon at a time.
How do you freeze fresh pasta sauce?
This recipe will net about 7-8 cups of pasta sauce. I use gallon-size freezer ziplock bags to store my freezer sauce. My family don't like a lot of sauce on their pasta, so I divide the sauce in half and put about 4 cups per freezer bag.
I use a large cup like a Big Gulp size cup and put the ziplock bag in it, fold over the sides outward, and fill it that way. Then, I gently squeeze all the air out and seal it shut.
I put the bags in the fridge for about 30 minutes to an hour. Then, I transfer them to the freezer. When I put them in the freezer, I store them flat on top of each other, so they don't take up much space.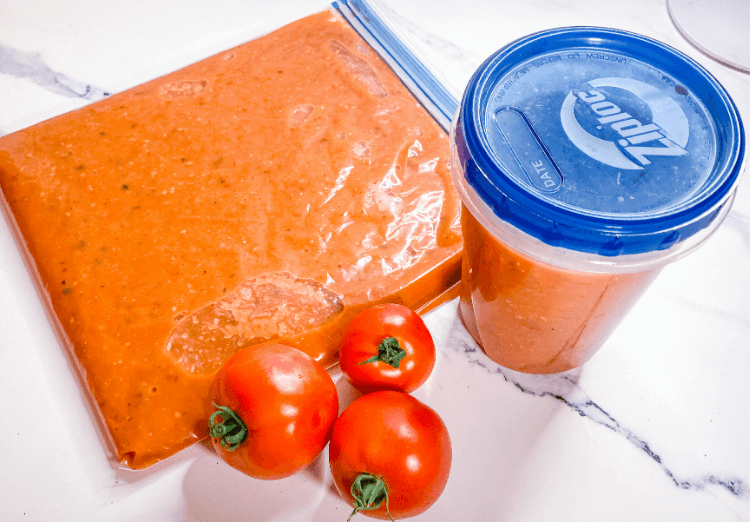 How long can you freeze fresh pasta sauce?
If stored properly in freezer ziplock bags or freezer safe storage containers, it will maintain good quality for 4 to 6 months. But, it can last longer. We love our pasta in this house, so it never lasts that long around here.
How long can you refrigerate fresh pasta sauce?
With just veggies, like this recipe, you can store it up to a week in the fridge. If it has meat in it, it's best to use it within 24-48 hours.
More Italian Recipes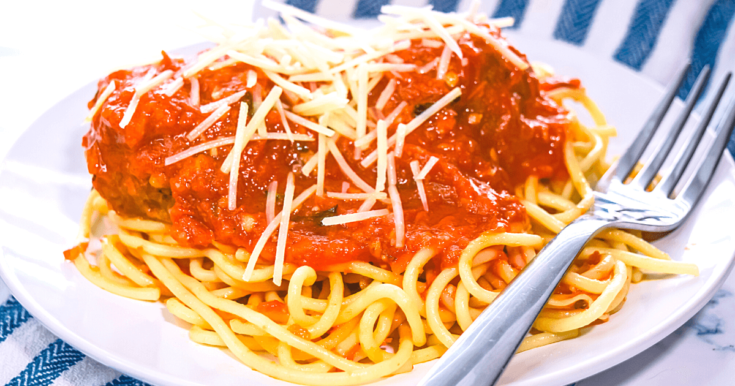 Yield:

7-8 cups
Fresh Pasta Sauce You Can Freeze
Additional Time:
10 minutes
Total Time:
1 hour
5 minutes
Ingredients
Roasting Tomatoes:
20-25 ripe tomatoes
4 tablespoons extra virgin olive oil
1 teaspoon salt
3 tablespoons minced garlic
small handful of fresh basil, chopped
4 stems of fresh oregano
Pasta Sauce
3 teaspoons Worcestershire sauce
2 teaspoons salt
1 teaspoon balsamic vinegar
1 teaspoon garlic powder
1 teaspoon onion powder
Instructions
Roasting Tomatoes:
Preheat oven to 400 F degrees.
Wash, remove stems, and quarter the tomatoes.
Spread the tomatoes out evenly on a baking sheet. They can touch, but don't layer them on top of each other.
Drizzle olive oil all over tomatoes.
Remove oregano leaves from stems and sprinkle all over tomatoes.
Chop basil and sprinkle all over tomatoes.
Sprinkle the garlic all over the tomatoes.
Sprinkle salt all over tomatoes.
Roast for 35 to 45 minutes, until the tomato skins and herbs are just slightly charred.
Allow to cool for 5 to 10 minutes.

Fresh Pasta Sauce:
Transfer the roasted tomatoes and juices to a blender or food processor.
Add all the ingredients and pulse for 4-5 seconds for a full minute.
Use immediately on pasta.
If freezing for later, divide in half and transfer each half into a freezer ziplock bag.
Remove the air and store in the fridge for 30 minutes to 1 hour.
Transfer to the freezer and lay flat, stacking the ziplock bags on top of each other.

Notes
Store in the freezer for 4 to 6 months.
Nutrition Information:
Yield:

15
Serving Size:

1
Amount Per Serving:
Calories:

75
Total Fat:

4g
Saturated Fat:

1g
Trans Fat:

0g
Unsaturated Fat:

3g
Cholesterol:

0mg
Sodium:

445mg
Carbohydrates:

9g
Fiber:

3g
Sugar:

6g
Protein:

2g
Any nutritional information on thetiptoefairy.com should only be used as a general guideline. This information is provided as a courtesy and there is no guarantee that the information will be completely accurate.