Do you need an activity for the kids that's calming and relaxing? I have a 3 year old who can get easily frustrated, especially being stuck at home all the time. I made her some Magnetic Sand Sensory Play Jars that really help calm her down.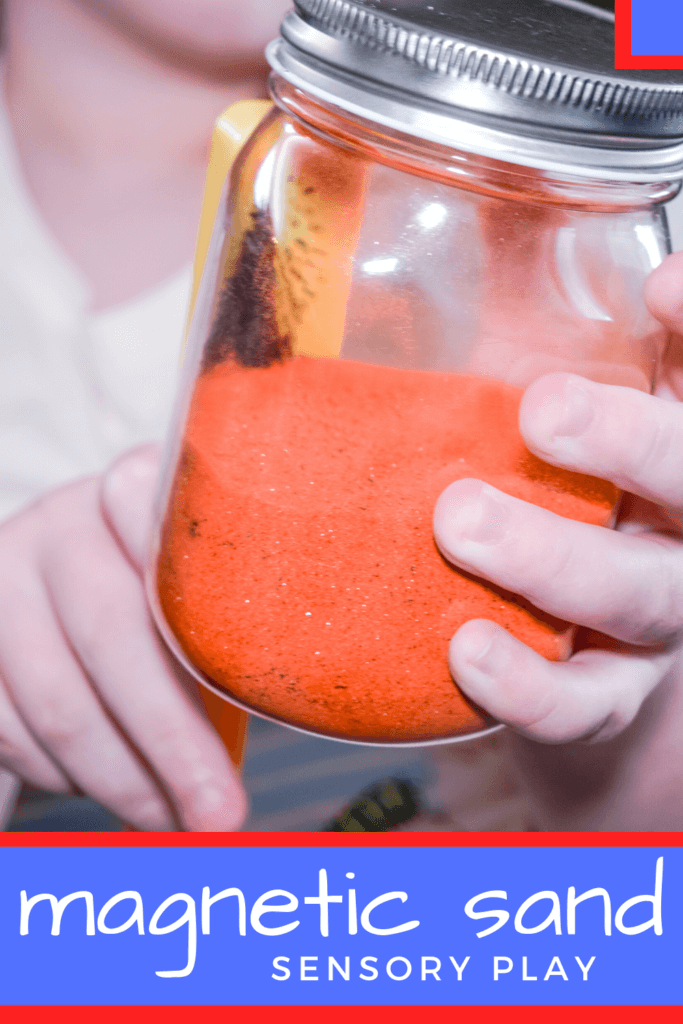 These jars are so easy to make. It literally takes seconds to mix it up and give your kid a magnet. They will sit for quite a while just running the magnetic over the sand through the jar.
This is even a fun activity to calm yourself down. When I'm stressed, I have sat down with the magnetic sand and
What do you need to make these Magnetic Sand Play Jars?
I use plastic mason jars, colored sand, iron filings, and magnets — all of which I get on Amazon. If you have a kid who likes to open things, you may need to use superglue or hot glue to seal the lid completely shut.
How do you make Magnetic Sand?
This is something you can throw together in seconds when you need to calm down a kid. It works like magic. You show them how to pull the iron filings out of the sand with the wand, and they will sit calmly and have a fun little time.
Can you use kinetic sand?
I don't know. It's possible? But, I worry the iron filings will get stuck in globs of the kinetic sand. Whereas with regular sand, it's easy to shake the sand off the iron when you're holding it with the magnetic on the side of the jar.
I used only regular colored sand. I purchased colored sand to use for our jars, but you could also dye regular sand with food coloring or paint.
More Sensory Fun for Kids
Yield:

1 jar
Magnetic Sand Sensory Play
Materials
Instructions
Open the jar.
Add about /3 of the container of the iron filings (about 2 tablespoons)
Add 1 cup or more of colored sand.
Screw the lid back on. (Add superglue or hot glue to the lid, if your child likes to open things.)
Shake it up until you can't see the iron filings.
Use the magnet to run against the sides of the jar to pull out the iron from the sand.