Yesterday I shared my tried and true fresh pizza dough you can freeze recipe that I make all the time. (Way more than I probably should.) Today, I'm going to share how to make the best pizza your family will love.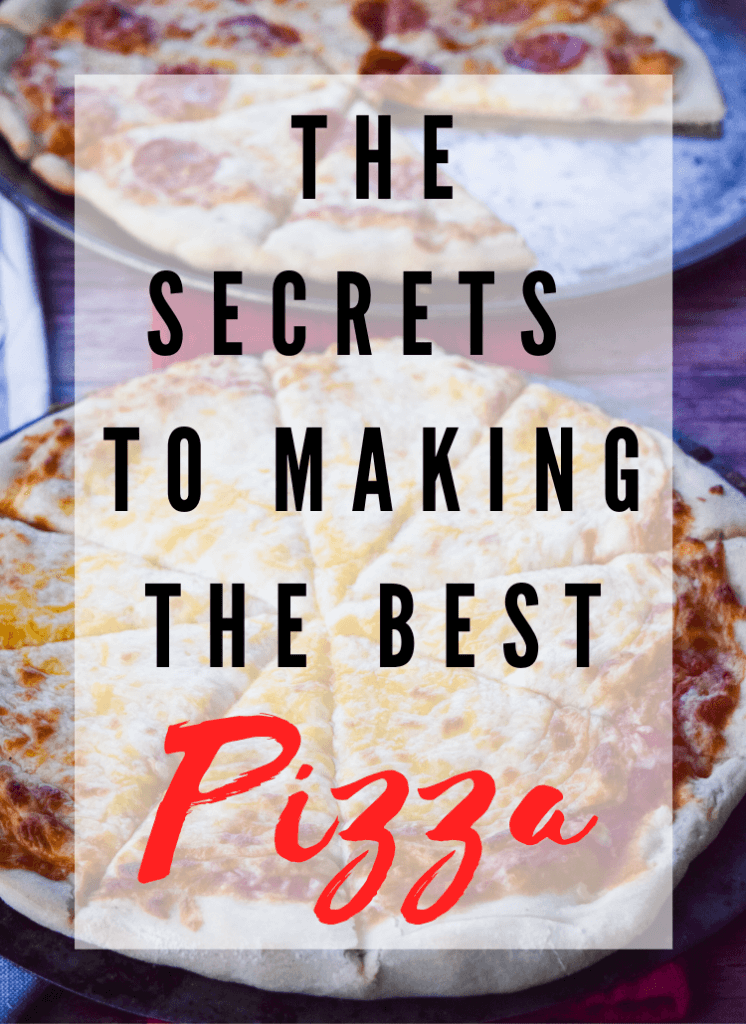 Until this year, I was horrible at making pizza. It just didn't taste anything close to the pizza we loved to get as takeout. But, I've taught myself the secrets to making pizza taste amazing, and now my family actually prefers MY pizza over the restaurants.
Can you believe it? Because I'm still shocked by that. Even my college kid, who turned her nose up every time I made pizza, finally tried it a couple weeks ago, and is now hooked.
What are the Secrets to Making the BEST Pizza?
I used to think making good pizza had to do with having the right pizza pan or a pizza stone. But, none of that matters. I use cheap pizza pans, and I never use a pizza stone. I've even used disposable pizza pans, and my pizza still comes out great.
The secrets I found are these:
cooking the pizza at a high temperature
using a simple sauce recipe
using a combination of cheeses
What temperature should you cook pizza?
I found 500 F degrees makes the best tasting pizza. It gives the dough a crispy outside with a soft chewy inside.
Then, I turn the broiler on HIGH and cook for an additional 2-3 minutes, while watching closely. This makes those brown bubble spots on the cheese.
For big pizzas that are 12-16 inches, I cook the pizzas about 10-12 minutes before turning on the broiler. For mini pizzas that are 6-8 inches, I cook the pizzas for 8 minutes before turning on the broiler.
How do you make basic pizza sauce?
I watched tons of videos with all kinds of pizza makers on how they make their sauce. Some were so complicated and some were just basic tomato sauces.
After a lot of experimenting, I found a basic sauce made with crushed tomatoes, olive oil, and minced garlic was the perfect base for my pizzas.
What kind of cheese do you use for pizza?
I believe this is the biggest secret to great-tasting pizza. I use a combination of low moisture mozzarella, whole milk mozzarella, and a bit of sharp cheddar.
This cheese was the game changer –> Sargento® Shredded Whole Milk Mozzarella Natural Cheese. It melts beautifully and tastes amazing. I always make sure I have this cheese when I make pizza. Here in the Dallas area, I regularly find it at Kroger.
I start with shredded low moisture mozzarella, then top that with the shredded whole milk mozzarella, and lastly, I add shredded sharp cheddar very sparingly. The sharp cheddar gives the pizza a bite that tastes so good.
Kids can make pizza, too!
This is the perfect activity to keep kids busy. We often make mini pizzas instead of big pizzas, so everyone can put the toppings they want. My kids love making their own pizzas.
In my experience, if they make their own pizza, they usually will eat the entire thing without any complaint. If you have a picky eater, this is definitely a way to get them to eat.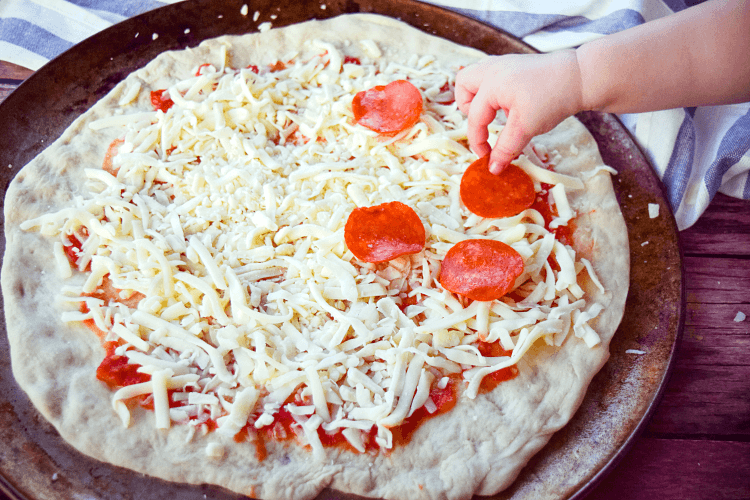 If you're using the dough from my fresh pizza dough you can freeze recipe, you'll typically divide it into four parts to make four large pizzas. But, one of those four parts of dough, will actually make 3-4 mini pizzas.
Recipes to go along with Pizza Night
Yield:

4 Lg Pizzas
How to Make the BEST Pizza
Ingredients
15 oz can of crushed tomatoes
1 tablespoon minced garlic
1 tablespoon olive oil
1/4 teaspoon salt
24 oz low moisture mozzarella cheese, shredded
24 oz whole milk mozzarella cheese, shredded
1 cup sharp cheddar cheese, shredded
Instructions
Pizza Dough
Make the pizza dough and divide into four pieces.
Preheat oven to 500 F degrees.
Rub the pizza pans with olive oil.
Take each piece of dough and gently roll out onto the pizza pans.
Pizza Sauce
Mix together the crushed tomatoes, olive oil, garlic, and salt.
Make the Pizzas - for each pizza:
Spoon out 2-4 tablespoons of sauce and spread out over the pizza, leaving 1 inch around the edge.
Sprinkle 1 cup of the low moisture mozzarella all over the pizza.
Sprinkle 1 cup of the whole milk mozzarella all over the pizza.
Sprinkle 1/4 cup of the sharp cheddar all over the pizza.
Add any meats or veggies to the pizza.
Bake for 10-12 minutes, until cheese is bubbly.
Turn broiler on high for 2-3 minutes, until cheese starts to bubble brown.
Remove from oven and cut into 8 slices.
Serve immediately.
Nutrition Information:
Yield:

32
Serving Size:

1
Amount Per Serving:
Calories:

199
Total Fat:

13g
Saturated Fat:

7g
Trans Fat:

0g
Unsaturated Fat:

5g
Cholesterol:

41mg
Sodium:

403mg
Carbohydrates:

8g
Fiber:

0g
Sugar:

1g
Protein:

12g
Any nutritional information on thetiptoefairy.com should only be used as a general guideline. This information is provided as a courtesy and there is no guarantee that the information will be completely accurate.
Come Join Us!
Liked this article and want more? Follow along on Instagram, Facebook, Twitter, Pinterest, TikTok, and YouTube!
Come over and join us on Facebook in the group Recipes, Crafts, and more with TipToe Fairy or Sewing and Crafting with The TipToe Fairy!
Visit Our Other Blogs!