Have you ever been inspired to make a recipe from a cartoon? That was the inspiration behind Peppa Pig's Inspired Tomato Salad.
We watch a lot of Peppa Pig. My 2 year old LOVES it. She's even dressing up as Peppa Pig for Halloween. My husband and I, and even my older kids, enjoy watching it with her. There's an air of passive aggressiveness throughout the show along with dry humor that is just hilarious. Sometimes I think the creators made it for parents more than kids.
Peppa Pig's Tomato Salad
In one episode, they go to Grandma and Grandpa Pig's house for lunch, and they are going to make tomato salad. Grandpa Pig's tomatoes are too small, so Grandma Pig heads over to their next door neighbor, Granddad Dog because he has wonderful tomatoes. Granddad Dog gives her some of his big beautiful tomatoes.
Grandpa Pig gets jealous. Then, he learns Granddad Dog wants to grow basil, so Grandpa Pig tries to act like an expert about basil until Grandma Pig says her secret is she just throws basil seeds in a pot, and it grows. So, she gives Grandad Dog some basil. Then, they all make a tomato salad, and Peppa Pig and everyone love it.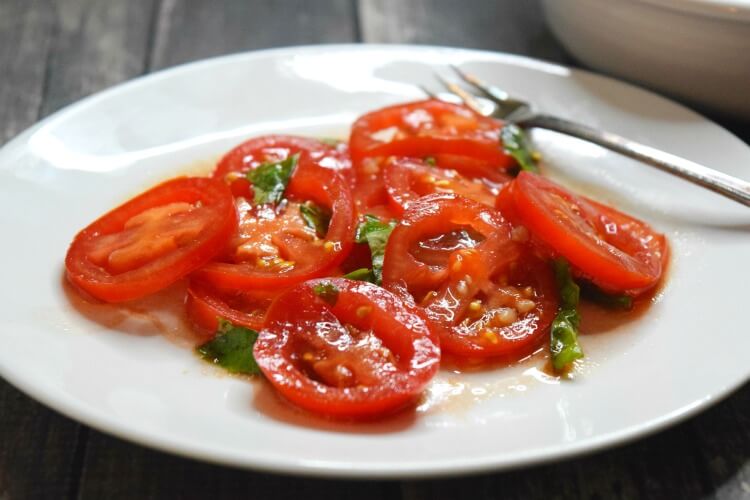 This episode made my 9 year old beg for tomato salad. She has sensory processing disorder, and one highly sensitive sense is taste, so her asking for a new food to try is wonderful. I looked for a possible recipe that might be associated with this Peppa Pig episode, but could not find one. So, I created one!
What kind of tomatoes do you use for a tomato salad?
I think the secret to this salad is the tomatoes. You want a sweet tomato for this tomato salad to balance out the balsamic vinegar. I chose campari tomatoes, which are sold on the vine. They are one of the sweetest tomatoes you can buy. I've used them before when I've roasted tomatoes and made spaghetti sauce from scratch. They are so delicious!
How do you make Tomato Salad?
I found tons of recipes, but it looked like most were just tomatoes tossed in vinegar and oil. Since they included basil in the Peppa Pig episode, I decided that's what we would include as well.
Campari tomatoes are not huge. They are actually are about two times the size of a cherry tomato. You can buy a big package of them still on the vine, about two dozen, at Sam's Club. I went through and found the ripest tomatoes. I didn't want my daughter to be put off by tomatoes that weren't sweet. She has a sweet tooth, so I knew the ripest would be the sweetest.
I whipped this salad up to be as mild as possible, not too sour or too garlicky, so my daughter would like it. She loved it.
I started off with slicing the campari tomatoes as thinly as I could, about 1/4 inch a slice. Then, I simply shredded the basil with my fingers. Next, I added balsamic vinegar and olive oil. To finish it, I added just a little bit of minced garlic since my daughter doesn't like strong tastes, and I finished it off with a dash of salt. If I was eating this by myself, I'd probably double the garlic because I just love garlic.
Here are a few more Salad Recipes you'll enjoy:
Yield:

4 servings
Peppa Pig Inspired Tomato Salad
We were inspired to make this delicious tomato salad from watching an episode of Peppa Pig. It's tangy and sweet, and so easy to put together.
Ingredients
12 campari tomatoes
2 tablespoons oil
1 tablespoon balsamic vinegar
1 teaspoon minced garlic
5-6 basil leaves, torn or julienne
dash of salt
Instructions
Thinly slice the tomatoes.
Tear the basil into small pieces.
Add the oil and vinegar.
Add the garlic.
Add a dash of salt and mix it all together.
Serve immediately.