Every year my teenage son and I plan out his DIY Halloween costume. He has little sisters, so he goes trick or treating with them more as moral support, but I know he secretly loves doing it. He always loved dressing up in costumes as a little boy, from pirates to superheroes, and now he still gets to do it every once a year. Last year, he was a Three-Headed Ghost, which I'll be sharing with you today.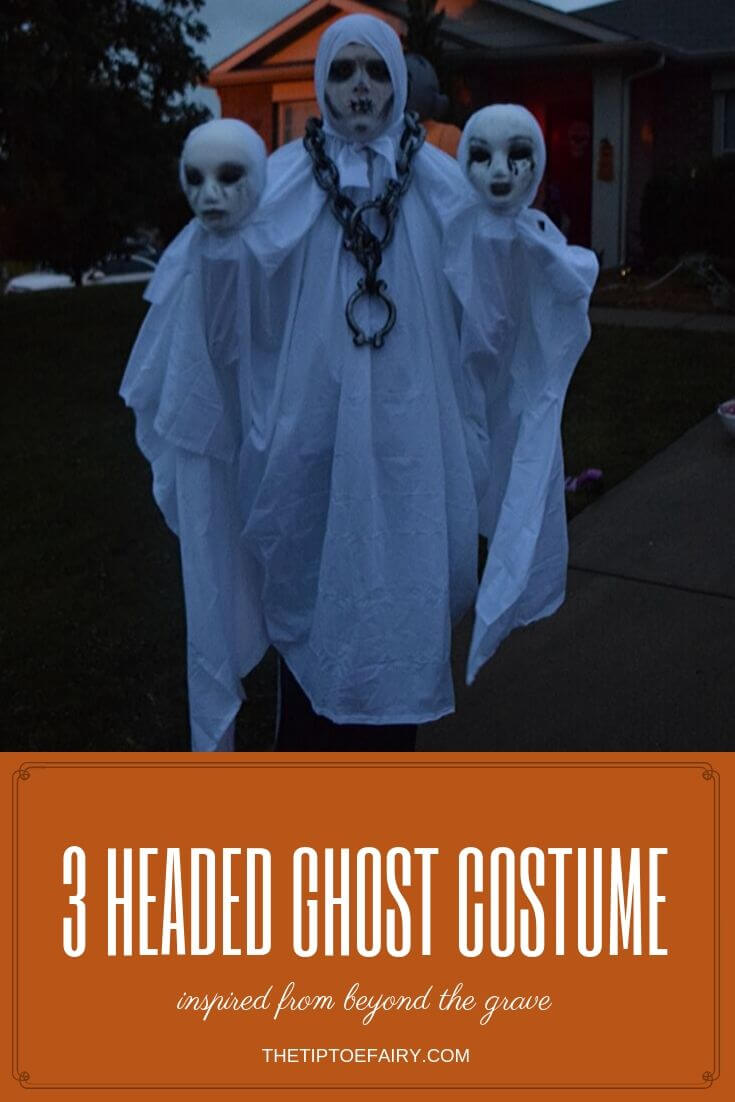 While making his costumes, we have gotten pretty good at documenting the process, and then I share it here on the blog the following year before Halloween. Next year, you can look forward to fun costume we are making this year. A few years ago he was Gandalf the White complete with a shower curtain rod as his staff and an amazing wizard hat I made completely couture. This post contains affiliate links.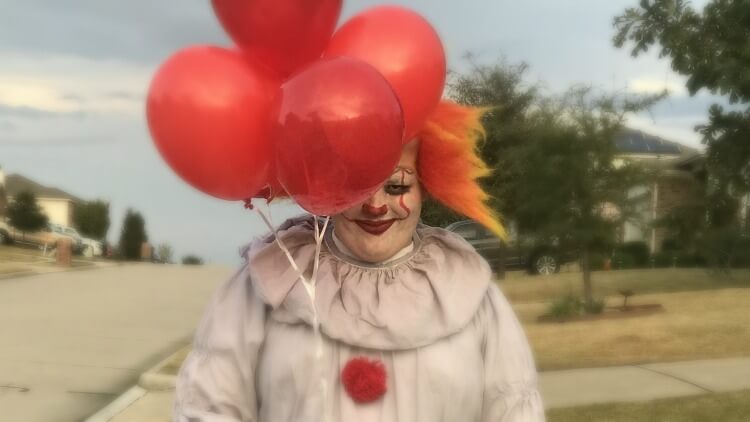 Last year we shared my quick and easy Pennywise costume. My son has become somewhat of a legend for that costume among kids in our tiny town. It was the same year when people were freaked out by clowns standing out in the streets doing weird things, so on Halloween, that's what my son did on our street corner. None of the kids at school knew it was him until months later. Now they are still talking about that costume.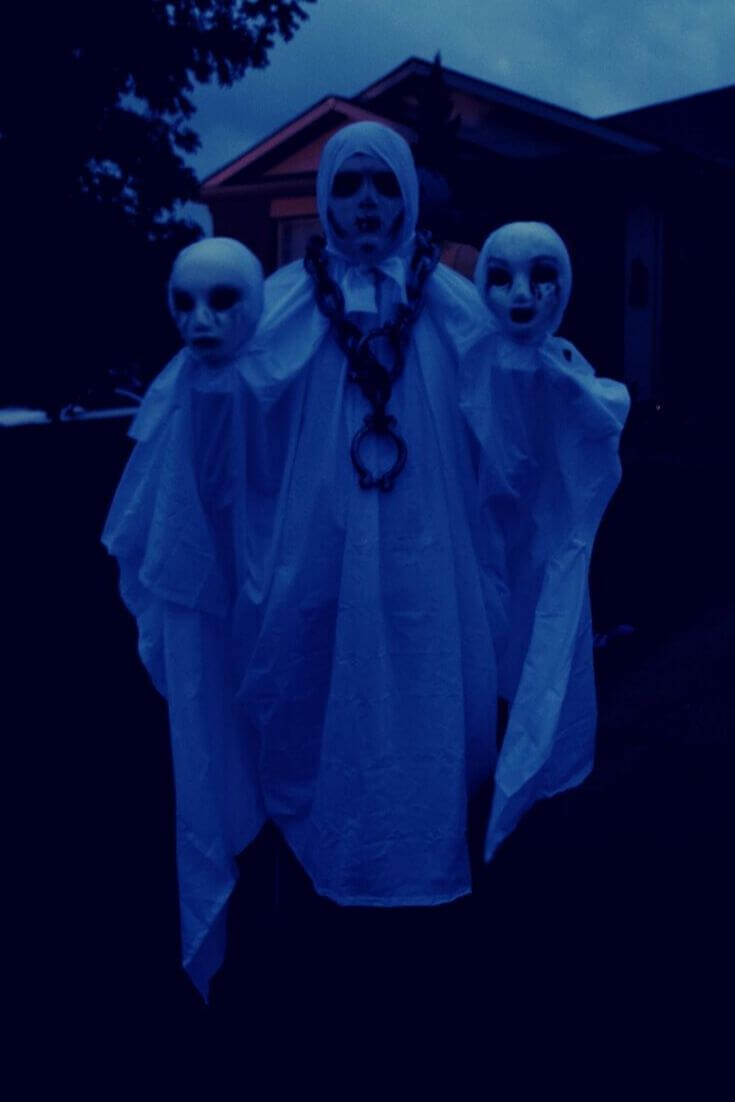 How to make a Three-Headed Ghost Costume
You will not believe how easy this costume is. It is definitely a last minute costume that can be put it together the day before Halloween.
Supplies
Directions
How to make Creepy Styrofoam Heads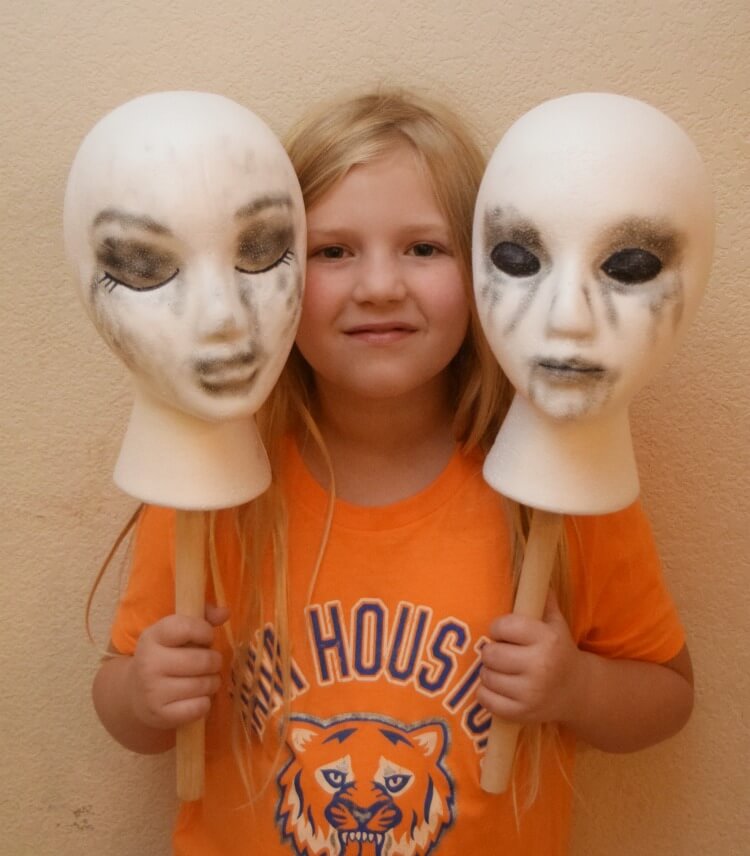 Use a Sharpie and some black eye shadow to make the faces on the styrofoam heads look creepy.
Next, hot glue the dowel rods into the holes at the bottom of each of the styrofoam heads. This makes them easy to carry and move around.
How to make the Ghost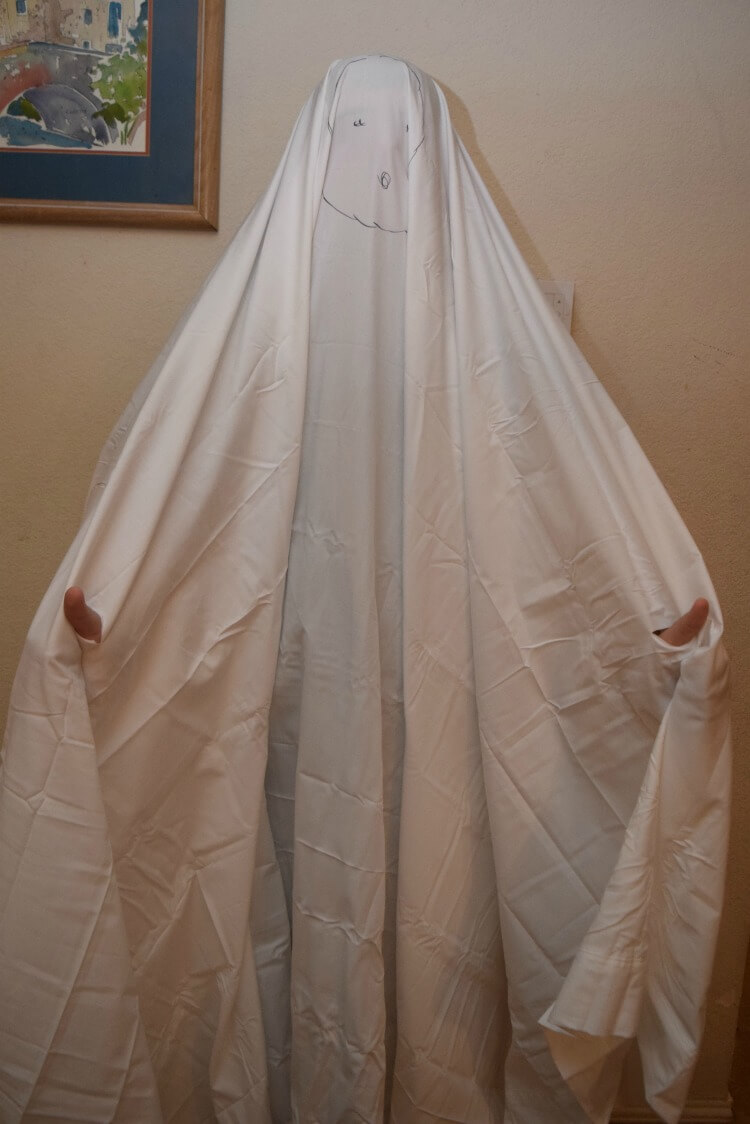 Get the large white sheet and put it over your child and cut off any excess so it's not too long. Keep that excess to use later in this project.
Next, use a pencil or something to mark where to cut for their face. Cut a circular shape out for their entire face to go.
Next, have your child hold up their hands, so you can figure out where to put each styrofoam head. I wanted the heads to be in the sheet similar to how my son's head was going into it. I had him hold his hands up fairly high, so that if he didn't want to hold the sticks of the heads, they would still float along with him and not hang upside down.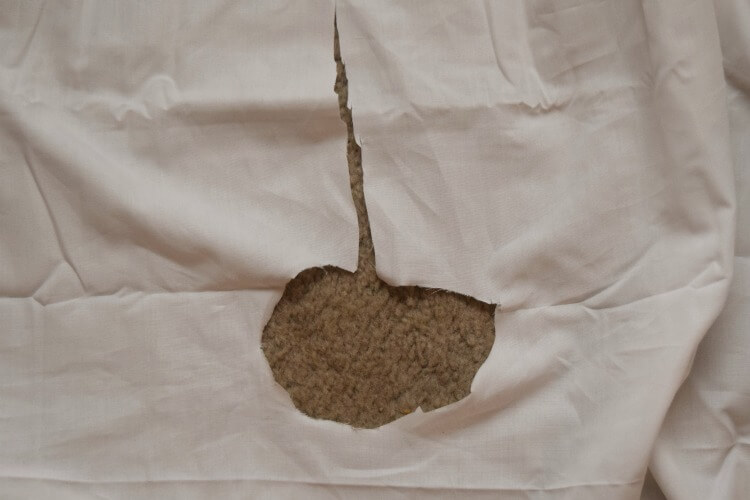 Cut a upside down t-shaped incision in each section of the sheet, so the head can wear the sheet like a hood.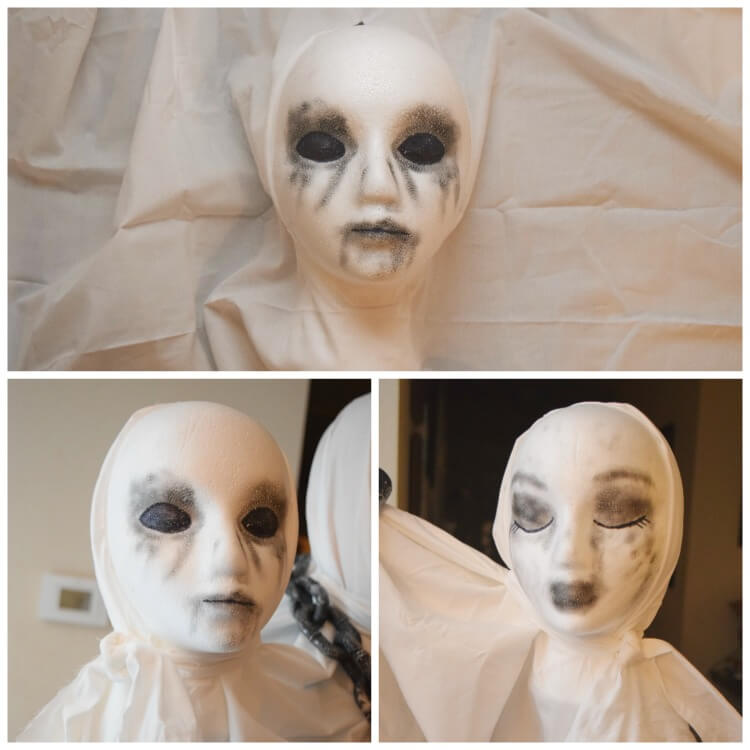 Cut strips from the excess we had cut off the sheet and tied a strip around each head. Then, hot glue it all together.
How to make a Ghost Face
Next, we painted my son's face white and added black eyeshadow, lipstick, and eyeliner to give him a creepy look.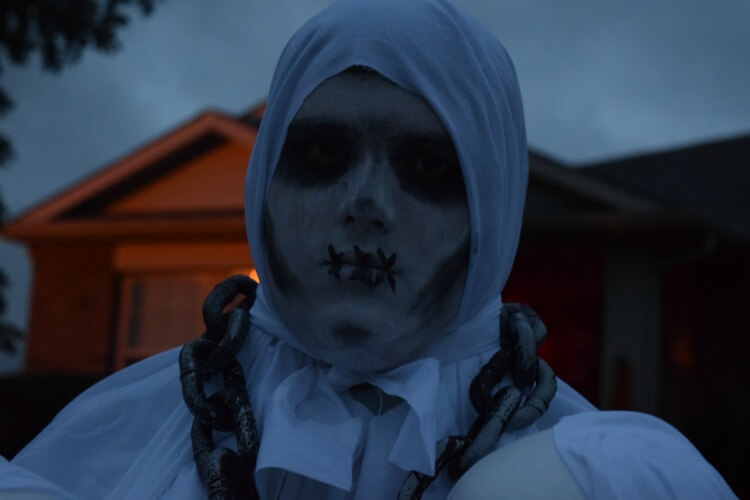 You do not have to be an expert beauty blogger. Just paint the face white and then use black eyeshadow to go around their eyes and cheeks, and then have fun with a black eyeliner. We added Xes along his lips.
Putting the 3-Headed Ghost together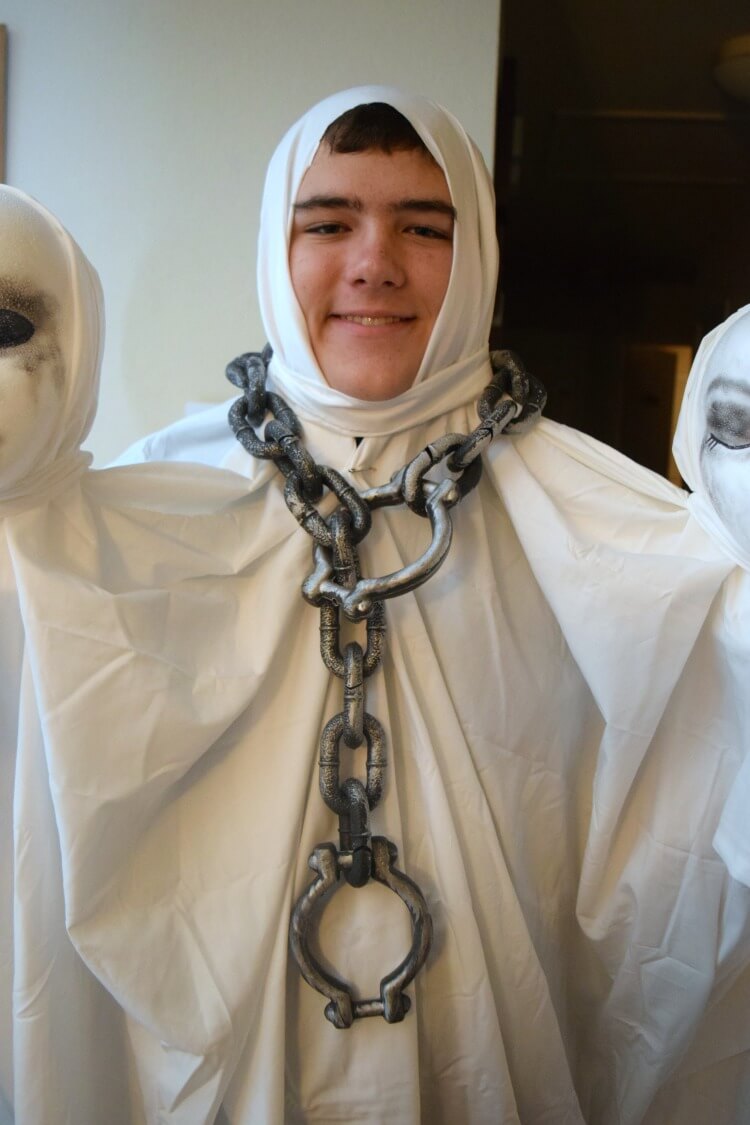 Slip the sheet over your kid's head. You might need to use safety pins or add a little strip to tie around their neck to hold the makeshift "hood" of the sheet onto to the top of their head.
Make the manacle chain into a "necklace" to put around their head.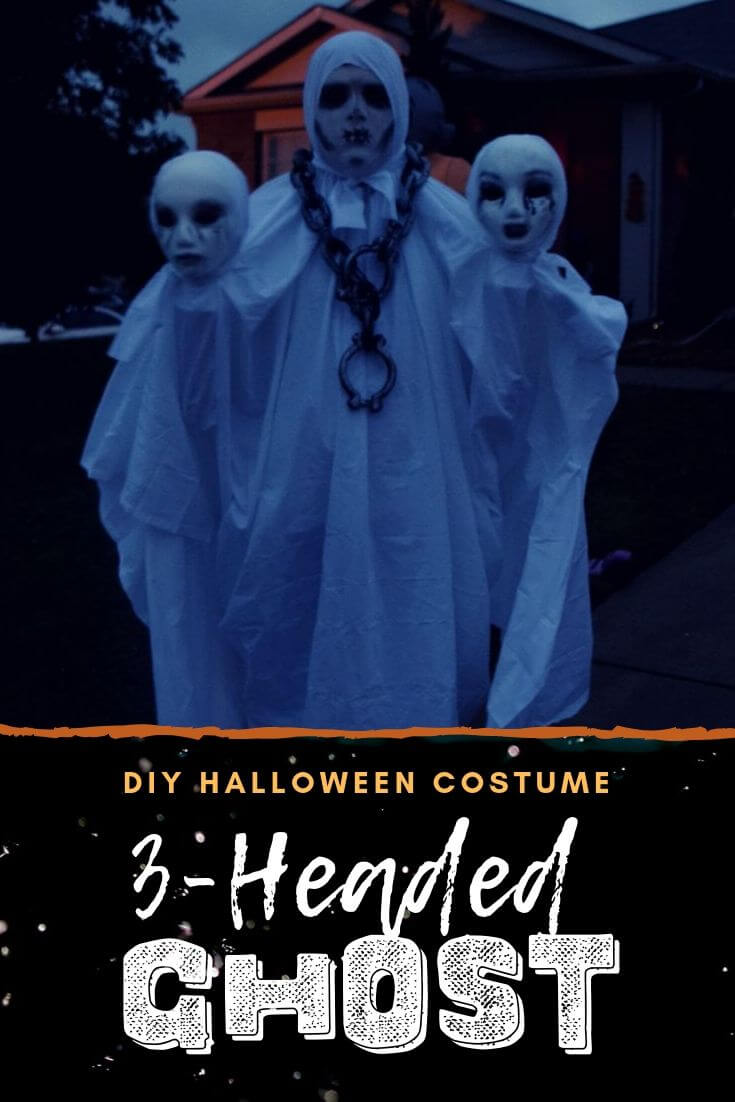 Now you're ready to go trick or treating!
More Halloween Costume Ideas
Looking for more Halloween Costume ideas? Check these out!