This post was sponsored by Amazon in partnership with Forward Influence. However, all opinions are 100% my own.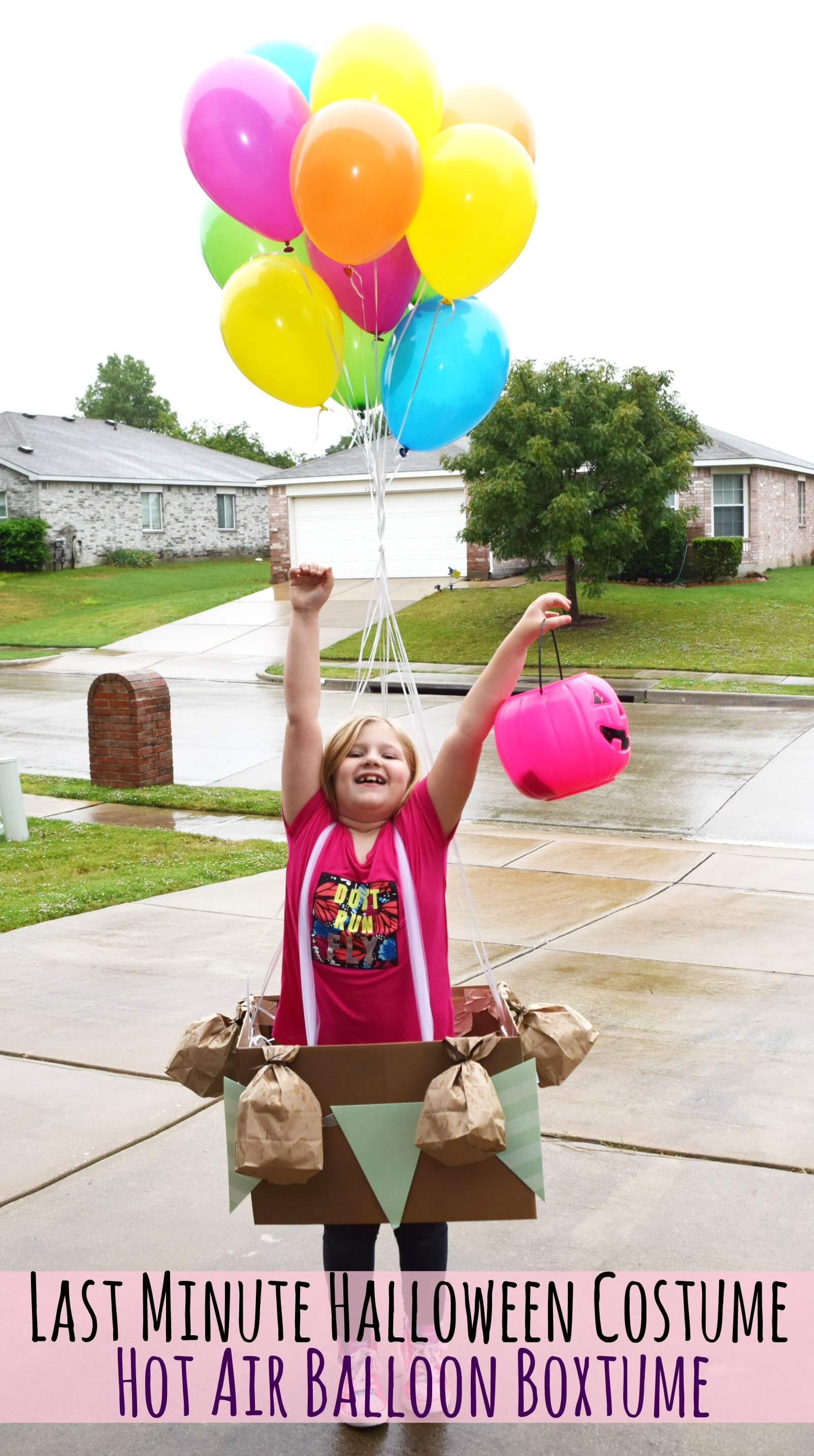 If you're like me, you get a ton of boxes from Amazon Prime. It's pretty much my favorite place to shop. I get boxes from Amazon at least once a week.
Did you know those Smile boxes are the perfect crafting supply? And, you already have them around the house! They work perfectly for Boxtume costumes and other custom Halloween things, like DIY treat containers, masks, haunted houses, and even decorations!
Remember our Free Kittens Boxtume from last year? My daughter loved it! So, this year, we turned her into a Hot Air Balloon Boxtume. It's such a cute costume.

Hot Air Balloon Boxtume
Supplies: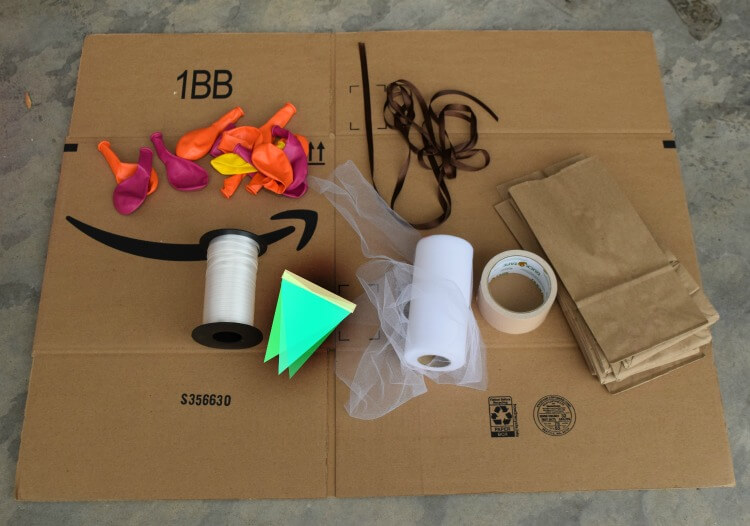 Directions: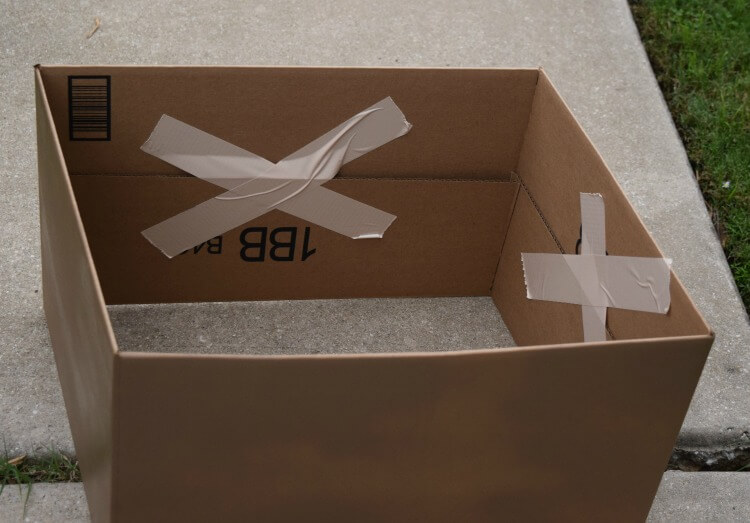 First, fold in the flaps from top and bottom and use the duct tape to hold them shut.
For a last minute costume, you might not have time to spray paint the box. I used a light brown spray paint that matched the box color almost exactly. This way I was able to hide the markings on the box. But, in a pinch, you can skip this step. It took about 2 hours for our box to completely dry.
Next, we'll glue the party bunting around the sides of the box. You can use hot glue, glue stick, spray adhesive, whatever. I found hot glue and spray adhesive dried the quickest.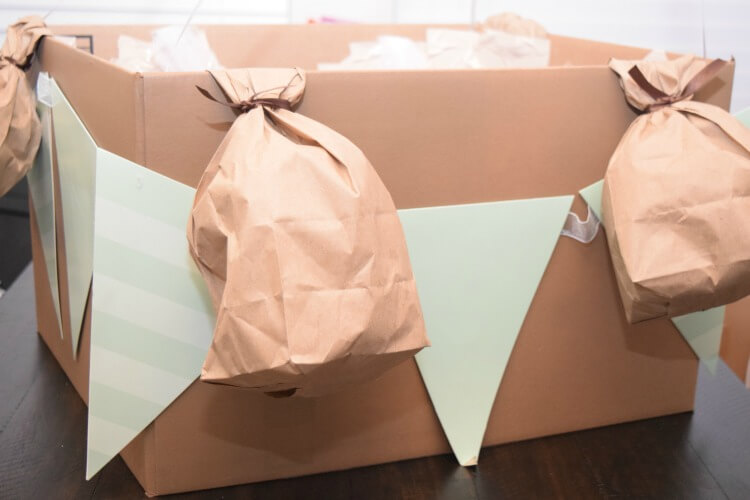 Take four lunch sacks and stuff 2-3 lunch sacks in each of of them to make them look filled up to create the sandbags. Tie off the top of each sandbag with as small piece of ribbon. Then, attach the 4 sandbags around the sides and front of the box. I just folded over the top of each sandbag into the inside of the box and secured them with duct tape.
Create the straps. I have my child step into the box and hold it up where they want it, then we measure ribbon or tulle or even duct tape to the length we need. For this one, I got frustrated with duct tape straps and gave them up, and then I decided to use tulle. It was much easier. I used a spool of tulle and twisted 3 pieces of tulle together and knotted it at the ends and in the middle. Then, I attached it to the box on each side.
Then, it was time to blow up the balloons. I saved them for the very last thing so that they wouldn't lose much helium. I just bought a small helium tank "kit" that comes with the curling ribbon and the balloons. I blew up about 12 balloons.
After attaching the curling ribbon to the balloons, gather them up with some slightly lower, some slightly higher, etc., like a bouquet. You don't want them all on the same level Then about 10 inches below the lowest balloons, knot all the ribbons together in one big knot. This holds the balloons together so they won't get in your kid's face.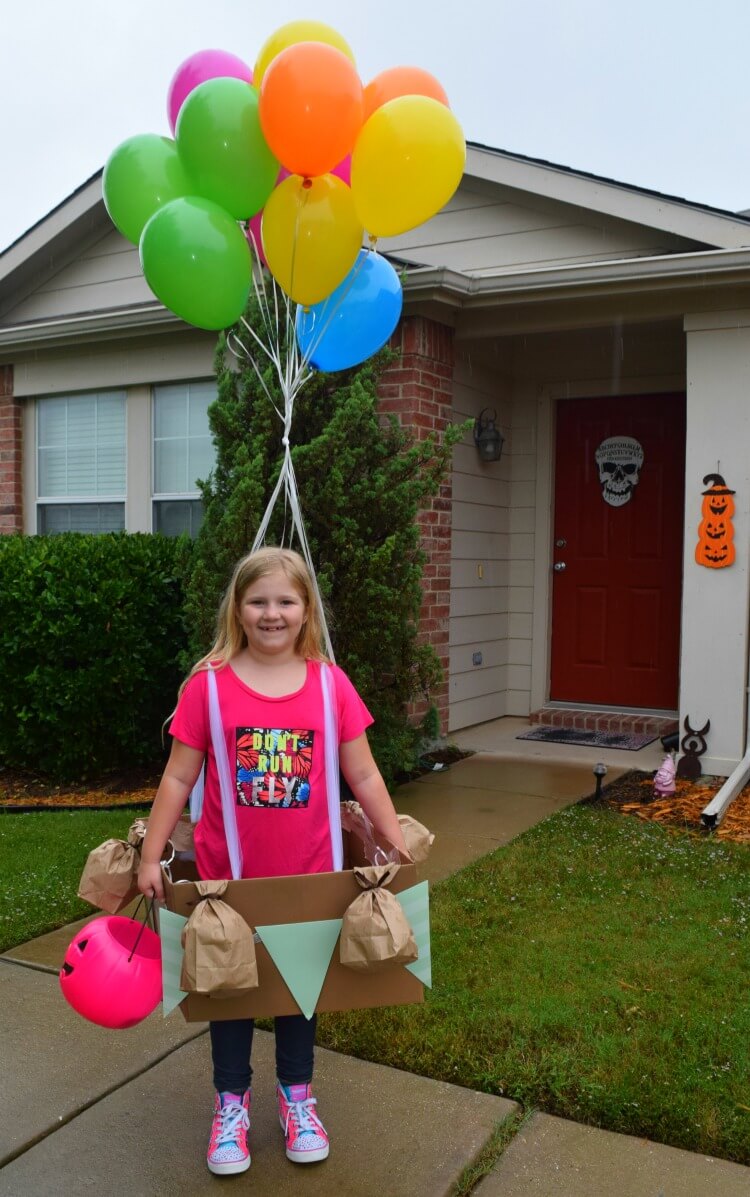 Lastly, have your child put the box on and and separate the balloon ribbons into 3 sections. Holding the balloon bouquet so that it's comfortably above the kid's head, duct tape a section of ribbons to one side of the box, then the other side of the box, and lastly the back of the box. Don't tape any to the front — we learned this by trial and error where the balloons would get in her face.
That's it!
Make Your Own Boxtume
Have you been inspired to make a Boxtume? Show off your own creativity using #boxtumes, #amazonprime and #morethanabox. We can't wait to see what you come up with!
Looking for more last minute boxtumes? Check out our Kittens in a Box Boxtume from last year!