This post was sponsored by Landscape Structures as part of an Influencer Activation for Influence Central and all opinions expressed in my post are my own.
Did you know October is Sensory Awareness Month? Our middle daughter appears like an average kid, but she has had sensory issues since birth. She easily gets overwhelmed by things like tastes and smells, tying her shoes, and even things like swinging on a swing or skipping down the sidewalk.
Sensory Processing Disorder
When her teachers told me she cried nearly every day in school last school year, we realized we needed to do something. She was evaluated by an occupational therapist who told us that Molly had Sensory Processing Disorder. The OT immediately put a plan of action together to help her improve her sensory issues.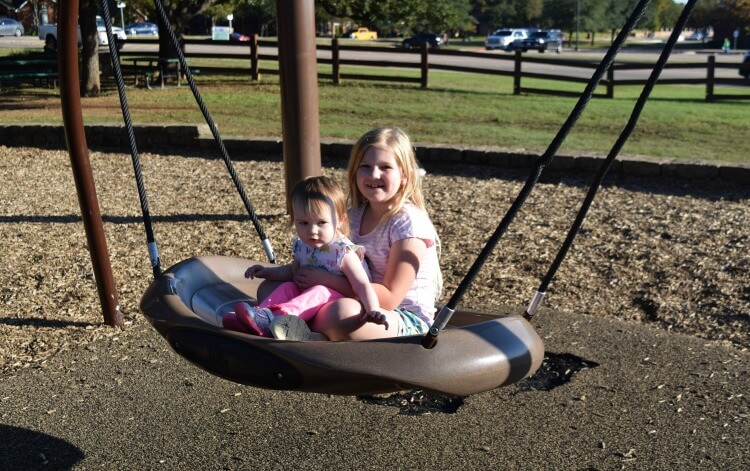 We had some surprises with her diagnosis. The most surprising was her balance and coordination were at the levels of a toddler. This made a lot of sense because physical activities were often a frustration for her.
After several months of therapy, she has made amazing strides and just graduated from twice a week therapy to once a week. Her OT thinks it won't be long before she's completely discharged.
Inclusive Playgrounds
When we head to the playground, I often look for ones that are inclusive with play structures for all kinds of kids. Inclusive playgrounds are important because they beyond just accessibility. They also address age and development appropriateness as well as sensory-stimulating activities.
When my daughter plays at an inclusive playground, she's at a more level playing field with her peers, and I can see how happy it makes her.
One company that does a great job at creating inclusive playgrounds is Landscape Structures. Their playgrounds help children develop physical, cognitive, sensory and social skills.
We visited one of their playgrounds recently, and my daughter was thrilled to see all the different play structures. They had this amazing swing that was very similar to the activities and play structures she uses in therapy to strengthen her coordination and balance. She just loved it.
Benefits of Inclusive Play
With inclusive playgrounds, kids of all abilities can learn and grow together. It allows kids to learn important life lessons such as empathy, support, persistence as well as leadership. My daughter loved working through some of the fun jungle gym play structures with kids she met at the park.
One of the most important aspects of inclusive play is social equity. When all children can play together, no matter their ability, it allows kids to experience a more diverse community which benefits all of them.
How to find an Inclusive Playground
There are inclusive playgrounds all across the country. You can visit the Landscape Structures website to find a local inclusive playground near you! When I searched for one, I found several where we live.