[disclaim]Thanks to The Network Niche, today's post is sponsored by Music & Arts.[/disclaim]
We are a musical family. I love to keep their passion alive by giving them the gift of music for Christmas like a new instrument or a music stand. Music & Arts is a great place to find something for your music lover. This year they have an awesome gift guide!
My husband plays the guitar and has taught himself other instruments, too. I grew up playing the violin, a bit of piano, and then moved on to clarinet in the marching band.
We have a little music area set up in our home with our piano and all my husband's instruments. We even have a family tradition where we have an old trumpet as our Christmas tree topper.
I try to encourage a love of music in my husband and my kids. I've given him new musical instruments over the years as gifts. He just recently picked up a new drum – a Djembe – and has been teaching himself to play. He writes beautiful songs he sometimes uploads to YouTube. This one is my favorite.
We have been working to pass the love of music on to our kids. My son is in his first year of band. He plays the trumpet, and I'm so proud of how hard he practices. Last year Music & Arts came out to the band hall to make it easy for all of us parents to order supplies needed for the upcoming school year.
His older stepbrother is in his first year at OU in the marching band. He also plays trumpet. They both are asking for plastic trumpets for Christmas.
Every year for Christmas, I try to give them something related to music. One year my son got a set of harmonicas that he still loves to play. Another year, I gave my husband a ukulele.
If you have a music lover in your family, check out these ideas for giving them the gift of music!
Yamaha Silence Brass System – This is perfect for when your little musician needs to practice, but you need some quiet time. My son tends to want to practice at 10 o'clock at night, and I think the neighbors would love this for him.
Tuner – A tuner is always a necessity for musicians. My husband and son both have one. This one clips on to your instrument. It says this one is geared toward guitars, but it can also work with stringed instruments, brass, and woodwinds.
Guitar Stand – This is a great gift for your guitar player. This was one a Christmas gift I gave my husband last year. He uses it all the time to display his guitar.
Soprano Ukulele – If you have a guitar player, they might love to mess around with a uke. When my husband passed his stockbroker licensing exams, I surprised him with one. He loves pulling it out and playing songs.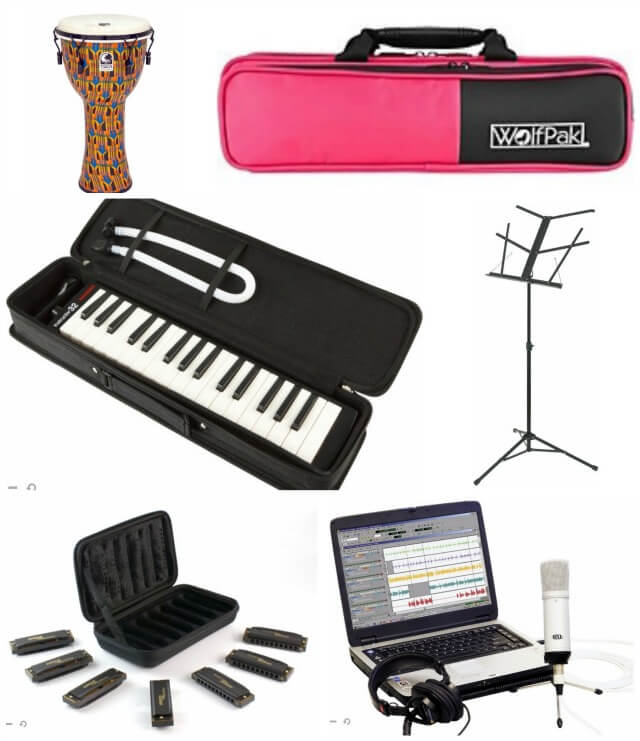 Djembe drum – This is my husband's newest musical instrument. It's a great piece to his collection so when he's creating and layering new songs, he can use this, too. He's been teaching our youngest two how to play it, and they love it.
Soft Instrument Case – When I started out I had hard shell cases for my instruments, but I would have loved to have had a soft one, and especially if it was pink!
Melodica – It's a piano you can play with your mouth! This is one of the next gifts I plan to get my husband. They are super easy to play.
Folding Music Stand – perfect for practice time! I just got my son one of these. I love it because it folds up and out of the way.
Set of Harmonicas + Case – This is so cool! My son's harmonicas did not come with a case, so this would be awesome. Not only does it have harmonics, but it has storage, too.
Desktop Recording Kit – This is perfect for your budding recording artist. They can easily record music to their computer to create their own songs.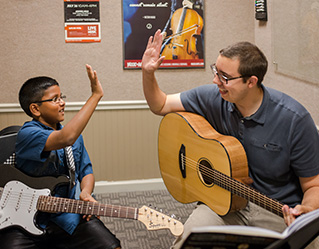 Another gift you might consider is Music Lessons. There's even a coupon to save money on lessons in the Music & Arts Gift Guide.
Be sure to check out Music & Arts Holiday and gifts for music lovers! Don't forget to grab a coupon code when you get there!