My family just loves the flavor of Savory Carrots. They're perfect to go with roast or baked chicken. This is a sponsored post.
Here in Texas it's all about iced tea. We drink it every night at dinner and usually at lunch, too. It's definitely the unofficial drink of Texas. We tend to prefer unsweet tea at our home, but a nice tall glass of sweet tea every once in a while is definitely a treat.
When I'm in a rush to grab something quick for dinner, I'll grab a jug of tea from Walmart at the same time. Milo's® Famous Sweet Tea is one we recently started buying, and it's now at Walmart! Right now you can get it on rollback for 2/$5!
Just the other day, I picked up a jug of Milo's® Famous Sweet Tea and a jug of Milo's® Unsweet Tea. You can click here to Locate Milo's Tea.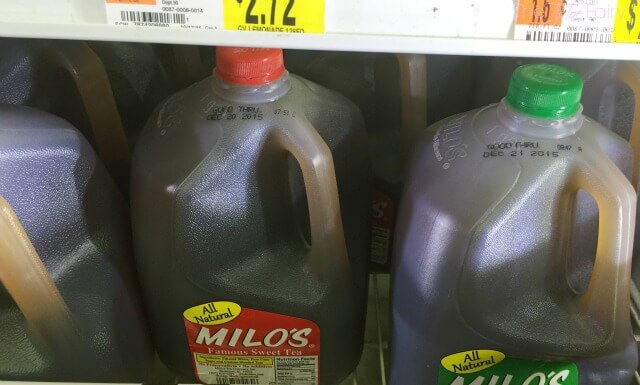 A lot of times when I need an easy dinner for my family, I'll put a chuck roast in the slow cooker with some carrots and some beefy onion soup mix. My family doesn't really like cooked carrots that are sweet. They prefer a more savory flavor, and the soup mix always does the trick.
The other day I had the chuck roast defrosted and ready for the slow cooker, but I had no carrots. I was going to be away from home too long to add them to the slow cooker, so I couldn't cook them with the roast. I knew I couldn't just skip them because the carrots are my kids' favorite part of the entire meal when I cook a roast.
Here's what I did. When the roast was ready to come out, I just steamed the savory carrots in the microwave for 7 minutes in beefy onion soup mix. No one could tell they weren't cooked along with the roast!
Savory steamed carrots are the perfect side dish.
Ingredients
2-lb bag of baby carrots
1 package of beefy onion soup mix
1 1/2 cup of hot water
Instructions
In a 2 1/2 qt microwaveable-safe dish, pour in the carrots.
Mix up the hot water and the soup mix in a small bowl.
Pour the soup mix over the carrots.
Put a lid on the dish and microwave for 6-7 minutes.
Remove from microwave, mix up the carrots and soup, and then allow ti sit for about 5 minute before serving.
When it was time to set the table for dinner, I pulled out both jugs of delicious Milo's® Famous Sweet Tea and Milo's® Unsweet Tea to go with the chuck roast and savory carrots.
Milo's Tea is an all natural ready to drink Tea. It's even a North American Tea Champion! Not only is it perfect to share with your family on those busy nights when you need to get dinner on the table, but it's great to share with friends during holiday get-togethers, too.
Milo's is fresh brewed with real, natural ingredients and contains:
no preservatives
no additives
no acids
no added colorings.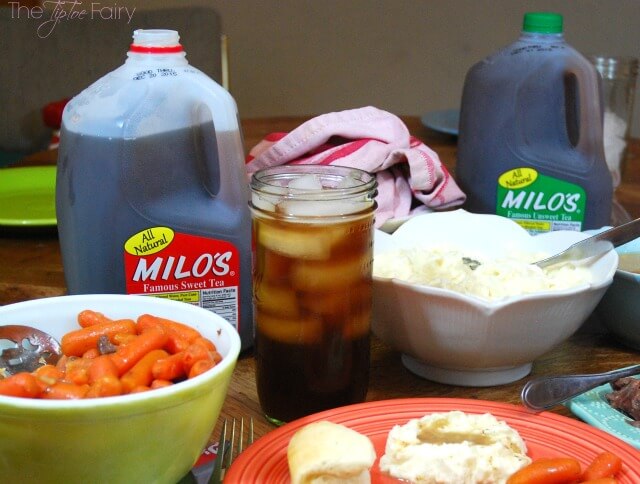 Milo's Tea Company is a family-owned and woman-owned business from Alabama. Milo's started out as a restaurant in 1946 by Milo and Bea Carlton after Milo returned from serving in World War II. In 1989, Milo's began selling their Famous Sweet Tea to local grocery stores, and now Milo's beverages can be found in thousands of stores across the US including Walmart!
You can find Milo's Tea in the refrigerated juice section at Walmart. There are three types available:
Milo's® Famous Sweet Tea
Milo's® No Calorie Tea
Milo's® Unsweet Tea
Milo's Tea can be enjoyed anytime from fun Texas football tailgates to holiday parties to family dinner around the table. Milo's Tea is the perfect beverage every time!
You can Find Milo's here.
Do you prefer Sweet or Unsweet Tea?