This post is sponsored by McCormick® but the content and opinions expressed here are my own.
Whenever there is a big holiday meal, we usually arrive well before dinner time, and the same is true at my house. I always like to have an appetizer or two ready to go like a cheese ball or two, and this Cranberry Orange Relish is a wonderful appetizer to serve. It's important to include appetizers in your meal planning for the big holiday dinners.
This Cranberry Orange Relish is an old family favorite from my husband's family. My family usually just slides the cranberry jelly out of the can, which I just don't like. I do love fresh fruit, so when Nate's mom brought this to one of our first holiday dinners together, I couldn't wait to try it, especially since he loves it so much.
What kind of fruit can you use to make Cranberry Relish?
You can't skip the cranberries, but I've seen recipes with all kinds of different fruits added from apples to pineapples. I usually stick with this version with just oranges, since it's my husband's favorite.
I prefer to remove the orange peel, and this will make it a pretty sweet relish. Some people prefer to throw in the orange wedges with the peels still on to balance out the sweetness of the sugar with the bitterness of the orange peel. You can also make it a more grown-up relish and replace the orange juice with a liqueur such as an orange-scented cognac.
What do you serve with Cranberry Orange Relish?
It's so versatile. You can serve it on slices of baguette with cream cheese or alone with some fancy crackers, or other ways like piling it on top of some brie for serving. It's also great served with the holiday meal, too, as spoonfuls on your plate in place of the traditional cranberry sauce.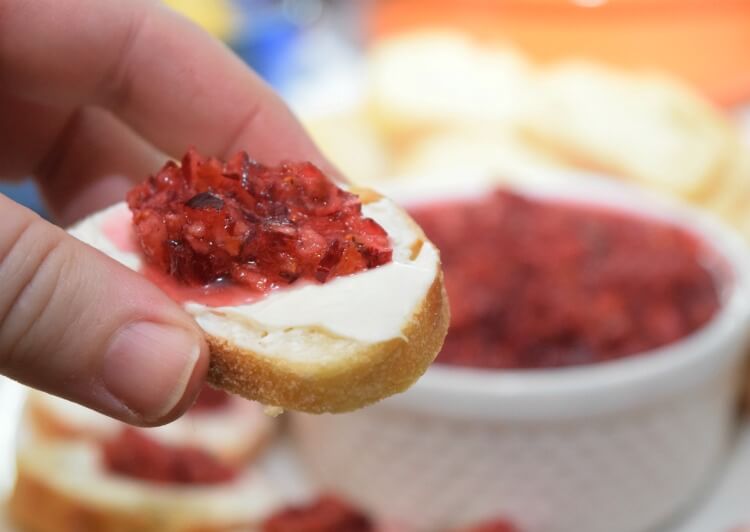 How do you make Holiday Cranberry Orange Relish?
This is what I like about this recipe. You just throw it all together, and it literally takes seconds to make. It's made completely in the food processor, and the best part is that it's actually better to make it the day before. Then, all those juices can mingle, and the relish will thicken up!
One thing I did change up from my mother in law's original recipe is that I add both cloves and cinnamon. Her original recipe only called for cloves, but my husband wanted cinnamon. So, we did a little taste test with only cloves, only cinnamon, and a combination of the two. He preferred the last one.
When choosing the best spices for this dish or any other, make sure you get McCormick® spices. I've been using them for years and find they are the best quality.
Where do you get your spices?
I just love shopping at H-E-B. If you live in Texas, it is simply the BEST grocery store. You can get all your holiday foods there, and all those delicious holiday recipes usually require spices or extracts. H-E-B has so many McCormick® extracts, gravy mixes, and herbs and spices. If you are looking for a particular McCormick® spice, you are probably going to find it there.
I have been running low on spices, so I stocked up with sage, cinnamon, cloves, and even pumpkin pie spice at my last trip! I needed both ground cloves and cinnamon for this cranberry relish.
Visit your local H-E-B store to purchase all the McCormick® Extracts, Herbs & Spices, or Gravy products you need for your holiday recipes this season!
More Holiday Recipes
Here are a few holiday recipes you'll love:
Yield:

2 1/2 cups
Holiday Cranberry Orange Relish
Make this easy appetizer for guests in just a couple of minutes.
Ingredients
12 oz fresh cranberries
1 navel orange
1 cup sugar
dash of McCormick® Ground Cinnamon
dash of McCormick® Ground Cloves
3 tablespoons orange juice
Instructions
Peel and quarter the orange.
In a food processor combine orange, cranberries, sugar, McCormick® Ground Cinnamon, and McCormick® Ground Cloves.
Pulse until the cranberries are almost smooth, but still a little chunky.
Transfer to a bowl.
Chill until ready to serve.
Notes
It's best if you can make this up a day ahead as it thickens as it chills. But you can still serve it immediately as well.
Nutrition Information:
Yield:

20
Serving Size:

1
Amount Per Serving:
Calories:

51
Total Fat:

0g
Saturated Fat:

0g
Trans Fat:

0g
Unsaturated Fat:

0g
Cholesterol:

0mg
Sodium:

1mg
Carbohydrates:

13g
Fiber:

1g
Sugar:

12g
Protein:

0g