I've been wanting to make a Coke Float type of cupcake for awhile, but when looking for a recipe the only Coca Cola cakes I've found were chocolate cakes. I was wanting to make more of a Coke infused cupcakes, not chocolate. I gave up the search and decided to take my vanilla whipped cream cupcake and turn it into a a Coke Float cupcake.
I gathered the supplies weeks ago, but I could never find the right time with the end of school for the kids. But, now it's summer, and it's the perfect time for a nice cold Coke float.
I learned something new about whipped cream frosting with this recipe. Did you know the secret to using a whipped cream frosting is instant pudding? Neither did I! If you are making a whipped cream frosting for your cupcakes or even a regular ol' cake, just add a tablespoon of instant pudding, and the whipped cream will not fizzle out after just a couple hours. I stumbled upon this secret on my beloved Pinterest one day a few weeks ago. And…it works!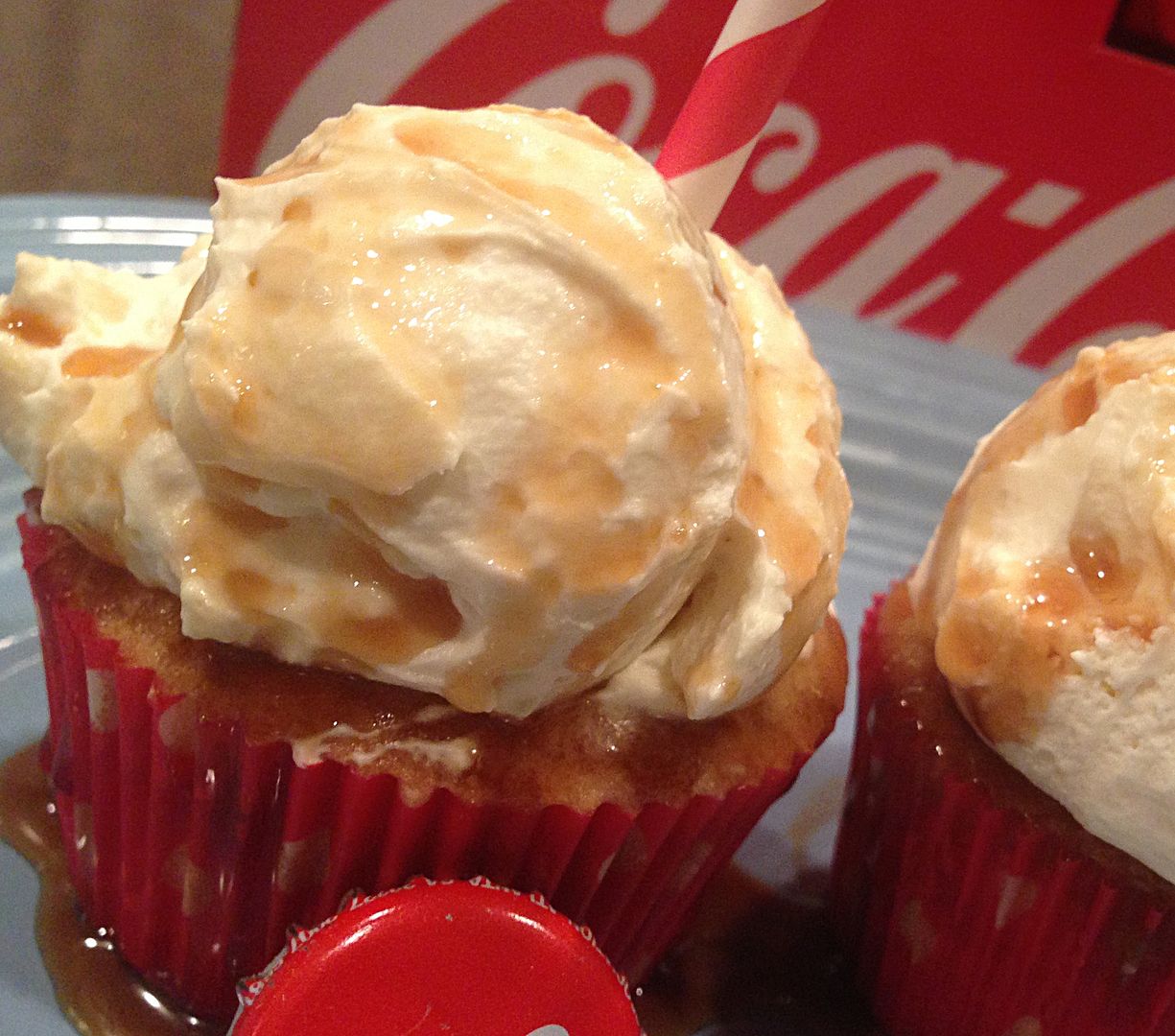 When I made up the frosting, I added a tablespoon of vanilla instant pudding as I whipped the cream. When it was done, I noticed immediately it was thicker with more consistency than my usual whipped cream. Then I had an idea! Since I was going for a Coke float cupcake, I decided to use my large Pampered Chef scoop to make the frosting look like ice cream scoops. I think that's my favorite part of these cupcakes — the scooped frosting 😉
I made these Saturday night, and the last of the cupcakes were eaten on Monday, and the whipped cream frosting was still wonderfully intact as if I had just scooped it.
These were a definite hit. They have hints of Coke flavor with a light and creamy flavor. Nate loved them because they aren't too sweet like buttercream can be. Unlike the rest of us, he does not have much of a sweet tooth.
Coca Cola Float Cupcakes
Yields 24 cupcakes Printable Recipe


Cupcake Batter:

1/2 cup of heavy whipping cream
1 stick of butter at room temperature
1 1/2 cups of white sugar
2 1/2 cups of cake flour
1 tbs baking powder
1/2 tsp sea salt
1 cup Coca Cola
2 whole eggs at room temperature
1 egg white at room temperature
1 tsp vanilla extract
Coke Syrup
1 cup of Coca Cola
1 cup brown sugar
Whipped Cream Coke Frosting
3 cups heavy whipping cream
1/4 cup sugar
1 tsp vanilla extract
1 tbs instant vanilla pudding
2-3 tbs of Coca Cola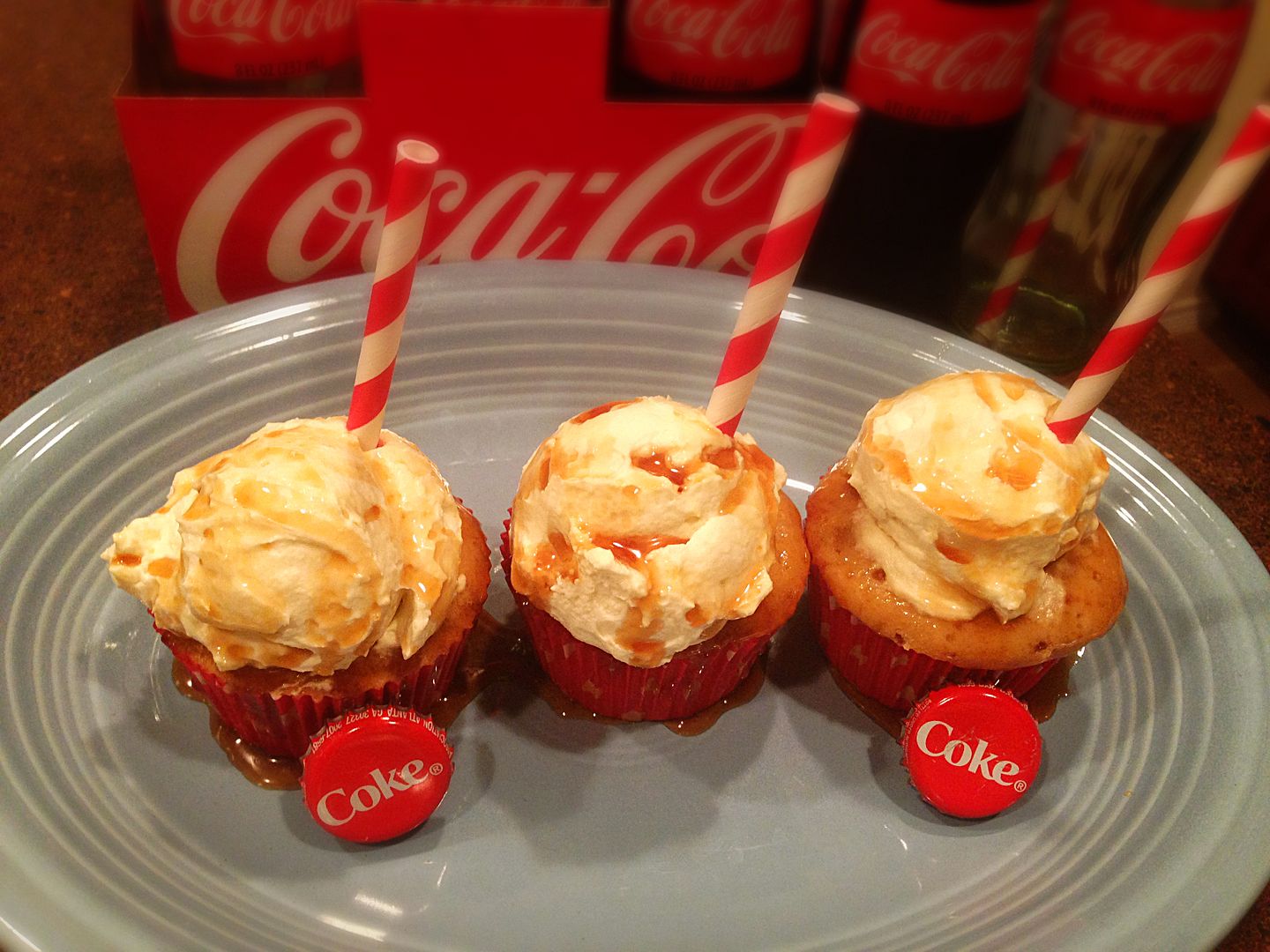 Directions
Cupcakes:
Chill the mixing bowl in the freezer for 5 minutes, and then beat whipping cream until soft peaks form. Scrape it into another bowl and set in the fridge.
Preheat the oven to 350°F. Line 2 muffin/cupcake pans with standard cupcake liner. Rinse out the mixing bowl.
Cream the butter and sugar on medium until it's very creamy, about 5 minutes.
While that's mixing, sift the flour, baking powder and salt into a medium-sized bowl.
Whisk together the Coke, eggs, and vanilla extract in a bowl or glass measuring cup.
With the mixer still on medium, switch between adding the flour mixture and milk mixture. Start and finish with the flour mixture.
Continue mixing on medium for 2 minutes.
Lastly, using a rubber spatula, fold the whipped cream into the cake batter.
Fill your cupcake liners about 2/3 full. Then, bake until a toothpick comes out clean or with a few crumbs. It's about 15-16 minutes.
Syrup:
While the cupcakes are cooling, in a small saucepan mix together the Coke and brown sugar.
Bring to a boil on medium heat.
Continue stirring until it reduces down into a syrup.
Frosting:
Chill the mixing bowl in the freezer for 5 minutes.
Pour the cream into the bowl and whisk on medium-high — for my KitchenAid mixer is about a 7-8.
Add the sugar and vanilla pudding.
Add the Coke and continue whisking until soft peaks form.
Add the vanilla extract and whisk until the frosting becomes stiff.
Putting it all together:
Once the cupcakes have cooled, dip the tops into the syrup a couple of times to coat the tops of the cupcakes.
Next, use an ice cream scoop to frost the cupcakes, so it looks like a scoop of ice cream on top of the cupcake.
Drizzle syrup over the frosting.
Finish off with a straw cut in half.