This post is sponsored by McCormick® but the content and opinions expressed here are my own.
One of my favorite meals is turkey and dressing, but we do things a little different down here in Texas. We always make the traditional turkey and dressing (or stuffing, if that's what you call it), but we also like to kick it up a notch with some spiciness. For as long as I can remember, my mom has made a pan of regular cornbread dressing and a pan of jalapeno cornbread dressing.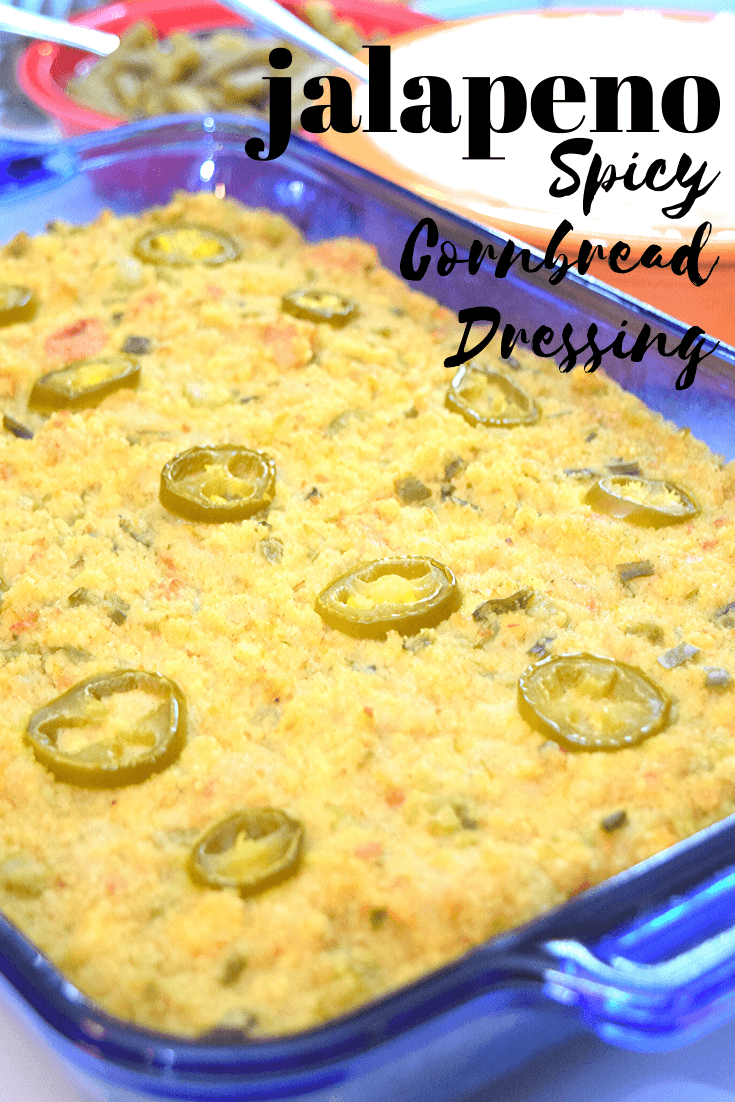 A few years ago, I took my mom's jalapeno spicy cornbread dressing and tweaked it a bit. My husband and son, who are the spicy connoisseurs around here, absolutely love it. When you first take a bite, it's sweet from the cornbread, but then the heat will sneak up on you from the jalapenos. It's a great addition to your Thanksgiving dinner.
What's the difference in cornbread stuffing and dressing?
I've asked some of my readers, and some were adamant that it's only called stuffing when you stuff it in the turkey and that dressing is when it's in a casserole dish — which does make sense. But, from my research, it seems to be a colloquialism based on where you live and not based on if it's in the turkey or not. In the Southern states, we called it dressing. I've only heard it called dressing down here. But, in Northern states it's called stuffing. So, I really think it's just the same thing, different name.
Should you add sage to jalapeno spicy cornbread dressing?
A few recipes I've read don't include it. Originally, my mom did not put sage in her recipe, but I decided every cornbread dressing needs some sage. I think it just adds to the flavor. The only sage I ever use is McCormick® Ground Sage.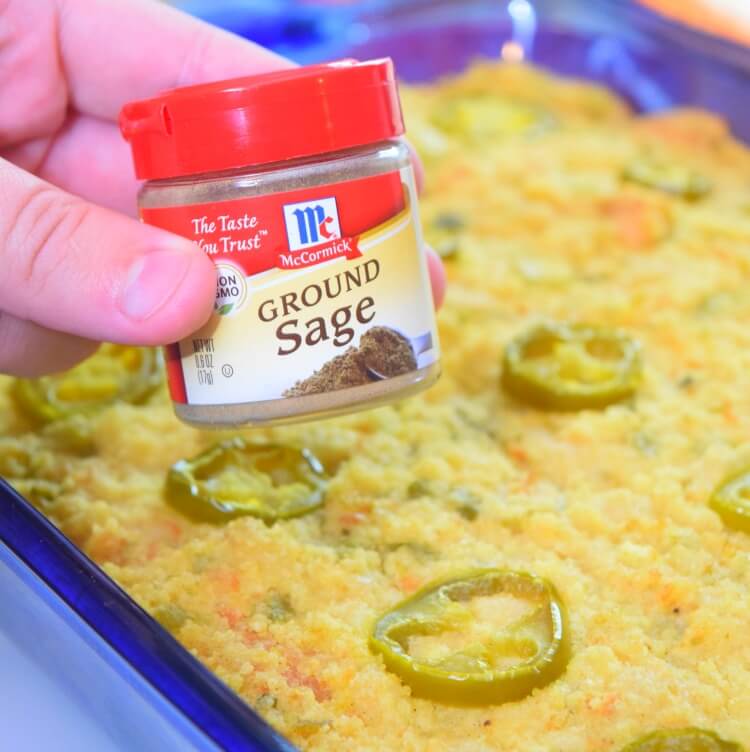 I just love shopping at H-E-B. It is simply the best grocery store. You can get all your holiday foods there, and all those delicious holiday recipes usually require spices or extracts. H-E-B has a TON of McCormick® extracts, gravy mixes, and herbs and spices. If you are looking for a particular McCormick® spice, you are probably going to find it there.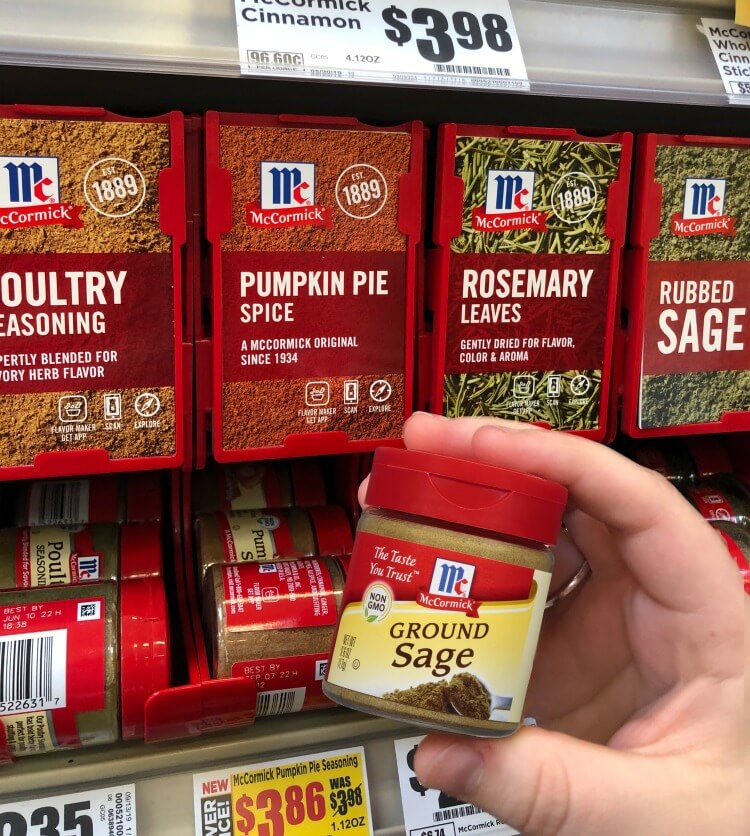 I just stocked up with my last trip to H-E-B, and I got gravy mixes, vanilla extract, as well as spices like sage, cinnamon, cloves, and even pumpkin pie spice! I used the sage in this jalapeno spicy cornbread dressing.
Where do you get jalapeno juice?
You might wonder where the heck to get the jalapeno juice for this recipe. I use the juice from two jars of jalapenos. Since I use both sliced jalapenos and chopped jalapenos, I pour 1/2 cup from each jar into my cornbread dressing mixture.
How to mitigate the spiciness of jalapeno cornbread stuffing?
You don't want it so hot no one can enjoy it. I don't like making the jalapeno stuffing too spicy, so I use a mix of different pickled jalapenos. I add 3 cups of chicken broth and a cup of jalapeno juice to the dressing. The jalapeno juice is actually a combination of pickled jalapeno juices from a regular jar of jalapenos and a tame jar of jalapenos.
I also use regular chopped jalapenos to mix into the dressing, and I use tame sliced jalapenos on top of the cornbread dressing. This way nobody gets jalapeno cornbread dressing by mistake when they just want the regular cornbread dressing.
Can you make your stuffing or dressing ahead of time?
Yes! For regular dressing/stuffing, I would recommend just one day ahead because it has eggs in it. However, this jalapeno spicy cornbread dressing does not have eggs in it, so you can make it up a few days ahead of time and even freeze it. I have some in the freezer right now that will be coming out for our Thanksgiving meal this year.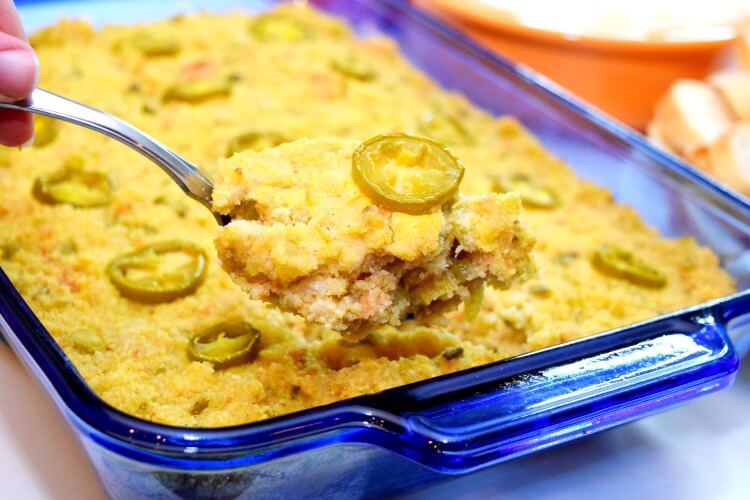 More Thanksgiving Recipes
Yield:

15 servings
Jalapeno Spicy Cornbread Dressing
Additional Time:
10 minutes
Give your guests a little kick for the holiday meal with this deliciously easy jalapeno spicy cornbread dressing.
Ingredients
2 boxes of cornbread muffin mix - made according to instructions
4 cups of day old sourdough bread, cubed
1 entire stalk of celery, chopped, including leaves
1 bunch of green onions, chopped
1 tablespoon McCormick® Ground Sage
1 tablespoon olive oil
1 cup water
3 cups chicken broth
1 cup jalapeno juice
1/2 cup chopped pickled jalapenos
12-15 slices of pickled jalapenos
Instructions
Make the cornbread muffin mixes together in a 9 x 9 pan according to instructions. This can be done 1-3 days in advance.
Preheat oven to 350 F degrees.
Crumble the cornbread into a large bowl.
Cube the bread and add it to the bowl.
Add the sage to the bread mixture.
Chop the celery and green onions.
Saute the celery and onions in the oil until the oil is almost gone.
Add 1 cup of water to the pan and put a lid on it. Simmer for 7-8 minutes until tender.
Add the celery/onion mixture to the bread mixture.
Add the chicken broth, jalapeno juice (from jars of jalapenos), and chopped jalapenos to the mixture.
Stir until well combined.
Pour into a greased 9 x 13 pan.
Add sliced jalapenos on top of the dressing.
Bake for 30 minutes
Allow to cool for a few moments before serving.
Notes
I find that sourdough bread gives the best flavor for this dressing, but you can use any kind of bread desired.
You also can skip the sliced jalapenos if desired, but I like to add them to indicate to everyone that this is the jalapeno version, and it is spicy!