Are you excited to see Disney's Frozen II? I know I am! My excitement for the movie got me thinking and I whipped up these pretty Frozen Inspired Cheesecake Bars with swirls of blue and lavender and topped in snowflakes. I love making themed desserts. Some of my favorite are my Coco-inspired Mexican Hot Chocolate and my Blue Pixie Dust Lemonade.
How do you make Disney Frozen-inspired Cheesecake Bars?
This cheesecake is perfect for a party. It's made in a 9 x 13 pan. You can cut large bars and get about a dozen, or you can cut them smaller and get about 15-16 bars.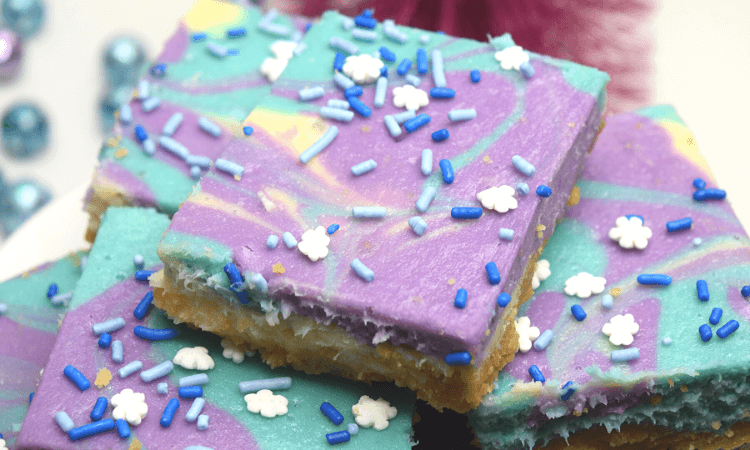 Before you begin, cover the bottom and sides of the 9 x 13 pan in foil, so you can easily lift out the cheesecake for cutting into squares.
This cheesecake is very similar to my Halloween Monster Mash Cheesecake Bars. Except this time, I used Golden OREOs for the crust. I love using OREOs for these cheesecake crusts, I think the creme filling helps add to the stickiness of the crust to hold it together.
How do you make the colored cheesecake batter?
While the crust is cooling, make the cheesecake batter. Once you have made the cheesecake batter, divide the batter into three bowls. Keep one bowl white. Then, color one bowl a light medium blue and the other bowl a pinkish purple.
Since I did not want bright colors, I just added a small amount of food coloring gel at a time until I got the desired colors.
For blue, I used this blue food coloring gel and just added a small amount at a time until I got the color I liked.
For purple, I used the same blue food coloring gel and then this bright pink food coloring gel and added two times the amount of pink as the blue food coloring. But, do this a little bit at a time so you get the right color you want.
For this cheesecake, I randomly add a spoonful of each color of the batter all around the cheesecake. Tap the baking dish on the counter gently a few times to get the batter smooth. Then, I take a butter knife and gently swirled through the cheesecake.
How do you prevent cracks in a cheesecake?
The secret to a good cheesecake without cracks is preventing it from getting too hot while it's cooking. First, I cook my cheesecakes at 325 F degrees.
I've seen people place the cheesecake pan directly in a water bath while it cooks, but I don't like that. A few years ago, I read What's Cooking America recommends just setting a baking pan like a deep cookie sheet half filled with water on the lower rack and placing the cheesecake in the middle of the top rack with the top rack set at the middle level of the oven.
When I cook cheesecakes this way, they come out beautifully. Now, this is the only method I use to make cheesecake, and they never crack.
To keep it looking lovely, I let the cheesecake cool on the counter for an hour or so. Then, I put it in the fridge to sit overnight.
Decorating your Frozen-Inspired Cheesecake
After the cheesecake has set overnight, I pull it out of the fridge for about an hour before I want to decorate it. You can decorate however you'd like. I decided to go with a snowflake confetti mixture of sprinkles.
How do you cut a cheesecake into smooth bars?
My secret to cutting those pretty squares of cheesecake is using a hot knife. I run it under hot water until the knife is completely hot. Then, I wipe off the water and slice. This will make pretty squares without any extra clumps of cheese as long as you do it every time you cut a length through the cheesecake.
Looking for more movie-themed treats and eats?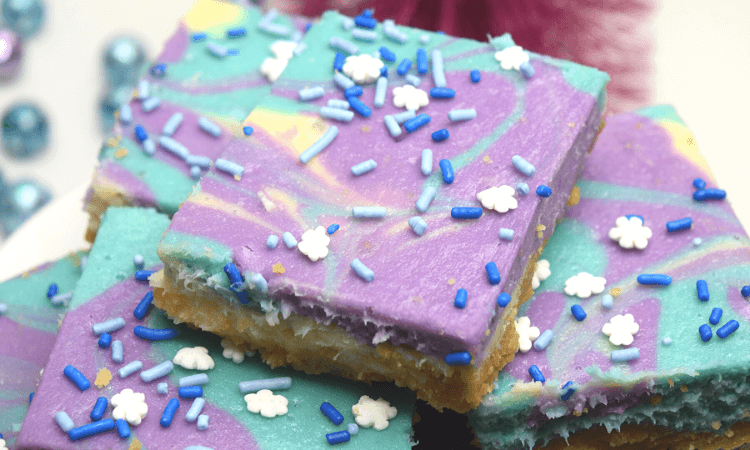 Yield:

15
Disney Frozen Inspired Cheesecake Bars
Total Time:
2 hours
5 minutes
These blue and purple swirled cheesecake bars are perfect to celebrate the new Disney Frozen II movie!
Ingredients
Crust Ingredients:
32 OREO cookies
6 tablespoons of butter
Cheesecake Ingredients:
24 oz cream cheese, softened
3 eggs
1 1/2 cups white sugar
1 1/2 teaspoons vanilla
1/4 cup flour
1/4 cup sour cream
bright pink and blue gel food coloring
Decorations:
snowflake confetti sprinkles
Instructions
Crust Instructions
Preheat oven to 325 F degrees.
In a blender or food processor add the 32 Golden OREOs with their creme filling. Pulse on high until they are crumbs.
Melt 6 tablespoons of butter. Pour the butter into the food processor and pulse a few times to thoroughly mix it into the cookie crumbs.
Layer a 9 x 13 pan completely with foil so you can lift out the cheesecake when it's done.
Press the Golden OREO crumbs into the bottom of the pan.
Bake for 10 minutes.
Let cool while making cheesecake batter.
Cheesecake Instructions
Preheat the oven to 325 F degrees.
Place the top rack in the middle of the oven.
Add a large cookie sheet to the lower rack, and fill it halfway with water.
Cream together the sugar and cream cheese until they are smooth.
Add the eggs and mix until they are incorporated.
Add the vanilla, sour cream, and flour and mix until smooth.
Divide the batter into three bowls. Keep one bowl white.
Add a couple squirts of blue gel food coloring to the second bowl to get a light blue color. Add color slowly so it's not too dark.
Add blue and bright pink gel food coloring to the third bowl to get a pinkish purple color. Add more pink than blue at 2:1, and do it slowly so it's not too bright of a color.
Spoon each color at different spots over the crust.
Tap the pan to smooth out the cheesecake.
Gently swirl the colors with a butter knife.
Place the cheesecake into the oven right above the pan of water and bake for 45 minutes. Do not open the oven.
If it's no longer jiggly in the middle, it's done. Otherwise, check back every 2-3 minutes until no longer jiggly.
Allow it to cool for an hour or so on the counter. Then, place it in the fridge for at least 6 hours, preferably overnight.
Decorations
Let the cheesecake sit on the counter for about an hour after pulling it out of the fridge before decorating.
Add snowflake confetti sprinkles all over the cheesecake.
Use a hot knife to cut into squares.
Nutrition Information:
Yield:

15
Serving Size:

1
Amount Per Serving:
Calories:

450
Total Fat:

29g
Saturated Fat:

15g
Trans Fat:

0g
Unsaturated Fat:

8g
Cholesterol:

102mg
Sodium:

327mg
Carbohydrates:

44g
Fiber:

1g
Sugar:

34g
Protein:

6g
Any nutritional information on thetiptoefairy.com should only be used as a general guideline. This information is provided as a courtesy and there is no guarantee that the information will be completely accurate.
Come Join Us!
Liked this article and want more? Follow along on Instagram, Facebook, Twitter, Pinterest, TikTok, and YouTube!
Come over and join us on Facebook in the group Recipes, Crafts, and more with TipToe Fairy or Sewing and Crafting with The TipToe Fairy!
Visit Our Other Blogs!