We love Disney movies, and my preschooler has been so excited for the release of the new fairy movie, The Pirate Fairy. She's seen the previews and keeps asking me when we can see it.
I think we're probably headed to the store to pick it up later today. I love these kinds of movies probably as much as she does, and I can't wait to watch it with her.
Molly loves to help me bake and cook. Anytime I'm in the kitchen, she comes running and pulls up a chair to help. I thought In honor of the new movie with the blue pixie dust, we could make something yummy. We love fun concoctions and mocktails to drink, so I came up with a fun little drink recipe. I call it Blue Pixie Dust Lemonade. I had a bit of inspiration from one of my favorite drinks from Sonic — Blue Coconut Cream Slush.
I made a pitcher of lemonade drink mix and then added a packet of berry blue koolaid. I chilled it for awhile and then made mocktails in mason jars for everyone. For a festive touch, I dipped each mason jar in blue sugar crystals for the pixie dust.
I mixed in a melted pina colada fruit bar and a couple of tablespoons of whipping cream with the lemonade for a creamy taste and served it up with a paper straw.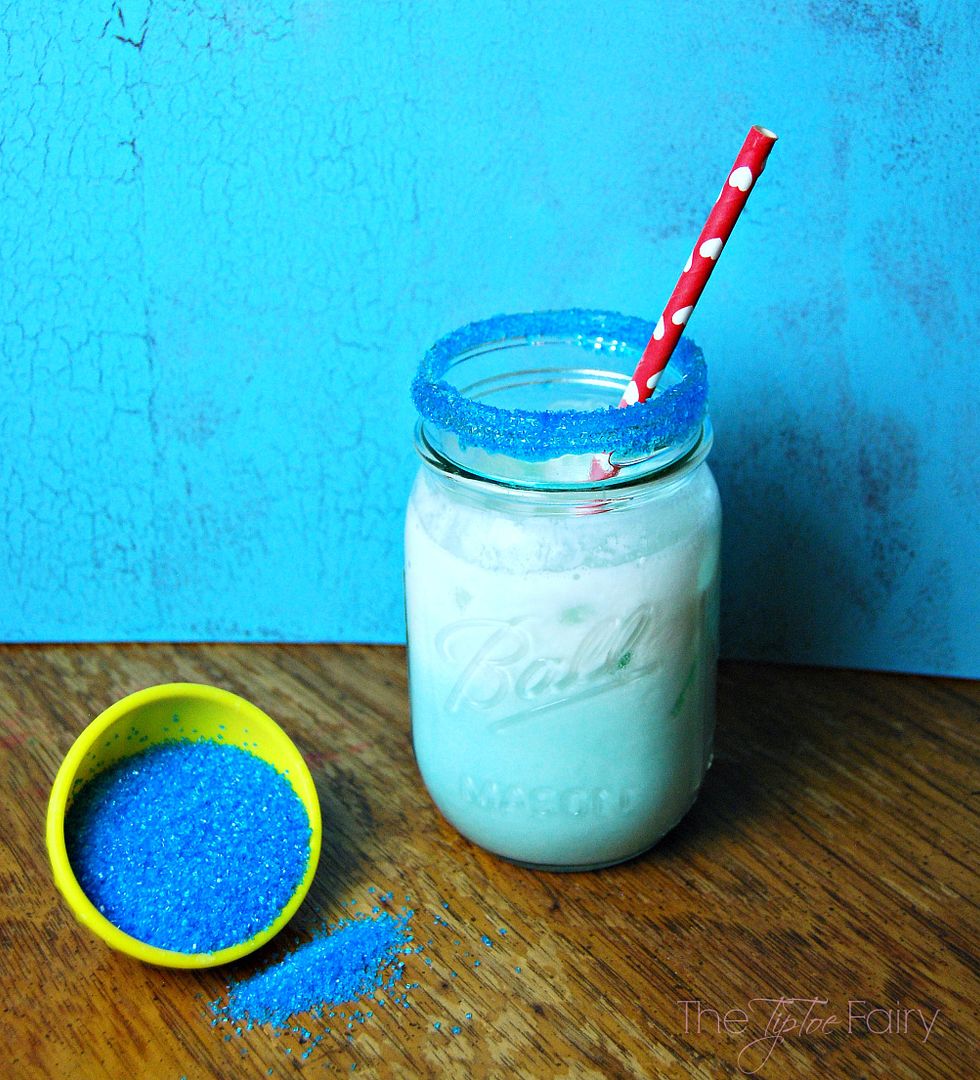 It had a creamy tropical taste with a little tartness from the lemonade. Everyone but my Miss Em liked it. But, she might have not liked it simply because she had a bit of a bad attitude. She was very nervous and in a bad mood because it was the night before some of those fun standardized tests.
Ingredients
1 packet of Blue Mixed Berry Koolaid
2 qt pitcher of Lemonade drink mix
2 tbs of heavy whipping cream
1 pina colada fruit bar
1 cup ice
blue sugar crystals
Instructions
Make up a pitcher of lemonade and add the blue koolaid drink mix and refrigerate for a couple of hours.
Dip the top of a mason jar in water and then in blue sanding sugar.
Fill mason jar with 1 cup of ice
Fill the mason jar 2/3 with blue lemonade.
Defrost a pina colada fruit bar until it's melted and very slushy, add it to the mason jar. Add 1 tsp of heavy whipping cream. Stir until well mixed.
Add 1 tsp of heavy cream and gently swirl.
Serve with a straw.
Enjoy! We'll be drinking these tonight as we watch The Pirate Fairy!