I can't believe it's almost Easter. The other day I was playing with my preschooler with the Marshmallow Play Dough we had made a few days ago, and I got to thinking. What other "marshmallow" foods could I turn into play dough? Then, it hit me.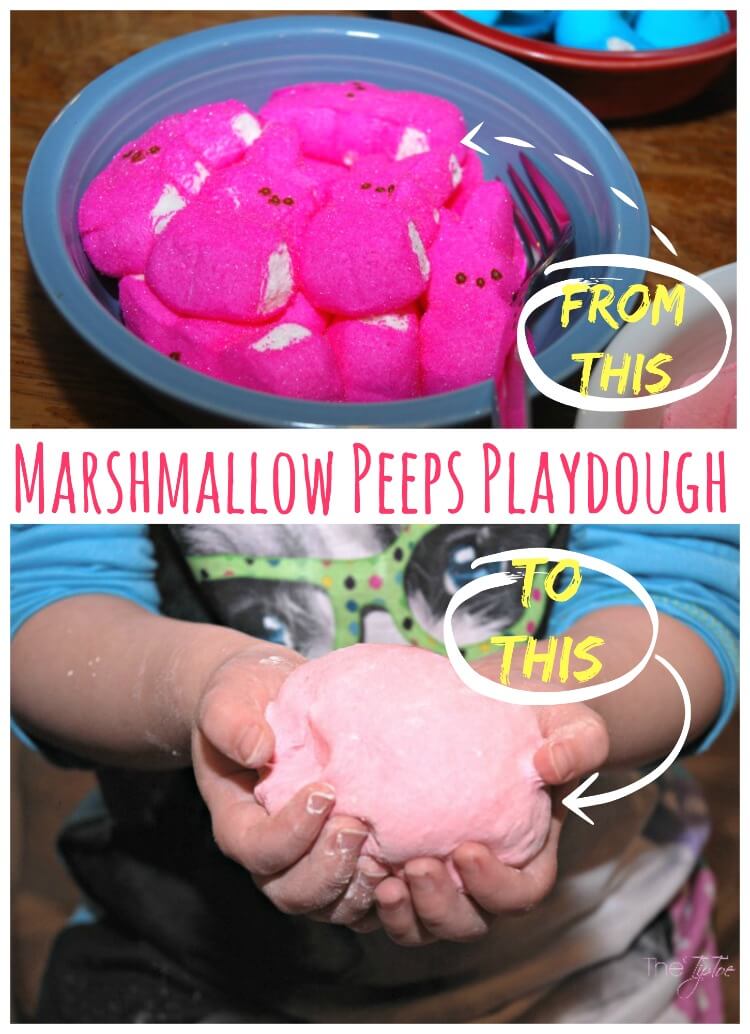 You know what's popular now that it's almost Easter? Marshmallow Peeps! They are all marshmallow and already colored pretty, pretty colors! I had to investigate if this would work.
My experiment consisted of two types of Peeps – stale ones we had left in the package after opening and fresh ones straight from a new package.
Instead of using the stove, I used the microwave with the Peeps in a microwave safe bowl. I heated them for 30 seconds, and they melted and grew. Then, like the marshmallow play dough, I added corn starch and canola oil and proceeded to knead the heck out of them.
I used the same method for both the stale ones and fresh ones. Both times it was successful in turning to a play dough consistency, but the stale Peeps play dough hardened within just a few minutes.
The fresh Peeps play dough lasted a few days. If you're going to make this, I recommend using fresh Peeps. The consistency ends up being very similar to the original marshmallow play dough. My daughter had fun cutting out shapes and eating them.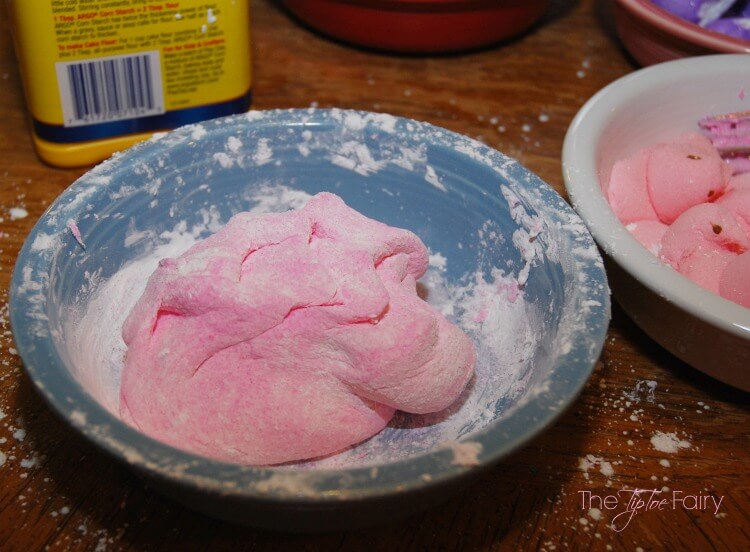 The picture below shows the play dough from the stale Peeps. You can definitely see the difference between it and the fresh Peep playdough.
The Peeps make a delicious edible play dough that tastes just like marshmallows. Plus, the coloring of the Peeps give a beautiful pastel color to the play dough. No need to use any food coloring.
Also, have you seen the new flavored Peeps that have a "confetti" to them? I used the Party Cake flavor, which are blue with confetti on the outside and yellow on the inside. They turned into a pretty green play dough that was full of the little bits of colorful confetti. I think I liked that play dough the best.
Print
Marshmallow Peeps Play Dough
---
6

–

8

fresh marshmallow Peeps

1 tsp

canola oil

1 cup

corn starch
---
Place Peeps into microwave safe bowl and cook for 30 seconds.
Remove from microwave and add canola oil and 3/4 cups of corn starch
Stir until the melted marshmallows can be handled.
Next, dust hands with corn starch and knead until it's not sticky and easily pliable.
Keep in ziplock bag for 3-4 days.
When it hardens, throw it out and make more!
Recipe Card powered by
I hope you have as much fun making Marshmallow Peeps Play Dough as we did. It's great to use up all those Peeps you get at Easter time — just don't wait until they get stale.