The post contains affiliate links. Do you have a bicycle parade in your neighborhood or maybe you take your family to the big 4th of July parade? I've got the perfect thing to wave at any patriotic parade. These Patriotic Flag Waving Wands are a fun craft for you and the kids to make together.
My kids LOVE waving something when we're at an event. We got a super fun 4th of July event at our local university. They shoot fireworks out of one side of the football stadium up into the sky to music.
If you're local to Dallas/Fort Worth and you want a pretty fun, but not so crowded event for the 4th of July, then head over to Apogee Stadium at University of North Texas. So many people sit outside along the roads outside the stadium because they think it's crowded inside the stadium, but it's really not crowded at all. There's tons of seating. There's lot of room. And, it's free!
We go well before it gets dark, and there's a stage with local bands. There's local handmade ice cream from the famous Beth Marie's. There's also things for the kids to do, and one of my kids' favorite things is to wave their wands to the music and to the fireworks.
Patriotic Flag Waving Wands
Supplies
Directions
Start by painting ¾th of the dowel bright blue (don't forget the tip) and let them dry completely.
Use a jar filled with rocks to hold them up right. Don't worry about drips the ribbon will cover them.
Once dry, then use the paint pen to paint rows of stars or asterisks on each side (or use a very thin-tipped paintbrush). Then, let them dry completely.
Next, cut the ribbon into 20 inch strips. Keep the colors organized so they are easy to grab.
You'll start with the blue ribbon. Fold it in half and loop it around the end of the wand that doesn't have stars. Add 3-4 more blue ribbons this same way.
After you have 3-4 blue ribbon at top then alternate between red and white till you reach the painted blue part.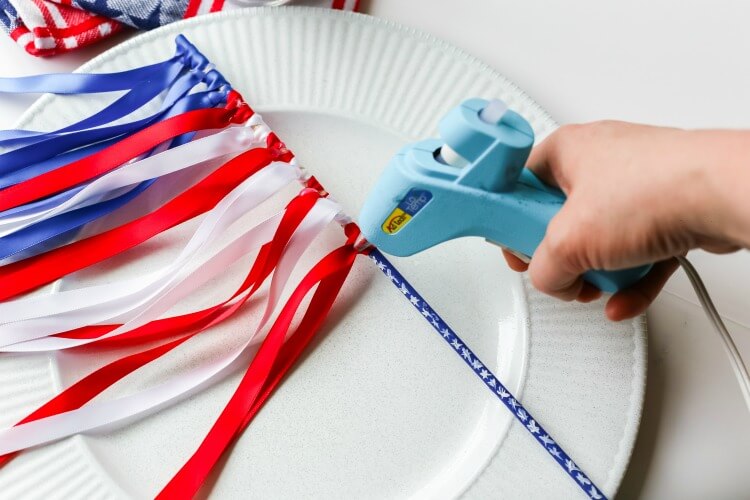 Tighten each ribbon and add a drop of glue at the inside knot of the ribbon, the part against the wand, to secure it.
This step is optional, but if you want to prevent the ribbons from unraveling, quickly run the cut edge of each ribbon piece against a flame. I usually light a candle because holding a lighter continuously lit can hurt your fingers. Run the ribbon edges extremely fast, so it just seals the edge and doesn't burn or catch the ribbon on fire.
Once the glue hardens your American Flag wand is ready to use!
More Patriotic Ideas