This post contains affiliate links. I just love holiday-themed slime as you can tell from my Halloween spider slime, my Christmas Elf Slime, and even my Peeps playdough. Here's a fun edible slime just for the 4th of July!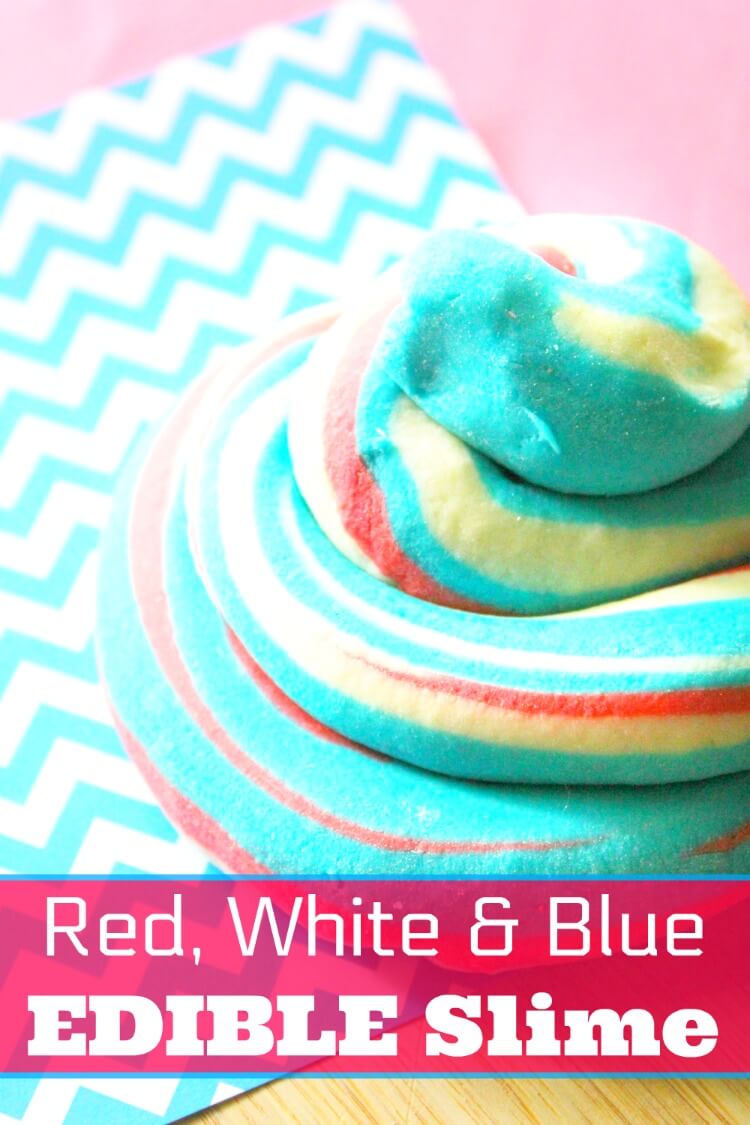 Red, White, and Blue Edible Slime
Do you need something for the kids to do while waiting to head out for the fireworks for the 4th of July? Edible red, white, and blue slime is the perfect solution. It's made with pudding mix, so they can totally take a taste or two.
You probably have these ingredients at home, and if you have instant vanilla pudding instead of white chocolate, it will still work just fine. Here's what you need:
Ingredients
1/3 cup white chocolate instant pudding mix
1 cup of cornstarch
red and blue food coloring
1/3 cup of water
Directions
Add the white chocolate instant pudding mix (instant only, do nor use stove top pudding mix) and cornstarch into your bowl. Mix the dry ingredients well.
Add water and stir quickly. If you notice any clumping, simply break clumps with a spoon.

A crumbly dough will start to form. Use your hands to mix and form the slime.

If your slime too dry or clumpy, it may need a little more water. Just add a teaspoon of water at a time until you get the slime consistency.
If your slime is too watery, add in equal parts of pudding mix and corn starch until it thickens.

Separate the slime into 3 portions and place in separate bowls. Add a few drops of blue food coloring to one portion, a few drops of red to the other, and leave the third portion white. Mix each portion well until the color is mixed.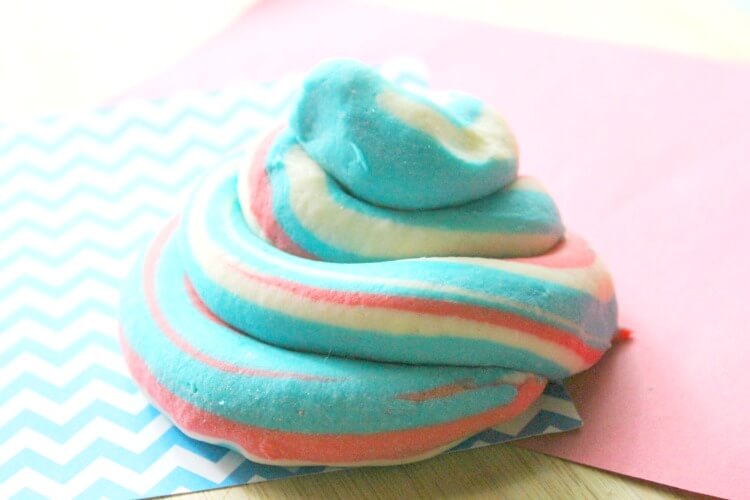 You can now combine your 3 different colors. It is best to roll each into a snake shape then twist or braid them together. This will give them the nice swirl coloring!
Store in an air tight container when not in use.
4th of July Scavenger Hunt
Plus, when they're done with playing with slime, they can check off "Something Red" and "Something Blue" in this 4th of July Scavenger Hunt!

This 4th of July scavenger hunt is also a better option when you need something fun to keep the kids busy that's not so messy. It will also keep the kids busy while you're hosting a 4th of July get together. Make sure to have some prizes like some red, white, and blue M&Ms or Skittles or something fun!
Get the Scavenger Hunt
Looking for more slime or hunts?
Here's a few to keep you busy: