A few years ago I got an apricot tree at the gardening store for super cheap. It was one of the last ones. We planted in the backyard and hoped for the best. I've learned to make Canned Apricot Pie Filling from all the apricots.
It's been fruiting for three years, and I cannot be happier with it. This year was the biggest crop we've had, and I was so excited to make apricot pie filling to last us through the year.
I canned jars and jars of apricot butter and apricot jam. We've made our way through a couple of jars and gave a couple as gifts. I've discovered apricot butter is amazing on fresh hot pancakes!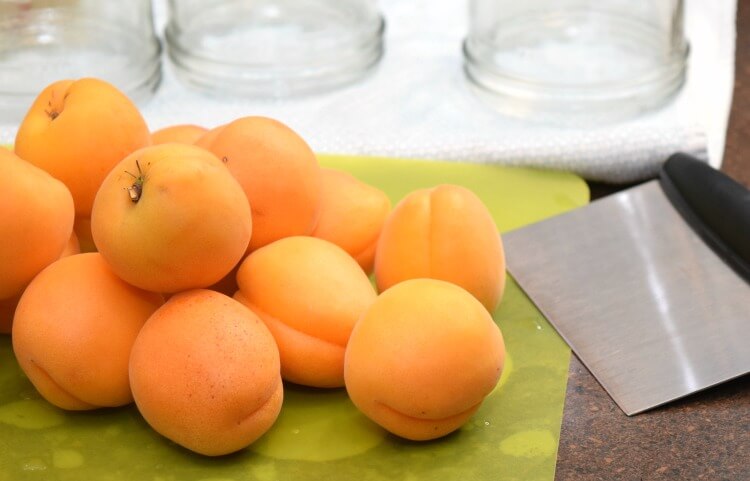 We had one last batch of apricots, so today I'm going to show you how I make canned pie filling for now and to save for later in the year.
Apricot Pie Filling
For canning, I wanted something a little different than the typical mason jars. I saw these French canning jars on Wayfair and had to get them. They have 2 sizes, and I got the quart size. It comes with 4 jars.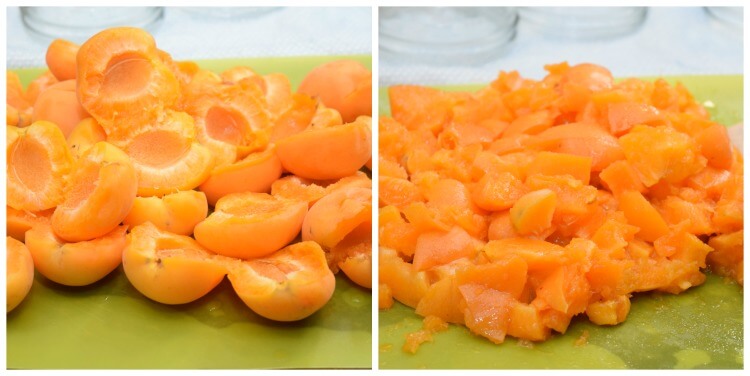 What I like about using apricots for canning is that you don't have to remove the skin like you do with peaches or plums. After pitting the apricots, sprinkle them with ascorbic acid to prevent browning. Then coarsely chop them. I love this Good Grips OXO chopper I got from Wayfair to chop fruit and veggies. I have carpal tunnel, and this makes it so easy to chop fruit. My hands don't fall asleep at all when I use it.&

After a bit of research I learned that you cannot use pectin in canned pie filling like you can with jams and butters. You need a thickener, but regular cornstarch and tapioca starch are not safe for canning. The FDA says clear jel is the only safe one to use, and unfortunately, there is not a substitute. Clear jel is a modified cornstarch, and you can find it online.
Before adding the fruit, mix together juice or water with the clear jel and cinnamon, and let it boil. I prefer to use unfiltered apple juice. I love the flavor it gives apricot and peach pie fillings. But, you can use water or peach or apricot nectar. I actually started using unfiltered apple juice because I could no longer find apricot nectar in the grocery stores.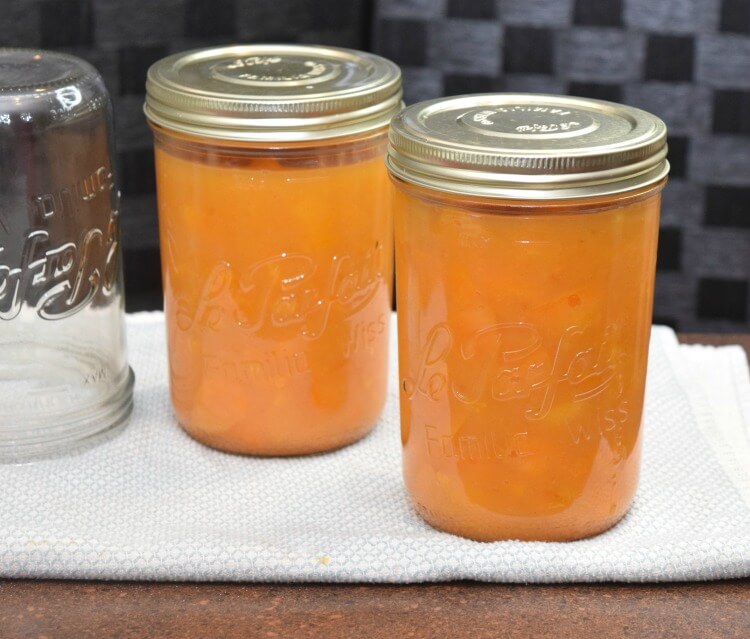 Once it's boiling and thickening, you'll add lemon juice and let it boil for another minute. Then, add the chopped apricots and let it boil for another 4 minutes. It should thicken up to a nice pie filling.
Next, you'll quickly add it to your sterilized quart jars, wipe the mouth of each jar clean, seal it with the lids, and then boil for 30 minutes in a canner with at least an inch of water over the tops of the lids. I use a very large dutch oven to do this.
Hand Pies
Is there anything better than little hand pies? I love hand pies. I love making them, and I love eating them.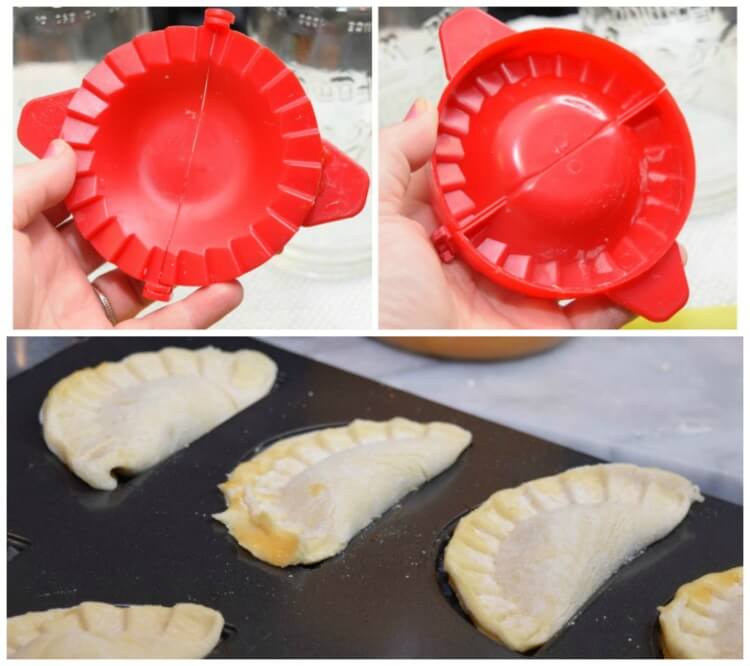 I have been looking for a mini hand pie set like this for ages, and I could not believe I found it on Wayfair. It comes with a baking sheet that perfectly cradles each mini pie, and it includes the pie maker. The back side of the pie maker is used for cutting out the perfect sized pie crust, and then the front squishes it together into a perfect little pie. It's very easy to use. Just don't add too much pie filling. It takes very little.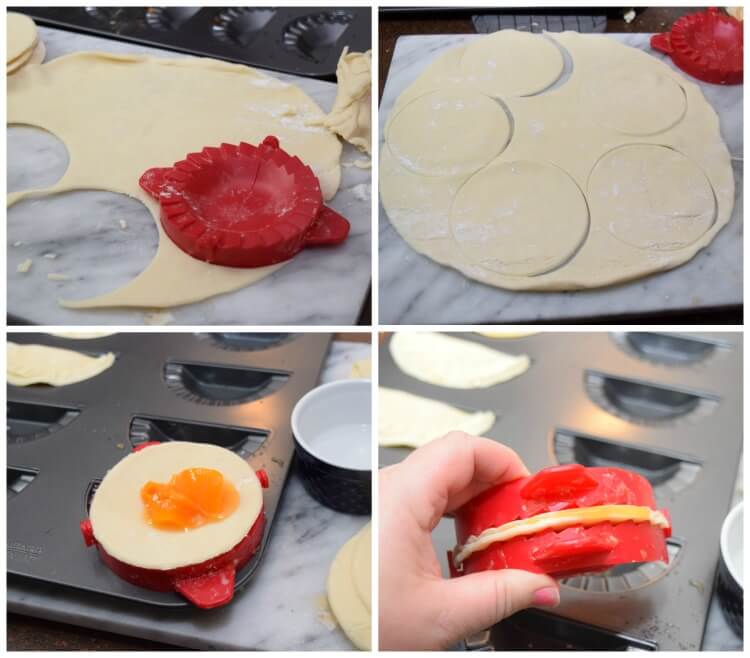 When you've filled all 10 spots on the baking pan, brush each little pie with an egg wash and sprinkle with a little raw sugar. Then, bake for about 15 minutes, until they are golden brown.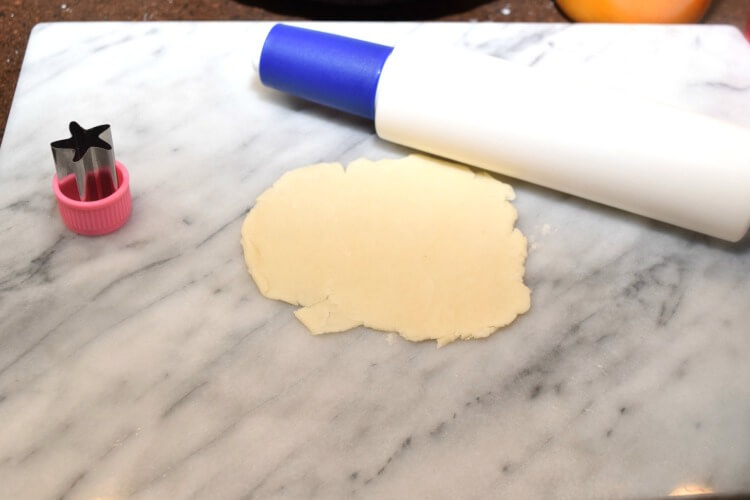 I also got a marble pastry board for rolling out pie crusts and puff pastry. It's perfect for using the hand pie cutter with the pie crusts. Just dust the pie cutter with a little flour and cut out pie crusts. I'm able to get 5-6 per pie crust.
How much pie filling do you need?
One quart of apricot pie filling will fit perfectly in a 9-inch pie crust. I used a double crust and baked for 50 minutes.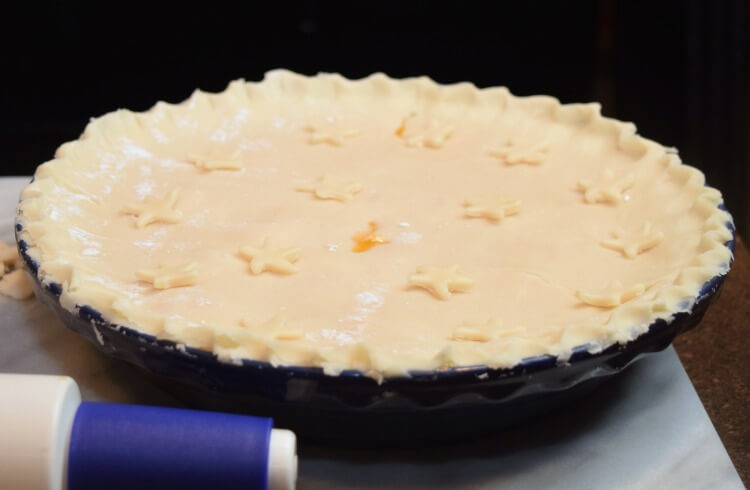 However, you can make a TON of mini pies with a quart of pie filling. It takes just a small spoonful in each mini pie, about 1/2 a tablespoon. I bought refrigerated pie crusts and 8 pie crusts will make about 40 mini hand pies and that takes up about 1/2 a quart jar of pie filling.
With this mini pie maker, I think these would be perfect for a bake sale.
More Pie Recipes
Yield:

2 9-inch pies
Canned Apricot Pie Filling
Easily make apricot pie filling to have year round with this recipe.
Ingredients
3 lb apricots (about 24 medium-sized apricots)
1 1/2 cup unfiltered apple juice (or apricot nectar or just water)
2 cups sugar
1/2 cup clear jel (REQUIRED FOR CANNING STORAGE)
1/4 tsp cinnamon
1/2 cup lemon juice
2 pie crusts for one 9-inch pie
8 pie crusts for 40 hand pies
1 egg
2 tablespoons of raw sugar
Instructions
Wash and remove the pits on the apricots.
Coarsely chop into small pieces.
Combine apple juice, sugar, clear jel, and cinnamon in a dutch oven.
Heat on medium, stirring occasionally, until it thickens and reaches a boil.
Add the lemon juice and stir for about a minute.
Add the coarsely chopped apricots and stir for 3-4 minutes.
Immediately put into sterilized quart-size canning jars.
Place in a canner with an inch of water over the tops and boil for 30 minutes.
Preheat oven to 400 F degrees.
Use two refrigerated pie crusts for a 9-inch pie plate.
Place one pie crust as the bottom crust.
Add one canned quart of apricots to the pie.
Cover with second pie crust.
Pinch edges together and cut slits in pie.
Bake for 50 minutes until golden brown.
If making hand pies, use the back of the hand pie maker to cut the hand pies.
Fill each hand pie with 1/2 tablespoon of apricot pie filling.
Pinch the pie together with hand pie maker.
Brush each hand pie with egg wash and sprinkle with raw sugar.
Bake for 15 minutes until golden brown.
Notes
You can use water or regular apple juice or even apricot or peach nectar in place of the apple juice. I just think unfiltered apple juice brings a great flavor out in apricots and peaches, and I often use it when baking pies with these fruits.
Clear Jel and Sure Jell are NOT the same thing. Clear Jel is a modified corn starch that the FDA says is safe for canning. Regular cornstarch and tapioca starch are not safe for canning.
I use a second larger dutch oven and boil water to can the jars.
Head over to Wayfair to check out all the baking and pastry supplies they have for your pie making. You'll be amazed at the huge selection.
This is a sponsored post on behalf of Wayfair. All opinions are my own.