My favorite dessert is probably pie. I love it so many ways, and I've got a lot of pie recipes here on The TipToe Fairy. Today's recipe — Peach Toffee Pie was actually inspired by a cake recipe — my Not Your Average Dump Cake.
The dump cake I mentioned has peach pie filling, yellow cake mix, and toffee bits — which sound like a totally weird combination. I never expected toffee and chocolate to go along with peaches, but the flavor is amazing.
This pie is amazing. And, it's even better with a dollop of fresh whipped cream or a scoop of vanilla ice cream.
Can you make Peach Toffee Pie with frozen peaches?
One of my favorite things about summer is that peaches are finally in season! But, even if they aren't in season, you can know totally make this pie with frozen peaches. It's so dang good that I can't just wait for peach season to make this pie. I've made it in the dead of winter with no fresh peaches in sight, and frozen peaches didn't make a bit of difference.
Can you make Peach Toffee Pie with nectarines?
I love nectarines as much as I love peaches. While I haven't made this pie with nectarines, I think it would taste almost the same using nectarines as with peaches.
How to peel peaches?
If you're using fresh peaches, you'll need to peel them. The easiest method is placing them in boiling water and then ice water for peeling. I find this works best with ripe peaches over hard unripen peaches.
You'll prepare a pan with enough water to completely cover a peach. You'll also prepare a bowl of ice water that can completely submerge a peach.
Cut an X shape at the bottom of each peach. Place it into a pan of water that has reached a roiling water for 10-20 seconds. Use a slotted spoon to remove the peach and immediately plunge it into the ice water to stop the cooking process. After a bit, it should be cool and the peel should easily pull off.
If that doesn't work, then I just use a vegetable peeler.
How do you make Peach Toffee Pie?
You can make this peach pie recipe or even your own peach pie recipe. The secret to making Peach Toffee Pie is to sprinkle about a cup of of chocolate toffee bits over the peaches before adding the second crust on top. They melt down in the baking process and just combine wonderfully with the peaches.
You could use the "bit of brickle" bits, but I like the chocolate toffee bits better. I think it adds a flavor that just combines so well with the peaches. You will not be able to eat just one slice.
More Peach Recipes
Yield:

1 pie
Peach Toffee Pie
Total Time:
1 hour
10 minutes
Ingredients
4 cups peaches, peeled and sliced
2 refrigerator pie crusts
1 cup sugar
3 tablespoons corn starch
1 cup milk chocolate toffee bits
Instructions
Preheat oven to 400 F degrees.
Prepare the first pie crust in the pie plate.
Peel and slice the peaches (or use frozen peaches).
Combine peaches, cornstarch, and sugar.
Transfer the peach mixture to the pie crust.
Sprinkle the milk chocolate toffee bits over all the peaches.
Cover with the second pie crust and pinch the edges together.
Cut a small hole in the center top pie crust.
Beat the egg and brush it over the pie crust.
Bake for 40-45 minutes until golden brown.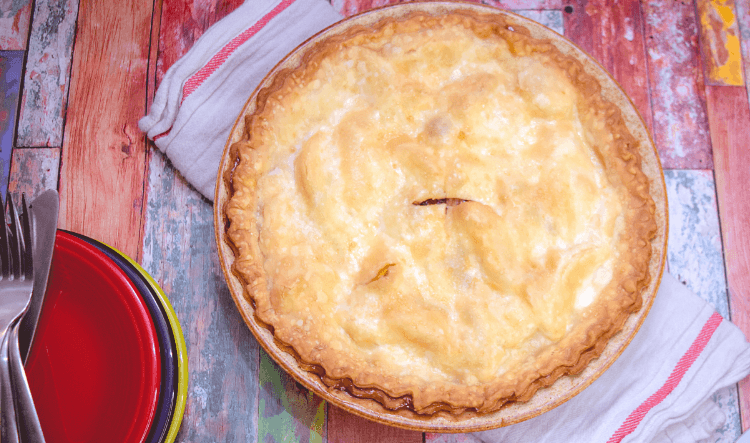 Allow to cool before serving.
Nutrition Information:
Yield:

10
Serving Size:

1
Amount Per Serving:
Calories:

391
Total Fat:

16g
Saturated Fat:

7g
Trans Fat:

0g
Unsaturated Fat:

8g
Cholesterol:

14mg
Sodium:

169mg
Carbohydrates:

59g
Fiber:

2g
Sugar:

39g
Protein:

4g
Any nutritional information on thetiptoefairy.com should only be used as a general guideline. This information is provided as a courtesy and there is no guarantee that the information will be completely accurate.
Come Join Us!
Liked this article and want more? Follow along on Instagram, Facebook, Twitter, Pinterest, TikTok, and YouTube!
Come over and join us on Facebook in the group Recipes, Crafts, and more with TipToe Fairy or Sewing and Crafting with The TipToe Fairy!
Visit Our Other Blogs!