It's #IceCreamWeek! All this week I'm bringing you some easy, fun and no churn recipes for ice cream! Monday, we had Unicorn Ice Cream. Today is one of my favorites — Strawberry Peach Vanilla Bean Ice Cream!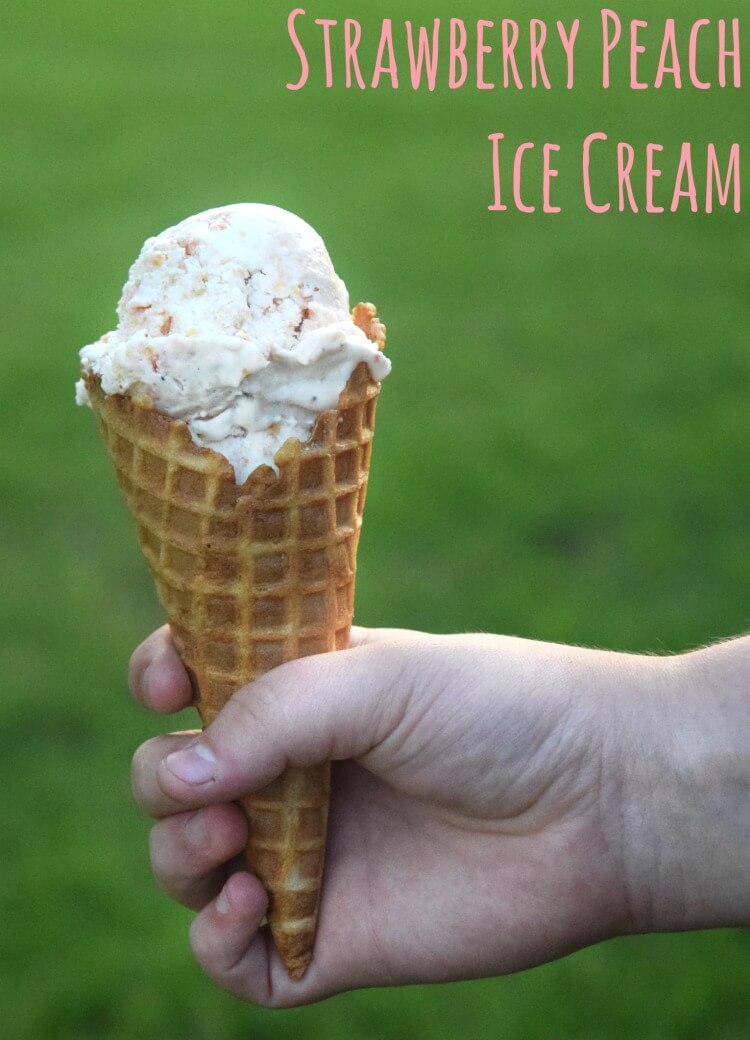 How do you make Strawberry Peach Ice Cream?
This is also a "no churn" recipe, and it's very flexible. You can use frozen fruit or fresh fruit. I think both turn out delicious in this recipe. I start out with a base of whipping cream, sweetened condensed milk, and the vanilla beans from 1/2 of a vanilla bean pod. First, I whip it all together, then I start working on the fruit.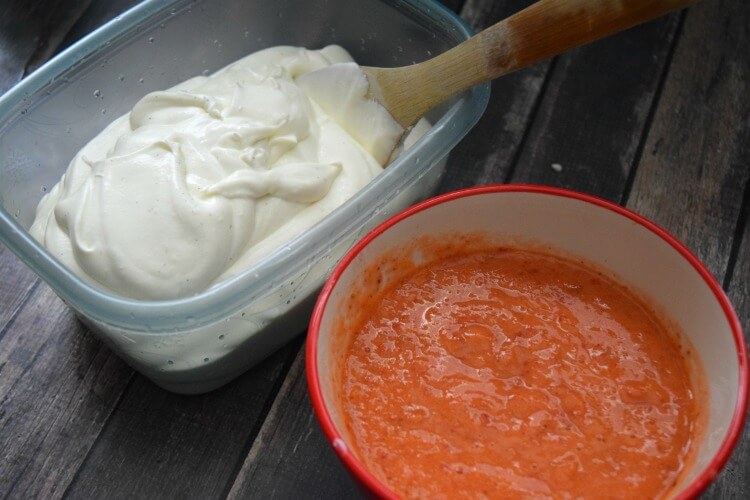 In my haste and excitement, I totally forgot to take pictures of the fruit before I pureed it. I combined a cup of strawberries and a cup of sliced peaches and pureed them in the blender with about 1/4 cup of water.
I pour the fruit puree onto the cream mixture and use a knife to swirl it down into it. Then, it's time to freeze. I like to put my ice creams into the freezer overnight, but 8 hours is about the time it takes to freeze.
Once it's ready, I love to get a big scoop on a waffle cone on a warm summer night. So, so good!
More Ice Cream Recipes
Strawberry Peach Ice Cream
Total Time:
8 hours
20 minutes
Ingredients
2 cups whipping cream
14 oz can sweetened condensed milk
1/2 vanilla bean, beans scraped out into the whipping cream
1 cup strawberries, hulled
1 cup peaches, sliced
1/4 cup water
Instructions
Whip the whipping cream on high in an electric mixer.
Slowly add the sweetened condensed milk to the whipping cream.
Scrape out the beans from half of a vanilla bean pod and add them to the cream mixture.
Continue beating just until hard peaks form.
Puree strawberries and peaches together with 1/4 cup of water.
Add the cream mixture to a freezer safe container.
Add the fruit puree to the top of the cream mixture and swirl with a knife.
Freeze for at least 8 hours or preferably overnight.