I received free products in exchange for reviews. All opinions are mine. This post contains affiliate links in which I make a small commission if you make a purchase through these links.
Does your family play games together? We love to play all kinds of games, but card games and board games are our most favorite. Here are some we just recently tried out:
Story Bowl
This one is probably my most favorite out of the bunch and it's perfect for a stocking stuffer or white elephant gift because it's great for just about anyone! It does require kids to be able to read to play it, so about ages 8 and up. It's called Story Bowl, and it's perfect to play in a large group. It takes 4 to 16 players, so it's perfect for those holiday get togethers!
It silly, goofy, and it gets everyone telling stories! There's all kinds of ways to play like ghost stories, face charades, and even a puppet show!
It takes about 45 minutes where you have 3-word "microstories" from everyone. At the end, you'll reveal which micro-stories everyone wrote and tell the actual stories behind them!
It was a game created by two friends, Rob and Peter, who just love to play games! You can find Story Bowl on on Amazon.
And…just for my readers I have a COUPON CODE for this game! You can get 15% off with this code: 3DZINYNC
Escape Room
For those adventurers, you can bring the thrill and mystery of an escape room to your home with Escape Room The Game. The goal is to solve puzzles and find hidden clues to escape before time runs out. You don't have to leave the cozy fireside this Holiday season to experience a real-life escape room!
This one is geared more for teens and adults, but it's great fun. My husband and son love figuring out these kinds of games.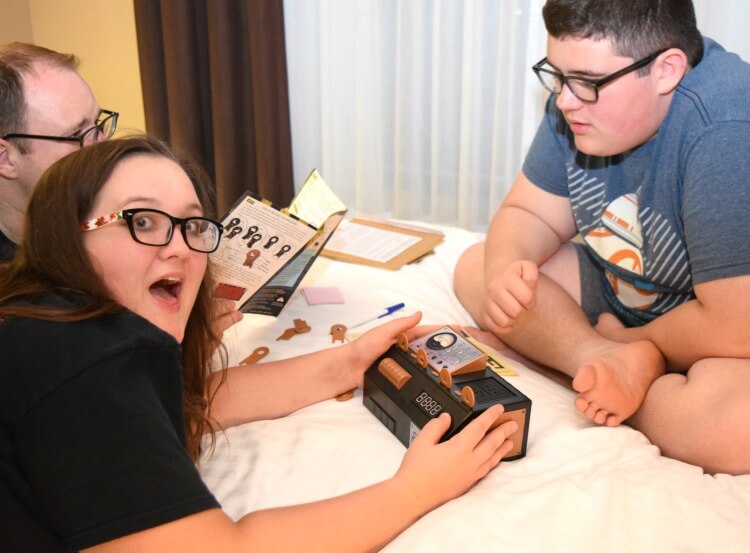 Hedbanz 2nd Edition
Do you have kids who prefer a quick, high-energy game?
Hedbanz
is sure to entertain the entire family as players wear a picture card in their headband and ask questions to figure out what they are. It's a fun "What am I" game that brings the family to tears (after laughing uncontrollably)!
This has us laughing our heads off. Before my middle daughter could read, we just helped her remember to ask the right questions, and she kept right up and usually won.