Currently, we are having the ice storm of the century. We live near Dallas, TX, and I think the temperature is about 10 degrees outside – yes 10! And, our entire city is covered in 5-6 inches of solid ice. Not fun. I heard on the news that people on I-35, which is just down the road, have been sitting there for 10 hours. Crazy!! This is a picture of my street I took today. This is not normal. It was 76 degrees 3 days ago. Weird, weird weather.
It's so freaking cold! We don't have a fireplace, so I decided baking in the oven was a good thing to do today. I've had it on all day warming up the house with heat and delicious treats.
Have you ever eaten Ooey Gooey Butter Toffee Bars? I love this recipe as in I LOVE LOVE LOVE this recipe! I think it's one of my favorite things to eat with a big glass of cold milk. The consistency is almost like a brownie, but they are just so much yummier.
If you have a bake sale or potluck, or even need a teacher gift, make these bars. Those people will love you forever, and you will have new best friends. Seriously.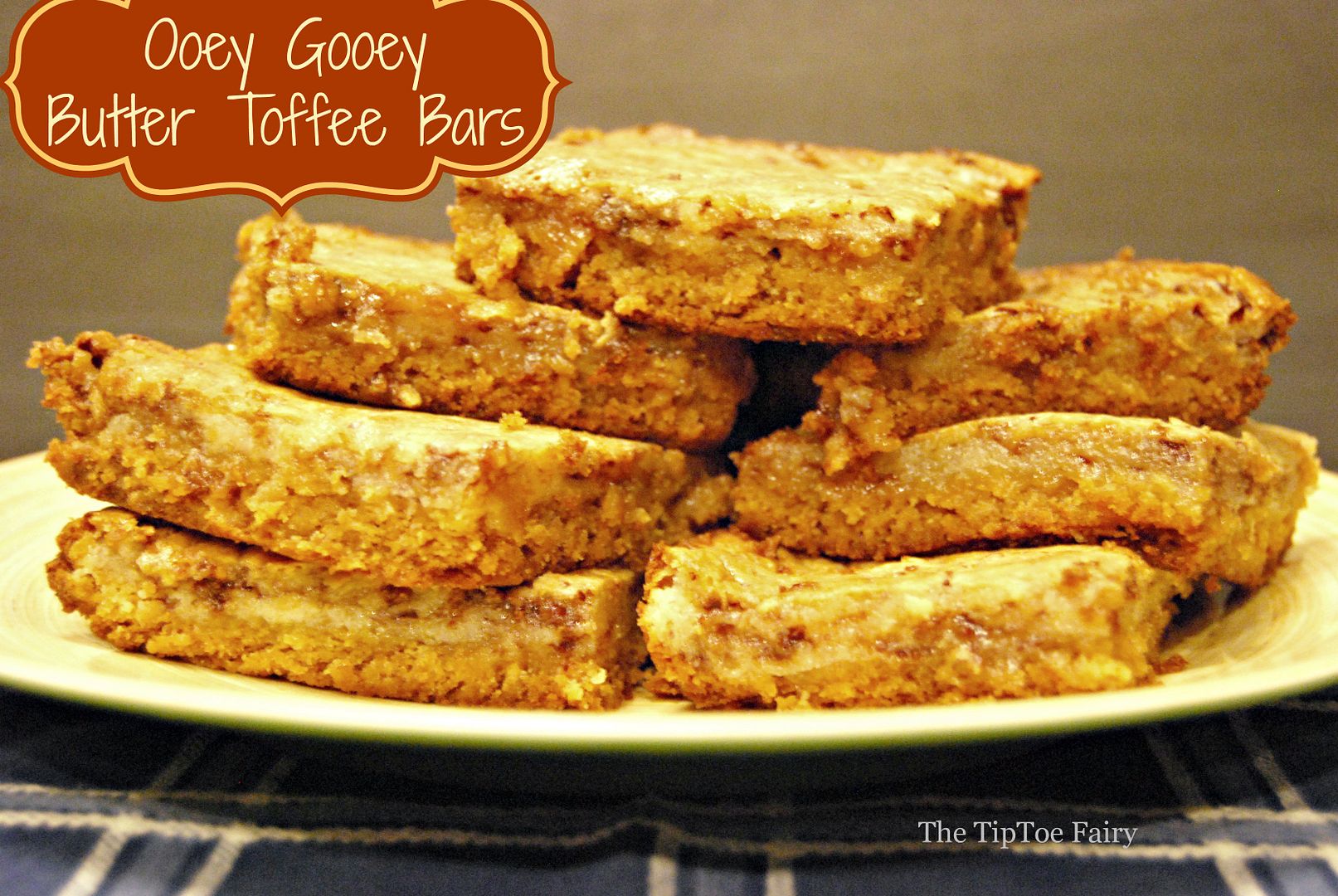 These are super easy to whip up, especially since the crust is mainly a cake mix. How easy is that? And then, the toffee and chocolate melt into the deliciousness of what is essentially a cheesecake base. It just comes out so ooey and gooey, you can't help but love it.
In fact, I'm going to eat one right now while the kids are all asleep. I'm going to sit under a huge fleece blanket and catch up on my Hulu queue.
More Dessert Recipes You'll Love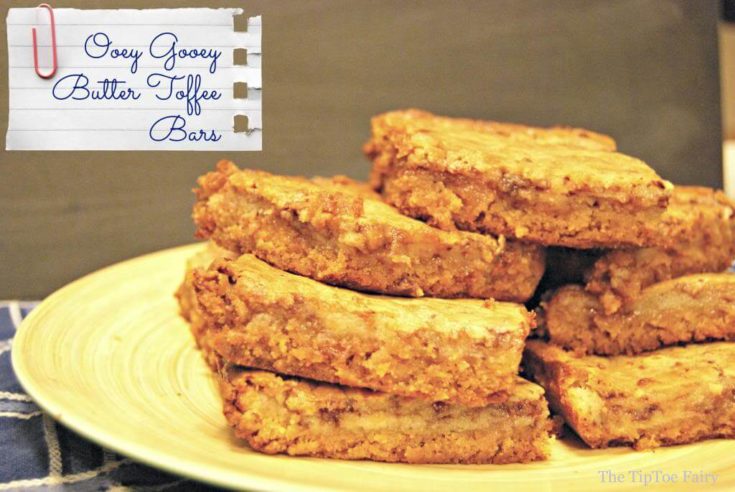 Ooey Gooey Butter Toffee Bars
Cook Time:
50 minutes
40 seconds
Total Time:
50 minutes
40 seconds
Ingredients
Crust:
1 stick of butter, softened
1 box of yellow cake mix
1 egg
Cake:
1 stick of butter, softened
8 oz cream cheese, softened
2 eggs
2 cups powdered sugar
1 tsp vanilla
1 bag of milk chocolate toffee bits
Instructions
Preheat oven to 350 and grease 13 x 9 pan
With electric mixer, mix crust ingredients together and then press into bottom of pan.
For cake, beat butter and cream cheese until fluffy.
Add eggs and beat until smooth.
Add vanilla and powdered sugar and beat until smooth
Fold in toffee bits.
Pour into pan and cover crust.
Bake for 40-50 minutes until cake layer is "set" and doesn't jiggle too much.
Let cool, then cut into squares.
Come Join Us!
Liked this article and want more? Follow along on Instagram, Facebook, Twitter, Pinterest, TikTok, and YouTube!
Come over and join us on Facebook in the group Recipes, Crafts, and more with TipToe Fairy or Sewing and Crafting with The TipToe Fairy!
Visit Our Other Blogs!