This is a sponsored post written by me on behalf of The Hershey Company. All opinions are 100% mine.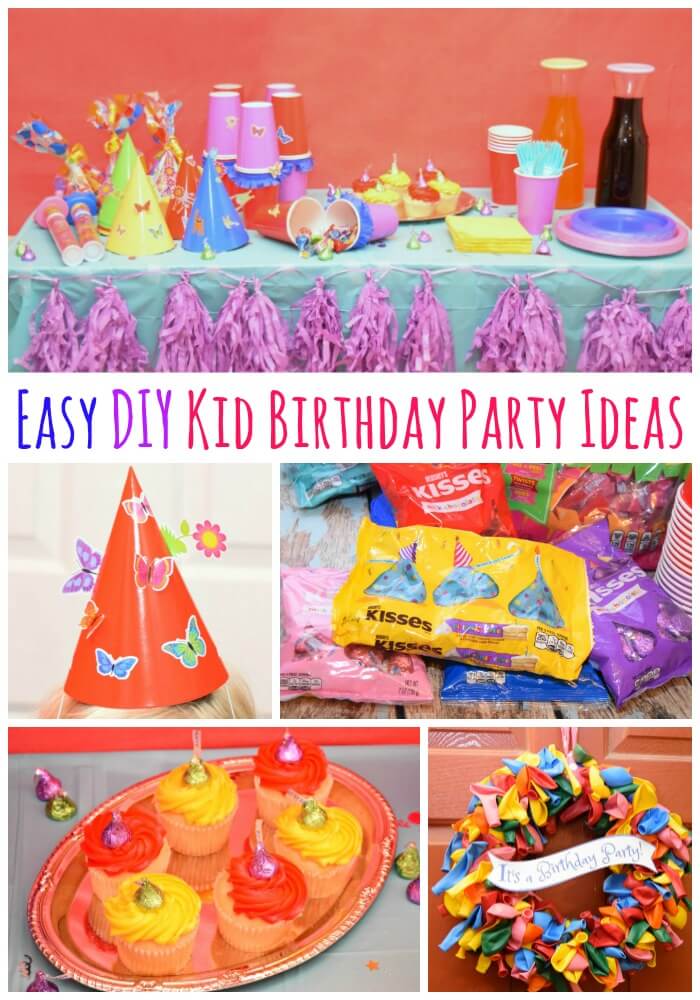 Creating kid birthday parties can feel overwhelming, but with a little planning and some help from Hershey, you can totally make it an easy and fun kid's birthday party!
Birthday parties with Hersheys They now have birthday-themed products you can find in the Celebrations aisle at Walmart. My kids love them, so we planned our little party around them with bright colors and some easy DIY to coordinate.

I always want everyone to easily find the birthday party house, so I usually put balloons or some kind of decoration out. I love making wreaths and door decor, so a birthday party is the perfect excuse. This balloon wreath is incredibly easy. You can make it while watching an episode of your favorite drama on television.
Supplies:
2 bags of 72-count balloons
10-inch straw wreath
crepe paper
straight pins
Directions: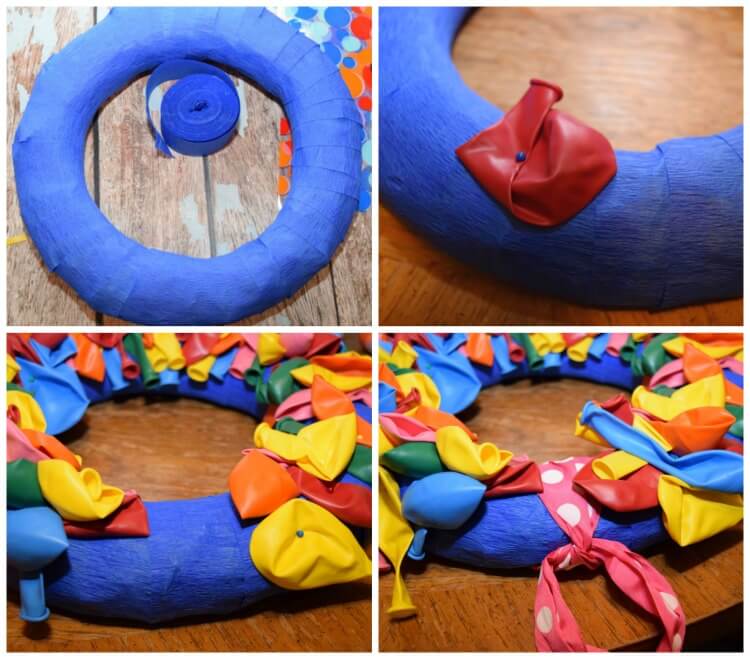 Wrap the wreath in a coordinating color of crepe paper. I chose blue.
1. Start pinning random colors of balloons. I've seen people use special floral pins for this — you totally don't need those. Just use regular straight pins. There is no wrong way to do this. Just keep working, filling in balloons, and check often where you need to hide the crepe paper.
2. When you've got about 5 inches of empty wreath left, tie a ribbon on to hang it. Then, cover the last of the crepe paper with balloons.
3. I made this printable banner and attached it with glue dots to some of the balloons. That's it!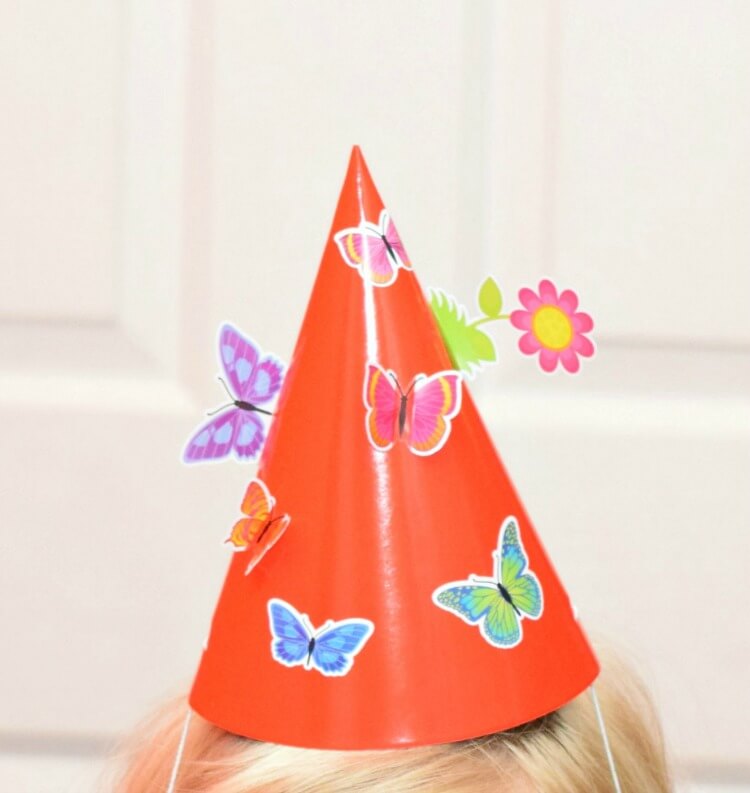 Most of the time we have a pretty low-key party. The kids hang out together and play. They don't want mom making them do boring games. We usually have one craft as a bit of an ice breaker. One of our favorites is decorating party hats. We found the coolest 3-D stickers in the birthday supplies aisles. The stickers fold back on themselves so they appear 3-D, and it makes decorating your party hat totally fun.
With three kids, we've had our fair share of piñatas, and the mad dash to grab the candy and prizes is somewhat frightening. There's always a kid or two who ends up crying because they weren't fast enough. I've totally solved this with your own mini piñatas! These are super easy to make.
Supplies:
Paper cups (2 per mini piñata)
roll of crepe paper
glue stick
scissors
hot glue gun
candy such as Hershey's Kisses Birthday Cake Candies, Hershey's Kisses Chocolates, Reese's Peanut Butter Cup Miniatures, Hershey's Assorted Miniatures, Kit Kat® Miniatures, and Jolly Rancher Lollipops.
Directions:
1. Take a length of crepe paper about 2 feet long and fold it in half width wise, and then cut fringe.
2. Next, run the glue stick around the top of one cup.
3. Then, glue the folded edge of the crepe paper all the way around. Add more glue stick and wrap it around twice.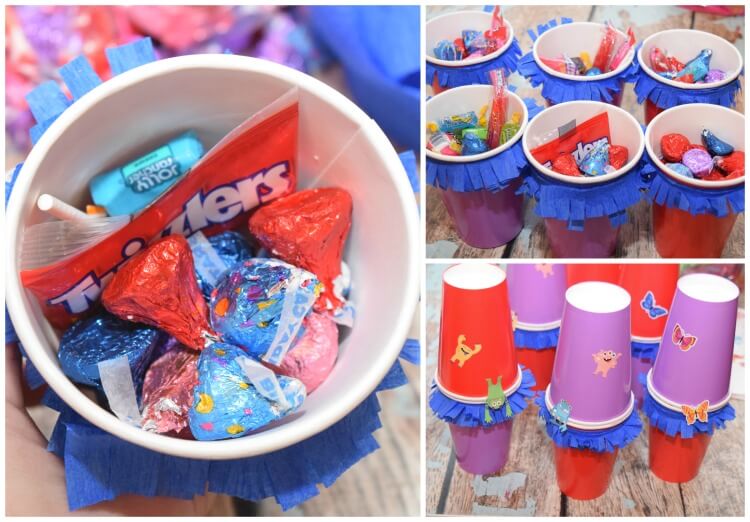 4. Fill the cup with candy almost to the top.
5. Take the second cup and add hot glue all around the top edge, and then match it up to the top of the other cup and glue together.
6. Decorate with stickers or crepe paper flowers.
When it's time, each kid just simple pulls their cups apart for their own piñata haul.
Keeping the party low key means we just do cake, punch, and ice cream. I either make basic cupcakes or we buy them at the store, and then we decorate with some added fun like Hershey's Kisses Chocolates to coordinate. We love unwrapping them for a treat before eating the cupcake! Do you know about the new Hershey's Kisses Birthday Cake Candies? They have the taste of birthday cake in just one bite complete with a satisfying crunch. They're also perfect to decorate a cake or cupcakes.
Your favorite Hershey products are now available for birthdays in colors to coordinate with any themed party to help make the day sweeter! Next time you're party shopping, you can do it with ease at Walmart for all your birthday party needs with the new Hershey birthday products. What are your tips for making kid birthdays easy?