This post is part of a social shopper marketing insight campaign with Pollinate Media Group® and Universal Pictures Home Entertainment, but all my opinions are my own. #pmedia #DolittleAtWalmart http://my-disclosur.es/OBsstV
If you regularly check out what's going on around here, you'll know we love having movie night parties at home with fun food and drinks. When the new Dolittle DVD came out last week, I knew exactly what we were doing for Easter weekend. We had a Dolittle DVD Party with Animal Cracker Cheesecake, Polynesia Lemonade, and more!
You can find the Dolittle DVD at both Walmart and Walmart.com. You can get your own copy when you're picking up your essentials. We did the Walmart Pick Up Service, so we were able to walk in and grab it super quick.
How do have an at-home Dolittle Party?
The main thing I do is set up a table in front of the couch and put out the snacks. You can literally serve anything for movie night. I just love, love, love making fun kid food and themed food for family movie nights. It makes my kids feel special, especially right now being stuck at home all the time.
Here's what we had for our Dolittle Party:
Animal Cracker Cheesecake Bars
Polynesia Lemonade
Animal Cracker Snack Mix
Animal Walk & Roll Dice Game
How to make Animal Cracker Snack Mix
Animal Cracker Snack Mix is a fun mix of sweet and salty treats perfect for movie watching. The main ingredient to include is Animal Crackers, but other than that you can add all kinds of snacks to the mix. Here's what we added:
Animal Crackers
Frosted Animal Cookies
Popcorn
Marshmallows
Bugles
Corn Cereal Squares
M&Ms
Strawberry Wafer Cookies
How to Play Animal Walk & Roll Dice Game
We try to go outside as often as possible to get some exercise and especially to get the wiggles out before movie watching. Usually we play with sidewalk chalk, on the swing set, blow bubbles, and ride scooters all over the place. Sometimes, we play games, too.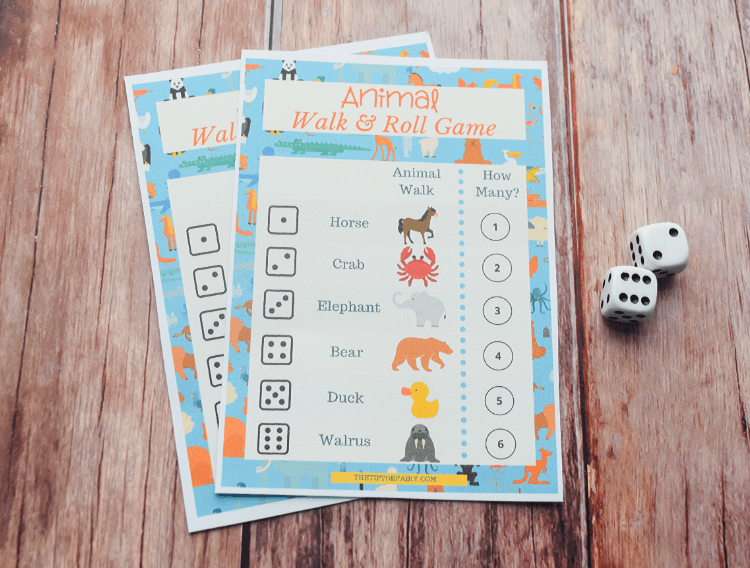 Today, I brought a fun game outside for the kids to go along with our Dolittle party theme. It's called Animal Walk & Roll. It's very simple to play. You have two dice and a printable card that tells you what to do.
Roll the dice.
The number on the 1st dice will tell you which animal you have to walk like.
The number of the 2nd dice will tell you how many times you have to do it.
For example — if you roll double 6s – you will walk like a walrus 6 times.
Download the Game
How to make Polynesia Lemonade
You can get pretty thirsty playing the Animal Walk& Roll Game and eating animal cracker treats, so we made Polynesia Lemonade, named for the beautiful macaw in the movie.
This is so simple! I just used store bought lemonade and then added a colorful frozen pop to each glass. The kids and I LOVED this drink. It was sweet and tart together, and so, so good. My toddler loved stirring her frozen pop into the lemonade until it melted.
How to make Animal Cracker Cheesecake Bars
If you are scared about making a cheesecake, this is a great one to start with. It's very easy. It's made in a 9 x 13 pan. You can cut large bars and get about a dozen, medium bars and get about 16, or you can cut them smaller and get up to two dozen bars. I prefer to cut the medium size as it can be a very rich dessert.
Before you begin, cover the bottom and sides of the 9 x 13 pan in foil, so you can easily lift out the cheesecake.
Usually for these type of cheesecake bars, I always use an OREO cookie crust, but for this version I split the crust into half OREO and half animal crackers. Then, combined them and used food coloring to make it pink.
Animal Crackers in the Cheesecake Batter
While the crust is cooling, I make the cheesecake batter and divide it in half. I dye one bowl of it pink and keep the other white.
For this cheesecake, I like to add some chopped up frosted animal cookies to the batter. It just adds a little something special. You can skip that part if you'd like.
I drop random spoonfuls of the white batter and pink batter on the crust and use about half the batter doing that. Then, I take my coarsely chopped animal cookies and fold them into the rest of the white batter. Do this very gently and not much because the nonpareils (sprinkles) on the cookies can dye the cheesecake batter an ugly color.
Then, I drop the rest of each of the cheesecake batters onto the crust, and then swirl them gently together with a butter knife. I also gently tap the pan to smooth out the batter before baking.
How do you prevent cracks in your cheesecake?
The secret to a good cheesecake without cracks is preventing it from getting too hot. I've seen many times where a recipe has you place the cheesecake pan directly in a water bath while it cooks, but I don't like that. There are just too many ways I would mess that up.
Awhile ago, I found a recommendation to just add a deep cookie sheet half filled with water on the lower rack and placing the cheesecake on the top rack with the top rack set at the middle level of the oven. When I cook cheesecakes this way, they come out beautifully.
To keep it looking lovely, I let the cheesecake cool on the counter for an hour or so, and then I put it in the fridge for a minimum of four hours. If I have the time, I will keep it in the fridge overnight.
Making the Pink Ganache
Now usually I don't add ganache to the top of my cheesecake bars, but I think it just looks so pretty on this Animal Cracker Cheesecake. I wait to do this until after my cheesecake has been in the fridge at least four hours, but my preference is to wait until the next morning to do it.
It's very simple to make. Just heat 1/2 cup of heavy whipping cream in a microwave safe container. I like to use a glass pitcher. Then pour it over the pink candy melts.
I let the candy melts sit with the cream on them for about a minute. Then, I use a whisk to mix them together and get the pink ganache really smooth.
Then, I just pour it over the top of the cheesecake. I pick the cheesecake up and move it around so that the ganache runs all over it and covers it completely.
How do you decorate an Animal Cracker Cheesecake?
I like to use rainbow nonpareils sprinkles, like the ones on frosted animal cookies, to decorate the top of the pink ganache. As soon as the pink ganache is layered, I shake the rainbow sprinkles all over the cheesecake. Then, I let it sit either in the fridge for 15-20 minutes or on the counter for at least an hour before I slice it up to serve.
How do you cut a cheesecake into bars?
My secret to cutting pretty squares of cheesecake is using a hot knife. I run it under hot water until the knife is completely hot. Then, I wipe off the water and slice. This will make pretty squares without any extra clumps of cheese.
Yield:

16 squares
Animal Cracker Cheesecake
Total Time:
5 hours
25 minutes
Ingredients
Crust
16 Golden OREOs, crushed
30 animal cookies, crushed
pink food coloring
1 stick of butter, melted
Cheesecake Batter
24 oz cream cheese, softened
1 1/2 cups of white sugar
3 eggs
1 1/2 teaspoons vanilla
1/4 cup sour cream
1/4 cup flour
pink food coloring
1 cup animal cookies, coarsely crushed
Pink Ganache
1 1/2 cups pink candy melts
1/2 cup heavy whipping cream
Decorations
Rainbow sprinkles nonpareils
Instructions
Crust
Line a 13 x 9 pan with foil.
Preheat oven to 325 F degrees.
Use a food processor or blender to crush the Golden OREOS and animal cookies.
Combine the crumbs with 1 melted stick of butter and a few drops of pink food coloring until completely mixed together.
Press the crumbs into the bottom of the pan.
Bake the crust for 10 minutes.

Cheesecake Batter
Place a large cookie sheet on the bottom rack of the oven. Add water to the cookie pan and fill it half full.
Combine softened cream cheese and sugar until completely blended.
Add the eggs and mix one at a time.
Add the vanilla and mix.
Add the sour cream and flour and mix until combined.
Coarsely crush the animal cookies.
Divide the cheesecake batter into two bowls.
Color one bowl with pink food coloring.
Using half the batter, drop random spoonfuls of each color cheesecake on the crust.
Gently fold the animal cookies into the rest of the white cheesecake.
Drop more random spoonfuls of both colors of cheesecake onto the batter.
Gently swirl the cheesecake colors with a butter knife.
Gently tap the pan on the counter to smooth out the batter.
Place in the oven and bake for 45 minutes.
Allow cheesecake to cool for an hour before putting it in the fridge for at least 4 hours, preferably overnight.
Pink Ganache
After the cheesecake has been refrigerated at least 4 hours or overnight, in one bowl measure 1 1/2 cups of pink candy melts.
In a glass measuring cup, microwave 1/2 cup of heavy whipping cream for 1 minute.
Pour the cream over the bowl of candy melts and allow it to sit for about a minute.
Stir the candy melts and cream until it is completely smooth.
Pour over the top of the cheesecake. Move the cheesecake around so that the ganache completely covers the top.
Use the rainbow nonpareils sprinkles and shake all over the top of the ganache.
Allow it to cool for at least an hour or place in fridge for 15-20 minutes.
Slice into squares and serve.
Store in a sealed container in the fridge for up to 5 days.
Nutrition Information:
Yield:
16
Serving Size:
1
Amount Per Serving:
Calories:

869
Total Fat:

40g
Saturated Fat:

19g
Trans Fat:

1g
Unsaturated Fat:

17g
Cholesterol:

104mg
Sodium:

661mg
Carbohydrates:

120g
Fiber:

1g
Sugar:

61g
Protein:

10g
Any nutritional information on thetiptoefairy.com should only be used as a general guideline. This information is provided as a courtesy and there is no guarantee that the information will be completely accurate.
If you're looking for something fun for the whole family to do, pick up a copy of the
Dolittle DVD
at Walmart and have a fun-filled movie night!